Originally built as a refuge shelter in the middle of the 19th century at 2,200 meters below the rocky Sassopiatto, the Zallinger Hut was accompanied by seven barns and a church, the barns to be replaced by a single building some years on.
In fact, over the years the Zallinger has undergone many changes, its name being the one and only constant. Today—run by Luisa Schieder and her nephew Markus—the original plan of this historic site has been revived in a brilliant conversion completed by South Tyrol-based architecture studio noa*.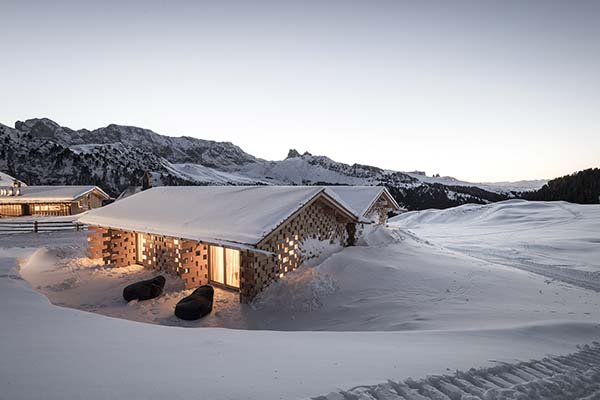 With a major new extension and seven new chalets in the footprints of their forebears, the tradition of the original settlement has been resurrected with a side of design- and sustainability-minded glamour, Zallinger now an impressive hotel project that has seen noa* create a series of spaces that connect with the characteristics of that original small village tradition, whilst embracing the thoroughly modern.
"In this project we have also tried to bring out that strong relationship between architecture and context, which characterises all our works," says noa*'s Stefan Rier. "We want to propose new models of life and hospitality that on the one hand recover traditional forms and materials, on the other hand express quality of design, high levels of comfort and sustainability. The alpine environment is a complex and fascinating system that must be understood and respected. We think it's important to think of new spaces and ways to inhibit it: environments on a human scale, comfortable, welcoming, but above all unique and authentic."
Sustainability at Zallinger is paramount, as is its respect for the mountains and contact with nature. Materials used in the small but perfectly-executed rooms are certified with the the Clima Hotel certification awarded for the use of heating the complex with pallets; guests are equipped with lanterns due to the fact that the paths connecting the complex are not lit, to avoid light pollution; and with floor-to-ceiling windows looking out onto the impressive snowcapped mountains add a sense of connection to the outdoor world. The newly-built wellness centre includes a sauna that incorporates a vast window with an inclination of 45 degrees, allowing for snow to totally engulf it during heavy snowfall—an evocative touch of romance to an already idyllic hideaway.