If there's one man who knows a good view when he sees it, that man is Reinhold Messner. The Italian was the first human to climb all 14 of Earth's mountain peaks over the 8,000m threshold, and the first to manage Everest without tanked oxygen, so who better to dedicate a series of mountaineering museums to? No one, that's who.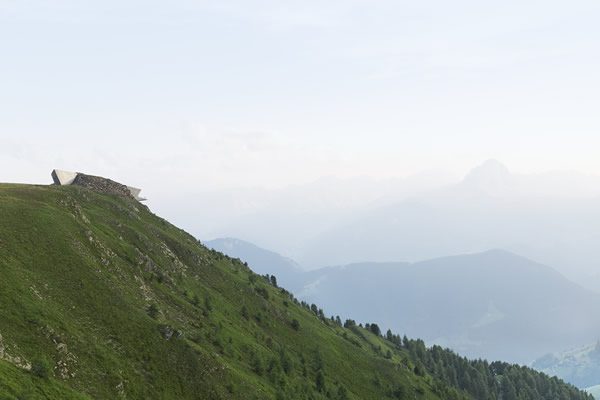 MMM (Messner Mountain Museum) Corones on Kronplatz is the final facility of six to be completed, and it's perched 2,275m up on the edge of a plateau in Italy's South Tyrol range — with magnificent views of the Dolomites, the Ortler, the Marmolada and the Zillertal Alps at each of the four compass points.
The location is undeniably spectacular, but we're just as interested in viewing the building itself, as it's the work of Zaha Hadid's practice and they always come up with something worth gawping at. There is a viewing platform protruding from the mountainside, but to get there is an interesting expedition in itself; the construction digs in and down into the mountain's caverns and grottos, leading visitors on a journey through the rock as they enjoy exhibits on the history and traditions of mountaineering. ZHA's creation doesn't try to outdo its surroundings (a criticism oft-associated with the firm), instead nestling partly-obscured under a great blanket of earth and rock. Well worth the climb to see this place, we reckon.