Relaxed Toronto all-day café cum cocktail bar, La Palma, has a new sibling located on the second floor of their 849 Dundas Street West venue, focussing on the finer things in life—think fresh seafood, sharing plates and exquisite wines—with a warm and rich aesthetic to reflect that luxuriant shift.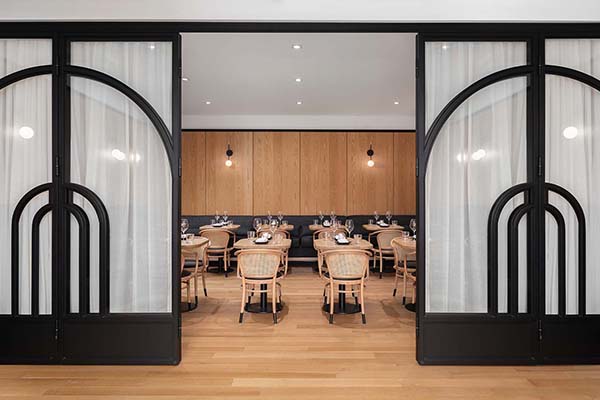 Co-owned by the AlterEgo group—that includes chef Craig Harding—Casa La Palma can accommodate a cocktail-like reception for 60 guests, seat up to 28 in a private dining room, and boasts the only rooftop patio in Dundas. Designed by Alexandra Hutchison of Studio Marlowe, interiors are more sumptuous than those downstairs—much of its furniture custom-designed and made by local craftspeople.
"The space is a contemporary take on the quintessential Palm Springs interior, a sunken living room with a central hearth that evokes the familiarity of domestic hospitality," says co-owner and interior designer of both La Palma and Casa La Palma, Alexandra Hutchison. Menu-wise, guests can enjoy an elaborate feast from 16.00 until late, with Harding—alongside executive chef Julian D'ippolito—devising a menu that's broken down into various sections, including cheese, salumi, seafood, snacks and dessert.
Back downstairs at La Palma, the larger 2,700 square foot restaurant feels lighter and brighter with a more casual ambience and urban edge. Here, diners come and go, Venice Beach the Californian inspiration for these interiors; mural-filled walls attracting a diverse crowd. Whether you're in the mood for sun-drenched happy-go-lucky vibes or seeking the sanctuary of luxury and a roaring fire, Toronto's La Palma coupling have you covered in bags of style.