Approach the red brick building, enter through the bright orange door, and you've arrived. Located on Paris's Rue Gambetta, prepare yourselves for a ride on a sensory rollercoaster — Buddhist temple bells and enormous Tibetan prayer wheels greet you; the KOLKHOZITA area brims with young creatives; the garden, a place for locals and guests to converge together; pop-up stores support local talent and more.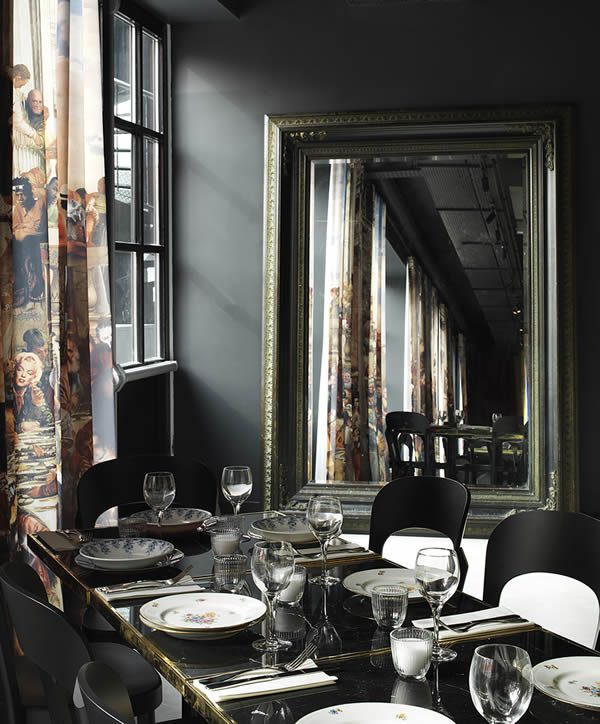 MOB HOTEL is a concrete utopia, a self-billed 'dream republic', a hotel riding on a movement it's paving for itself. Comprising 92 guest rooms, the hotel is the brainchild of Cyril Aouizerate (co-founder of Mama Shelter, which means you know what to expect), and offers affordable accommodation with a side of aesthetic eccentricity; which comes courtesy of Kristian Gavoille and Valérie Garcia​. Most rooms feature a terrace, whilst all offer luxuriously-crisp white bedding, and pegs dotted whimsically around; allowing you to create your own little Ali Baba's cave.
The grocery store is filled with objects and collaborations with local talents — supporting independent makers and creatives a key component of the MOB mindset — and the hotel's restaurant (a three-tonne central oven dishing out authentic pizzas made with ingredients from agricultural cooperatives) seats 90 indoors and 90 outdoors; a bookshop features some 2,000 paperback titles to peruse, games and diversions push a communal vibe, and oddities like philosophy lectures piped into the toilets foster that off-beat mood.
MOB HOTEL Paris (new hotels are set for Lyon, Pittsburgh, Washington DC, and Los Angeles between now and 2020) has a gigantic garden that features a vegetable patch in partnership with the hotel's neighbours, and boasts two rooftop terraces — which means it's THE place in town to sip a spritz and devour a BBQ during the warmer summer months — and other touches like a photo booth, meditation cabin, outdoor cinema, and fashion school with support from Jean-Paul Gaultier and Adidas (part of the KOLKHOZITA incubator project that nurtures local entrepreneurs and location independent freelancers), are just some of the surprises that confirm MOB HOTEL as a fledgling chain to keep tabs on. Dreams can become reality.