A brief history of hip hotels, if you'll indulge us: It's almost 30 years since the Andree Putman-designed Morgans Hotel changed the face of the hotel industry, co-founder of iconic New York nightclub Studio 54, Ian Schrager, defining a new category for hoteliers around the world. Boutique was born, the Brooklynite entrepreneur had transferred all that he knew about nightlife across to his fledgling accommodation empire – the globe-conquering Morgans Hotel Group would redefine style for the jet set. In the 1997 opening of Philippe Starck-designed Hudson Hotel, Schrager actualised his vision of 'lobby socialising' on its grandest scale: hotels had become places to be, sleeping was a secondary action.
The Hudson's theatrical public spaces, drinking and dining rooms, covert nightspots and showy poise have been mimicked to varying degrees of success from North America to South Africa, Eastern Europe, Asia, Australia and beyond – chains have been born and bred on the concept of hotels delivering style, presence and a stamp of social status. Being seen at this new breed of hotel comes with a virtual badge of distinction from the overlords of international moving and shaking. Schrager fashioned hotels that make you feel something, Schrager made hotels the new nightclubs…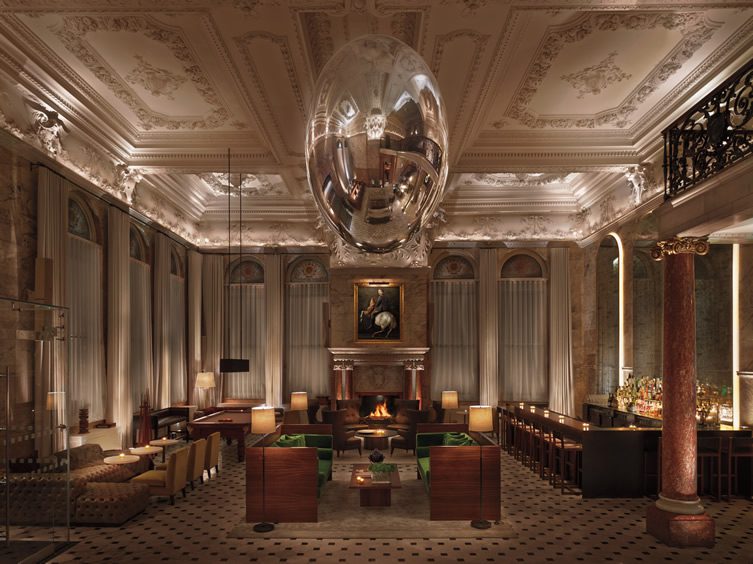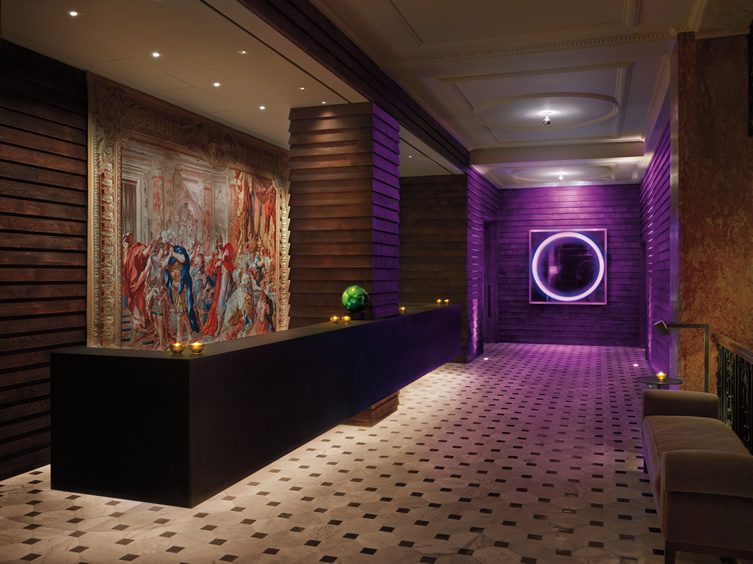 Eight years have passed since the overlord of hip hotel keeping sold his share in the group he founded and, 'game-changing' Gramercy Park Hotel (Schrager would go on to sell his interests just three years after it reopened) aside, there's been few rumblings from the 67 year-old. It's some six years since Marriott announced a surprising collaboration with Mr Boutique Hotel, but little would surface for some time – an ill-fated debut in Waikiki for the partnership, that was now known as EDITION, ended promptly following a dispute with the property's owners; whilst 2011's Chicago launch of Schrager's new brand, PUBLIC, is yet to be followed. Dips in the ocean, Ian Schrager has carried the hallmarks of a club's star player out with a long-term injury. Training with the first team, but a fraction of staging the big comeback.
Three decades in, could Ian Schrager recapture his mojo – had the André Balazses and Nick Joneses of this world stole the giant's thunder, was this a comeback album too far, was Schrager destined to join Status Quo on the Christmas concert circuit, strolling through his greatest hits with nothing but a dodgy septum to show for the 'good ole days'? The New Yoiker needed a statement of intent, a return to form, but could it be achieved in the shadow of Marriott International – an 86 year-old global, multi-billion dollar behemoth? With EDITION finally out of its starting blocks in Istanbul, there'd been months and months of speculation – some would say: fervour – surrounding the London EDITION; the forefather of design-conscious travel was set to return to one of his spiritual homes, and just a stone's throw away from his iconic Sanderson Hotel. Schrager. Is. Back.
Checking in during the hotel's first few weeks, we find a fledgling brand riffing through the opening chords of its visceral debut – instinctive and buoyant, but tamed by the presence of age. There's a contemporary edge, but it is polished with precision and poise. That contemporary edge runs riot throughout, but with a subtlety and grace; as an example of this juxtaposition, step into New York-based design firm Yabu Pushelberg's expansive lobby, the heartbeat of the London EDITION, an Ingo Maurer-designed colossal mirrored ball its pivotal focal point. Part chandelier harking back to the building's history as five lavish Georgian townhouses, originally built in 1835, part discoball homage to Studio 54; distorted as if a software flaw in a 3D modelling software package. There's a subversion of tradition that at once belies and complements the extravagance of the EDITION's interiors.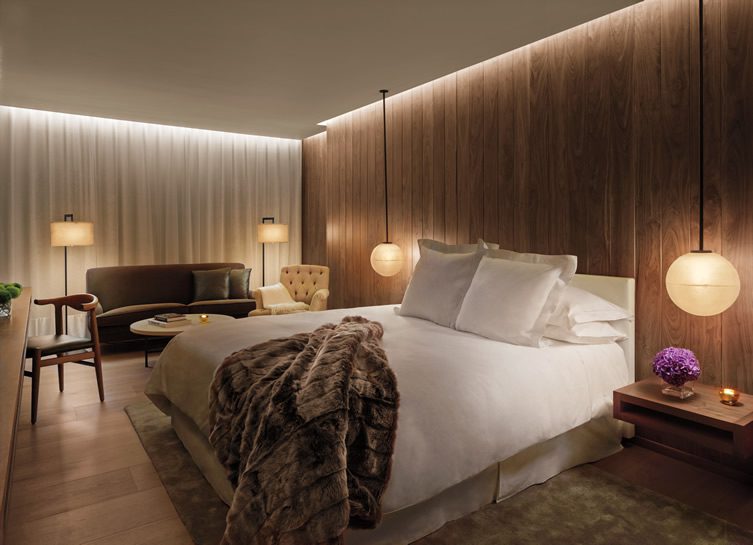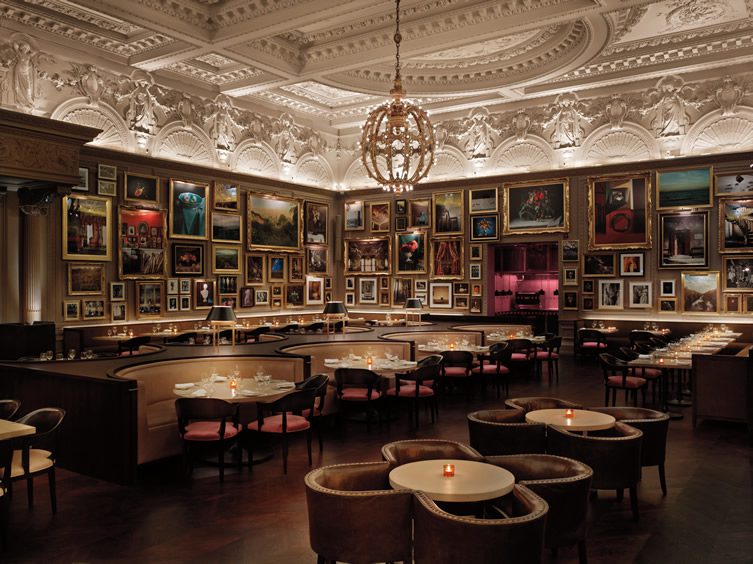 There's ornate ceilings, marble staircases and gilt-framed Dutch Masters – subverted, of course: reworked by photographer Hendrik Kerstens, the Girl with a Pearl Earring is not all she seems. Elsewhere, age-old notions are given similar contemporary updates; The Punch Room – an oak-panelled drinking den inspired by quintessential British stateliness – serves up modern interpretations of the 17th century party drink, whilst a floor-to-ceiling tapestry does battle with a space-age lighting installation in the reception. Reliable staples do less to juxtapose, much to gladden; the bar area will be familiar to those accustomed to Mr Schrager's past masters and the restaurant – under the watchful eye of man-of-the-moment Jason Atherton – works wonders with dependable, honest fare.
All very British; refined, polite, 'to one's liking' for a discerning clientele – but what of the New York swagger from the man who brought his disco learnings into the hotel industry? Sssh (quite literally, according to the stamp on my arm), there's life in the old dog yet, talk to the right people and you may find your name on the list of the EDITION's invite-only basement club – if anywhere in London currently has the potential to do for the gossip columns what the Met Bar did in the '90s, this is it. Slush cocktails are thrust into our hands, Young Turks' up-and-coming contemporary crooner Sampha tickles the ivories, faces off of the telly clutch 'cocktails in a bottle' – you have to take a minute out, look in the mirror and tell yourself: "we're in Fitzrovia, not Manhattan".
This being an Ian Schrager hotel, we've come some 900 words without mention of rooms, almost peripheral to the Schrager Experience, they're far from overlooked here. The classic wood-panelling that is a dominant feature of the hotel's overall aesthetic continues throughout – luxury log cabin vibes, indulgent, romantic, rich; there's an intangible eminence. That indefinable distinction permeates right through the EDITION, not least in its clockwork service; inspired, no less, by the big man's experience in an Apple store: "that person does everything and anything necessary to make your shopping there easy, quick, informative and to make sure you're treated well" Schrager told Hotel News Now in 2011. It's smooth, effortless, and a far cry from the snooty pretension that the luxury boutique market had carved out as a trademark for itself.
So there it is, a hattrick on his return to the game, a critically acclaimed comeback album. The New Yorker has brought New York to the West End, he's come up trumps through the shackles of a mega-bucks corporate giant. Ian Schrager may not be getting any younger, but the heavyweight is landing blows as hard as ever. With EDITION locations pencilled in around the world (inc. a scheduled homecoming next year), the second act is looking to imitate, and quickly surpass, the success of Morgans. Unshakeable. Indomitable. Daddy's home.
***