Fusing Mediterranean, South American, and Asian cuisine to create fresh and health-conscious dishes—served alongside indulgent cocktails—MAR&CO is bringing innovative fish and seafood dishes to the historic port of Jaffa, Tel Aviv.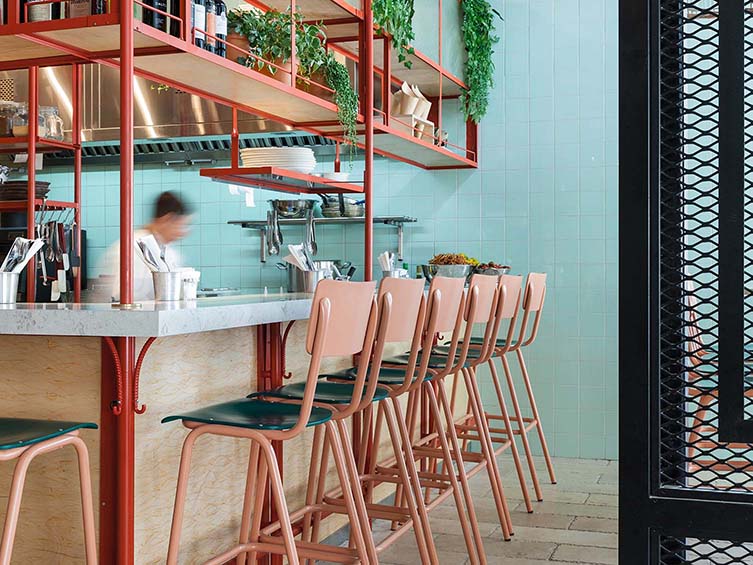 Located within Jaffa's Flea Market, diners can build up an appetite working their way through the world-famous array of treasures, junk, oddities, and curios before getting stuck into a divine miscellany of fresh ceviche and oysters; blackened fish sliders or fried fish and Josper-grilled shrimps; calamari, fish fillets, or whole fish … all of it lovingly prepared by chef Emily Goldenberg and her team.
Impeccably designed by Naomi Szwec and Noa Ben Yehuda, the spacious restaurant features an open kitchen-bar and seating set over three levels. The high ceiling has been lowered and hand-made braided hanging pendants—inspired by fishing nets—serve to provide a more homely ambience. Concrete, birch wood, and reinforced steel bars weave their way through splashes of colour, abundant lush greenery, and hidden benched areas.
Bringing on-point urban industrial edge to an ancient port with biblical heritage, Jaffa's Mar&Co continues this area's recent revival with impressive style and lip-smacking seafood appeal.
@marco_seafood
@nomchi
@noa.b.y