The Uffizi, the Pitti Palace, the Academia Gallery. Florence has an embarrassment of riches when it comes to art-packed museums, and there's no shortage of public artworks and architecture to enjoy just wandering the ancient streets either. What you won't find in your typical Florentine tourist pamphlet, however, is the art of Clet Abraham — who isn't exactly a favourite of the authorities due to the naughty nature of his work.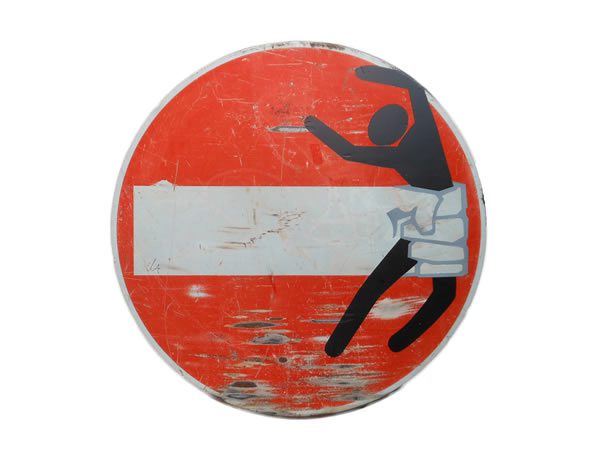 The Frenchman has been living and working in Florence for 20 years. Having trained as a painter and sculptor, Clet broke from his classical roots to pursue a path of contemporary art mixed with civil disobedience. Street signs are his favourite target; their visual simplicity, bold shapes and colours are the perfect match for his equally minimalist subversions.
Flitting between social commentary and good old fashioned mischief, Clet's embellishments to stop signs, one way street indicators and other traffic aids are made with stickers and don't actually damage the signs — a fact that didn't stop the police slapping him with a €400 fine on the one occasion that his night-time antics were busted.
The signs have become something of a cult hit with the city's students, who like to run unofficial tours, and his studio on Via Dell'Olmo is open to visitors if you're in the neighbourhood. Closer to home, Graffik Gallery in London's Notting Hill is hosting the first UK exhibition of Clet's work; closing date is 31 October.