Inspired by the neon signage and hanging lanterns of kitsch 1970s Chinese-American restaurants, with a few days spying the modern day Chinatowns of San Francisco and Vancouver thrown in (side note: this podcast on the birth of the modern Chinatown is vital listening), Guillaume Ménard and David Dworkind of MRDK (Ménard Dworkind architecture & design) have created a vast space for Laval eatery Miss Wong that takes diners on a journey through uniquely-designed quarters kitted out with patterned walls, classic folding scissor gates, crushed velvet, and heaps of exotic seduction.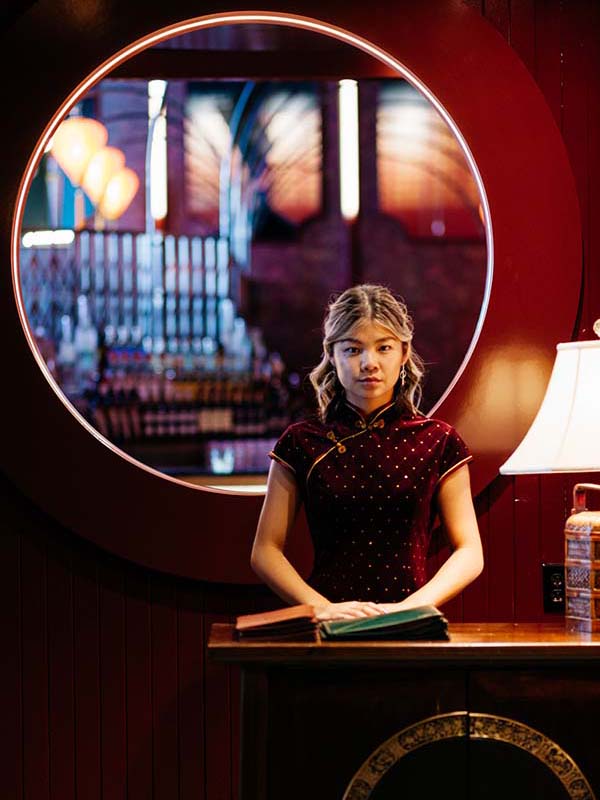 Named after Anna May Wong—an American actress widely considered to be the first Hong Kong-Chinese American Hollywood movie star—diners enter via a vintage Chinese arch framing a portrait of Miss Wong herself before reaching the main restaurant, set over an incredible 10,000 square feet and boasting 22-foot-tall ceilings.
Divided symmetrically by two bars and areas of raised seating, Ménard and Dworkind (whose Montreal restaurant, Ryú Westmount, demonstrates their design versatility) used neon and lightbox signs that resemble shopfronts to create a street market vibe and aesthetic.
Smaller areas break off from the main restaurant, offering intimate spaces for diners to chow down on a modern-fusion menu devised by chef Phong Thach of Le Red Tiger, and inspired by Chinese, Thai, Vietnamese, Japanese, and Cambodian culture. A Chinese pergola or an opium den under a canopy of glowing lanterns, twists and turns whisk visitors through the provocative faux-China kitsch of 20th century western Chinatowns; Ménard and Dworkind having precisely captured their chaotic charm.
Not simply a restaurant, in a nod to its former life as the flashy nightspot Moomba, the revelry at Miss Wong continues into the early hours—a speakeasy of sorts serving craft cocktails set to keep Laval's hedonistic night owls satisfied in style.