An 1880s-era hotel has been transformed into a contemporary boutique destination in the remote but mythical West Texas town of Marfa, which is riding high on its curious but significant art scene; from Donald Judd moving here from New York in 1973 to Elmgreen & Dragset's iconic Prada Marfa, the desert city of just 2,000 is an unexpected lure for international creatives.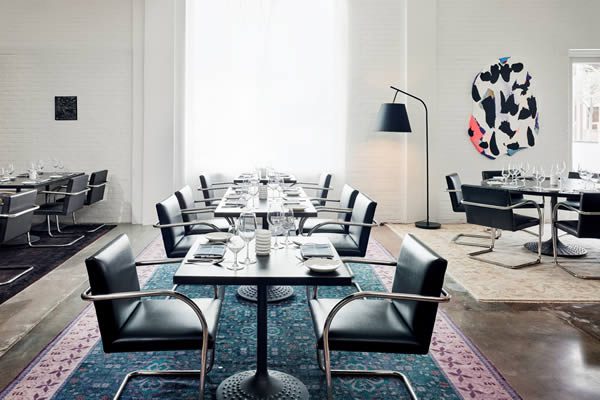 There are 55 guestrooms, a retail space, restaurant, bar and wine room at Hotel Saint George — which is much more than simply a hotel; wooing those in search of creative inspiration as well as an exceedingly ample spot to get their heads down in this tiny Texan enclave.
The reformation, carried out by HKS Hospitality Group, saw Hotel Saint George take inspiration from the surrounding art scene; with nods to the Bauhaus aesthetic admired by its 'founding father', Donald Judd. The hotel's spaces are characterised by concrete floors and industrial materials, juxtaposed by vintage furniture and a world-class art collection. Clean, pared-back aesthetics harmonise with the mahogany and steel reception desk and Alvar Aalto lounge chairs.
Independent bookstore, Marfa Book Company, have set up shop in the lobby — showcasing a mixed bag of art, literature, and design tomes; as well as curated retail products that embody the pioneer spirit of Marfa's unexpected position within the international art community.