citizenM—the design hotel brand for world travellers who appreciate smart technology, comfort, and style—have made their way to Copenhagen. With 238 stupendously comfy beds for heads to be rested and that familiarly affordable price tag to boot, it's a sublime offering for a city whose alternative accommodation options have been known to bring a tear to the eye.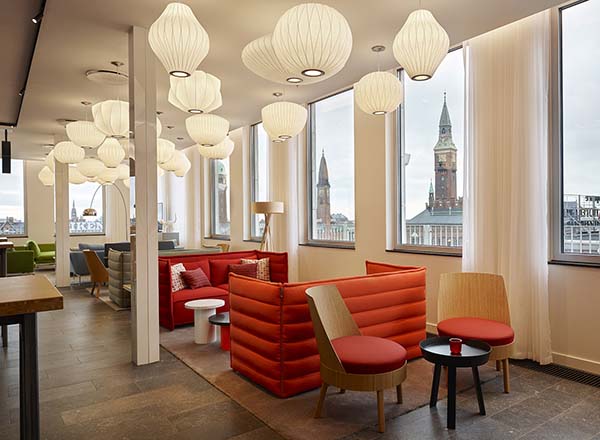 As is the DNA of the culture-forward chain, citizenM will collaborate here with local artists, recent project Citizens of Copenhagen—comprising some 33 portraits of local Copenhageners exhibited in the building's 150 windows during the recent final phase of the build, with light artist Jakob Kvist creating a spectacular light show to highlight photographer Marie Hald's frank portraits—setting the tone for art collaborations to come.
"Art and culture are as important as fluffy pillows and exceptionally comfy beds," declare the brand, and it's a theme that runs throughout. The public spaces at citizenM Copenhagen are yours to lounge in—browsing books, watching television, catching up on work (remember those free-to-use iMacs if your laptop isn't to hand), checking out commissioned works of art, or ogling the Vitra furniture—and should the need for caffeine or something a little stronger hit, and you're a little peckish, canteenM is open around the clock and will satisfy your cravings in the same style you'll come accustomed to throughout your stay.
A home-from-home with friendly staff on hand to cater to whims, or fade discreetly into the background, the inimitable citizenM experience has arrived in Copenhagen's central City Hall Square; art and design fans take note.