Art is Trash aka El Arte es Basura aka Francisco de Pájaro has been making statements with our unwanted, unloved and jettisoned belongings for some time. Re-appropriating rubbish; trash; basura on the streets of London; New York; Barcelona — the Spanish street artist's urban art is a commentary on consumerism and waste; debating the need to have ownership of material matter.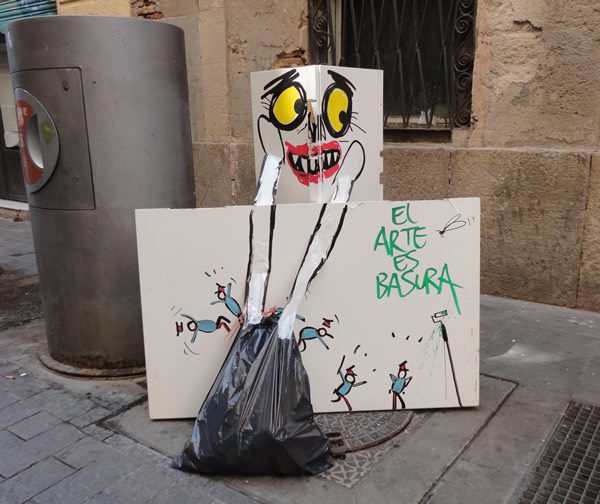 If you're yet to experience in person his sometimes amusing, oft-saddened works — displaying disaffection and desperation — on a street near you, then recently released book Art is Trash by the artist, with foreword by gallery director Tommy Blaquiere, is worth a gander. As the ephemeral nature of Pájaro's work means that all too often his statements end up back in the dustbin or recycling lorry, this book is one of the few ways to observe the politically-minded artist's work outside of a gallery.
There is something inherently sad about the refused; the redundant; the unwanted. The trash Pájaro uses as canvases make for a sculptural base to his crude, occasionally grotesque markings. Although melancholic and thought-provoking, this is fundamentally powerful stuff. Political and satirical too, the notion of freedom, or being left in an uncompromising situation lies in an undercurrent behind his work.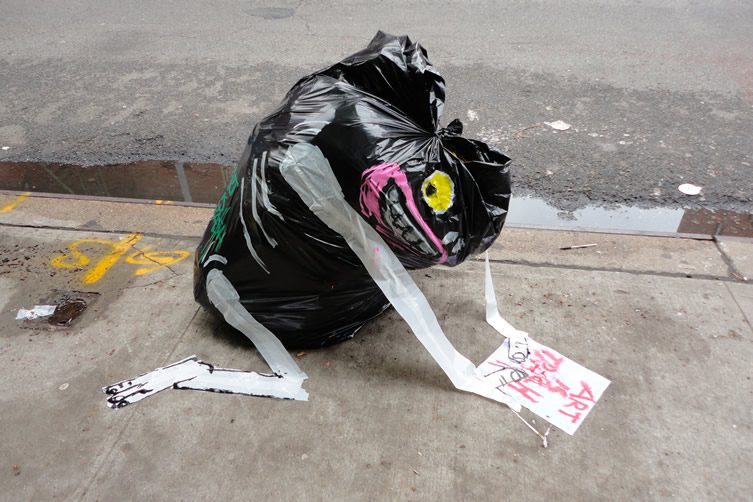 Francisco tells us he is representative of the working classes, communicating in their environment, the streets that they live in and the daily un-spoken life of a city. It is the satirical, capitalist-prodding element to Pájaro's work that makes it acutely addictive to view, not just on the street but also on canvas.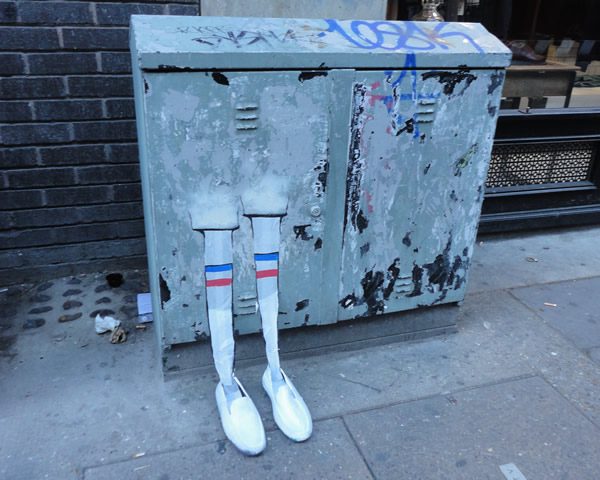 In terms of his street installation re-appropriations, it is the positions of the characters made from rubbish bags, sofas, even a ceramic toilet bowl — laying smashed on a grubby pavement — that gives the street artist's work its humanistic edge. Like the paintings on discarded chewing gum by Ben Wilson, or googly eyes stuck on dog-poo (unknown artist), one cannot escape from the irony of everyday city life — and what it can throw (out) at you.
There are many reasons to be won over by Art is Trash, sometimes the simplest ideas become some of the strongest. Where Pájaro's work will pop up next is anyone's guess, but with so much matter being dumped out on to our environ, I doubt it'll be too long until I spot another one of his minor moments of genius.