As the birthplace of the movie Priscilla, Queen of the Desert and a national treasure in the hearts of its city's LGBTQIA+ community, The Imperial Erskineville is a greater Sydney icon, a place for revellers and Priscillas alike to frolic with freedom in a dynamic and diverse design-conscious environment.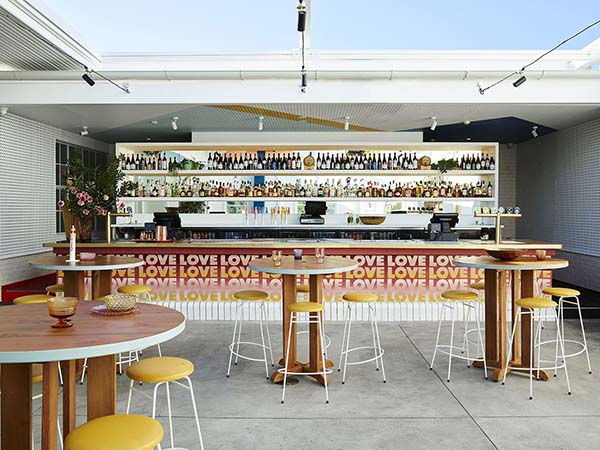 Following its 1983 opening, the cult Sydney venue has recently undergone a much-needed fix up, with multidisciplinary design practice Alexander &CO. reimagining the cultural symbol as "a place of fantasy whilst respectfully acknowledging its LGBQTI custodians". Expect refined decadence and bold styling without reverting to brash drag stereotyping.
Set over three levels, the ground floor is home to Priscillas, a 250-seat restaurant and cabaret conceived as a lost palace and counting a collection of robust building materials like exposed brick, concrete and steel, to create a space that feels as theatrical and colourful as its performers. Hand-forged steel-framed glasshouses and skylights cast shadows over the industrial looking walls and ceilings, whilst an overall white, pink, and dark wood colour palette—alongside repurposed lamp shades and inviting banquettes—come together in a space that makes you want to linger ever longer.
On the highest level, Alexander &CO. have also turned their hand to 'Imperial UP'—a secondary venue with a more mid century Miami Art Deco vibe and a sun-bleached pink, mustard, and burgundy colour scheme. An 'Arts Social Club', complete with Studio 54 references and idiosyncratic collectibles; including a brass palm tree console, geometric brass table lamps, and cross-stitched fabric bucket chairs. Featuring an outside terrace with a retractable roof and pizza oven, Imperial UP can house 30 at their 'diner', cocktail bar, private dining room ,and lounge/dining area. With plans to open Australia's first same-sex marriage cathedral in 2019, its a crowning glory for a reimagined icon that remains a firebrand force for LGBTQIA+ rights in Sydney and the country at large.
@ imperialerskineville
@alexander_andco