Just steps away from the Caribbean yet shrouded by lush greenery, Habitas|Tulum is the first hotel from an experience-led hospitality brand behind a host of chic homes, clubhouses and private members' clubs; created by Oliver Ripley, Kfir Levy and Eduardo Castillo, Habitas create spaces in inspiring destinations with the aim of developing deeper human connections through a experience and culture.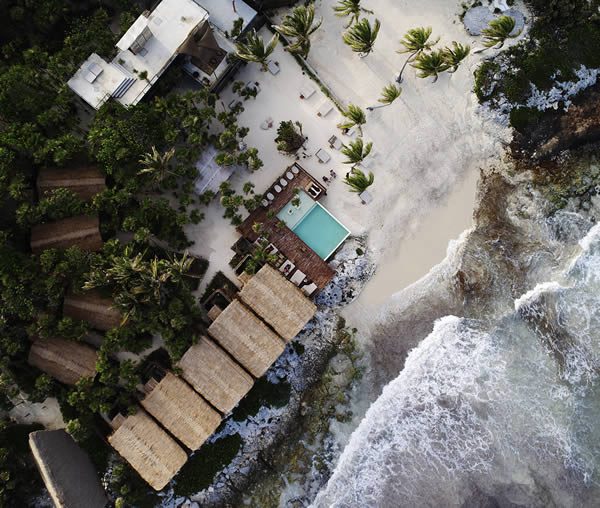 The group's new flagship property, Habitas|Tulum is testament to their considered ethos — 32 guest rooms connected to the spiritual nature that surrounds them, each featuring bohemian design touches with handmade furniture from local hardwood; outdoor rain showers; and custom-made all-natural amenities. Accessed via a jungle-like pathway, all rooms have been built ecologically with indigenous materials that include natural palapas; thatched roofs made of dried palm leaves.
At the hub of the property, a three-storey lobby serves as a gathering spot for the hotel's community to converse around communal tables made of reclaimed wood. On the ground-floor is Moro which, overseen by Chef Federico Cappi, focusses on Spanish cuisine with a strong Moorish influence, offering dishes like lamb meatballs with lime yogurt and chicken tagine.
Located 80 miles from Cancun, Habitas|Tulum is the only property in the area with its own secluded beach, meaning that guests here are privileged enough to wake up to the sound of waves lapping gently on their doorstep. Between the ocean and the jungle, amid natural materials and the touch of local artisans, embedded in rich culture and heritage, Habitas's Tulum flagship is a remarkable place to behold.