By just after 10pm on the first evening of the first day, you know that everything is alright again. It's been two long years of hope and no hope, false starts and new restrictions, but at last we're back on the fake green grass of home. Sónar by Day's famed SonarVillage is now packed to the rafters, and Jayda G is lifting us all up where we belong.
When the doors closed on the 28th edition of Barcelona's most famous festival back in 2019, one could have never imagined what was to come, but as the Canadian party-starter bounces tens of thousands of us from disco cuts to Chicago house groovers, it's like nothing had ever happened. Losing friends, hugging strangers, rubbing ice cubes on the back of your neck. Dancing. For hours and hours.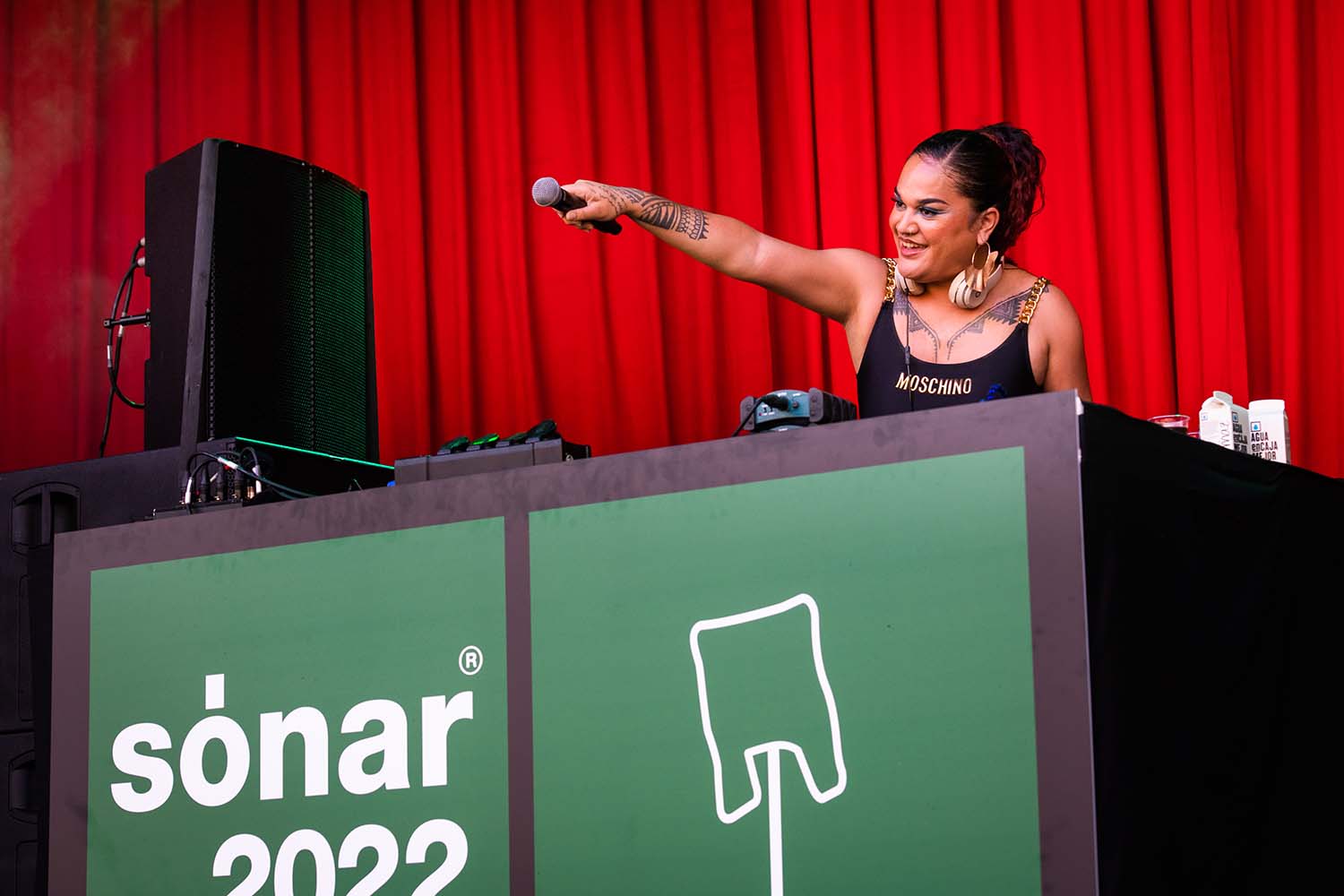 Jayda is topping a triumphant return for Sónar by Day's famous sun-soaked courtyard, and follows a fine selection of DJs and performers who've had making us move at the core of their sets.
British Pakistani DJ and producer Manara brought us a joyful mix of UK urban sounds as we sought shade and poured water over ourselves; UNIIQU3 delivered a transfixing live show of no-holds-barred Jersey Club; and New Zealand-born Afro-Pasifika femme queen, Lady Shaka, continued with the frenetic club music, filtering the percussion-heavy feels of Latin and African dance through a New York ballroom lens. With festivals finally back in action, the focus for the main stage was a big fat: fun.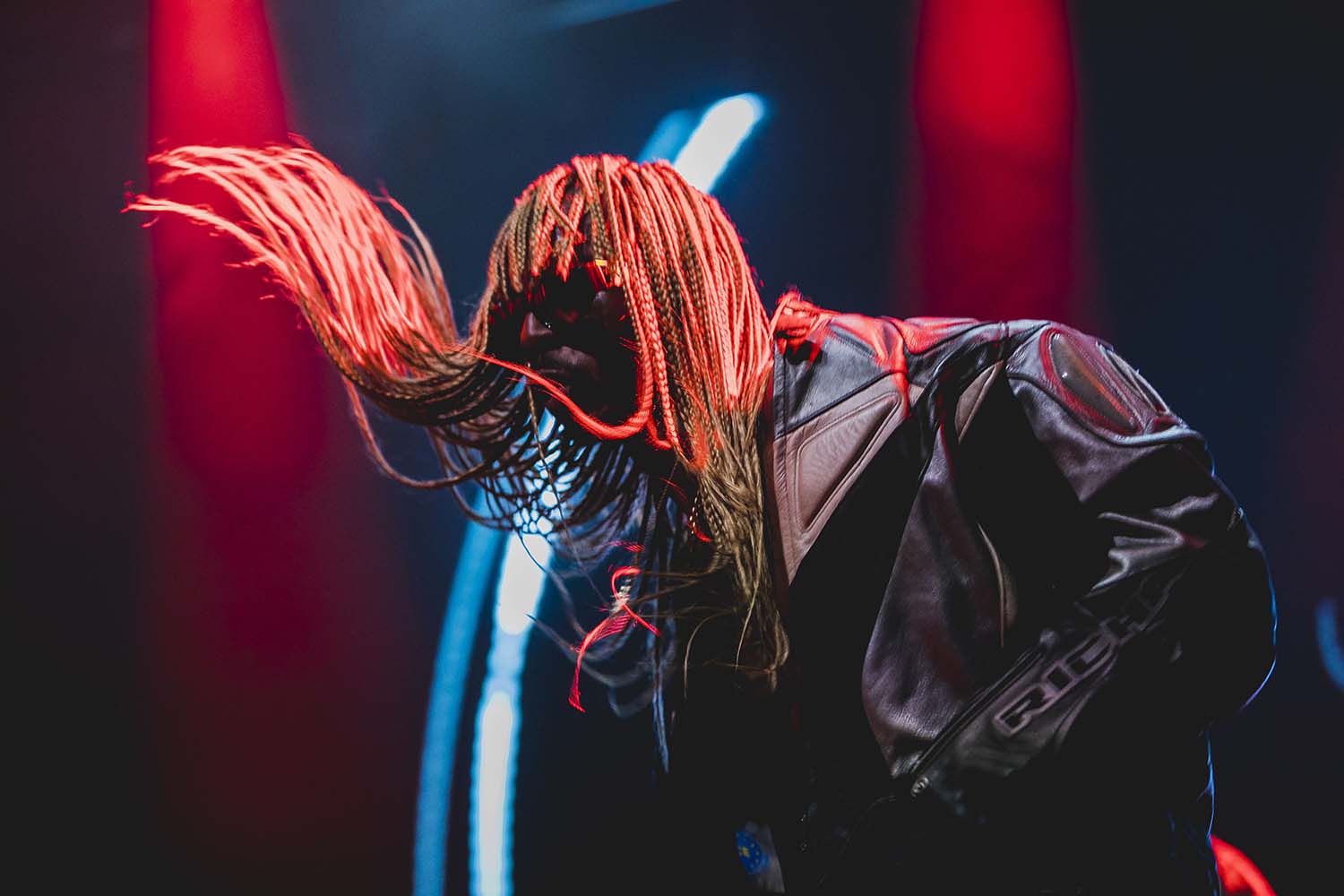 Of course, there's plenty more to Sónar by Day than the SonarVillage, and on the first day alone there's a veritable banquet of underground delights to be traversed; the highlight for us being a rip-roaring live session from the excellent Paranoid London. With guest vocalist Josh Caffé prowling the stage with intent, duo Gerardo Delgado and Quinn Whalley tweak out a heady mix of classic Detroit techno and post-punk new wave from their analogue gear, the squelch of their 303 soaring up and down to the delight of an enamoured crowd in the theatrical dark of SonarHall. It's loud, energetic and unrelenting, and one of the finest live sets of the weekend.
For us, Friday begins in serious style, back on the grass with London's Jamz Supernova bringing the deep and driving sounds of UK bass music to Barcelona. With percussive bangers from underground British labels such as Livity Sound, Hessle Audio and Scuffed Recordings, Jamz's set is indicative of Sónar's ability to put leftfield sounds centre stage, light the fuse and let the party explode. The UK sounds continue as Yung Singh and SUCHI add to the weekend's diverse lineup, showcasing the rave sounds of British Asian subculture. Bollywood and breaks meet classic house and big-room bangers, with UKG, hip hop and ethnic Pakistani music all thrown in for good measure.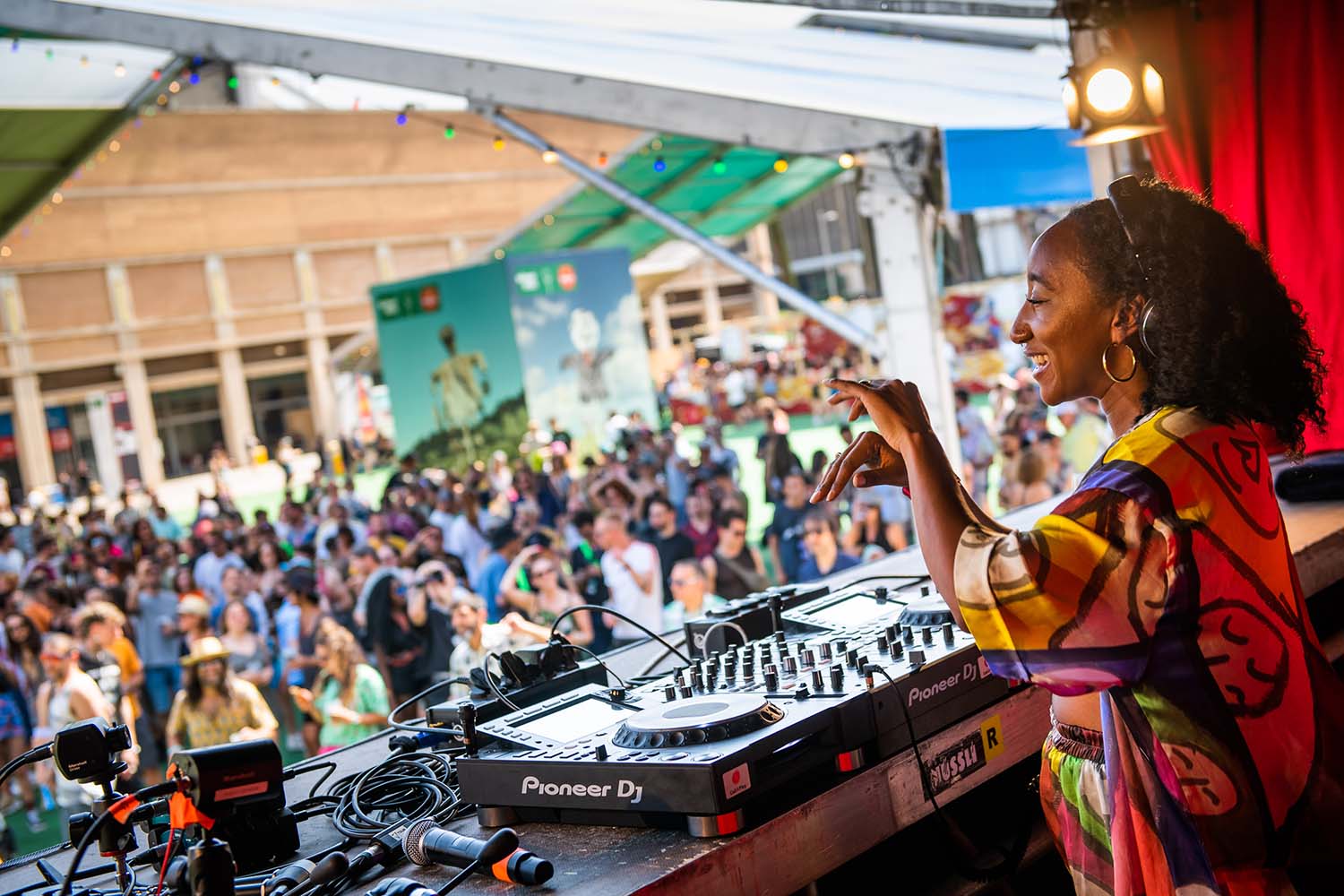 Once again, Sónar by Day's indoor spaces counter the party-starting outside with heady helpings of experimental sounds. Two high points today begin with Louisahhh's lively performance of frenzied techno-punk; where rhythmic vocals, pounding industrial drums and a rudimentary lighting rig take you back to sweaty Belgian clubs of the early 1980s. It's dark and groovy and brilliant, just like the scene from which her sound is so heavily inspired.
The second is classic Sónar. Always capable of booking acts at the very fringes of electronic music, Japanese producer Shigeru Ishihara (aka DJ Scotch Egg) arrives via Uganda, where he was invited by pioneering label Nyege Nyege, with two new friends in tow: female hip hop artist, MC Yallah, and extreme metal vocalist Lord Spikeheart. The result is a literal stop-in-your-tracks moment, as Yallah commands the stage with urban presence, Ishihara pumps out an eclectic array of beats and bleeps, and Spikeheart marauds between it all, hunching over to deliver bloodcurdling screams. It's impossible to stop watching, impossible to define, impossible not to love deeply.
Back outside, Eris Drew and Octo Octa close the day in their inimitable style, dancing irresistibly behind the turntables on which they flawlessly mix (and scratch) vinyl that embraces the very heart of dance music. Classic house, breaks, acid, four-to-the-floor euphoria. If you can't lose yourself in this set then you simply don't like music. Then it is on to the "biggest dancefloor in the world", as Sónar by Night steadies for its big return. Over the course of two nights, more than 79,000 people arrive from all over the world. The unfathomably big SonarClub stage returns, the big names (The Chemical Brothers, Richie Hawtin, Moderat) return, the bumper cars return, and the party fucking returns. Hallelujah.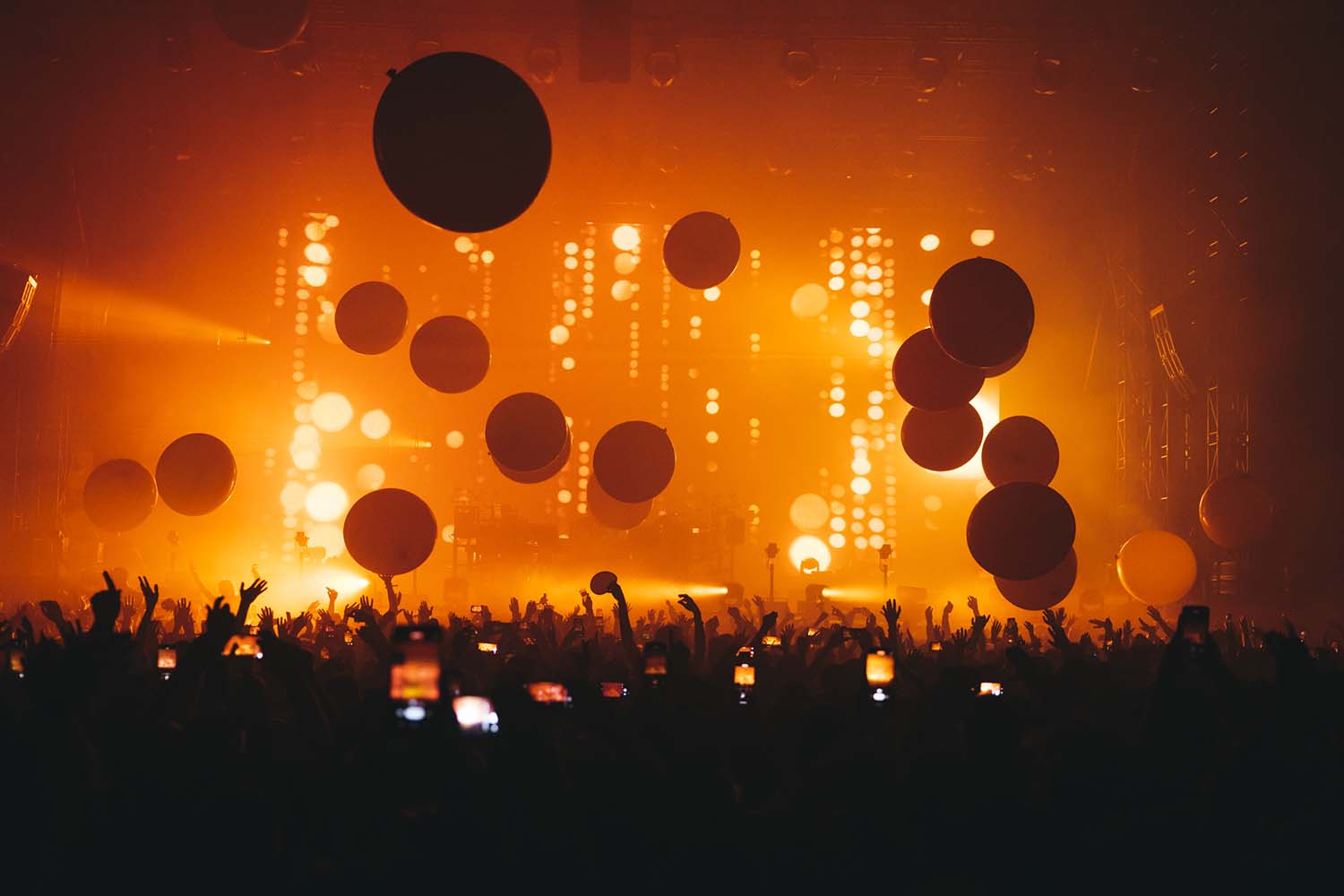 Friday sees the overarching theme of UK underground continue, with Bristol's Conducta pumping out a commanding set before a live performance from Tottenham rapper Headie One; Munich's uncompromising Skee Mask gives one of the weekend's highlights with a blistering DJ set that straddles every far edge of electronic exploration; and Avalon Emerson, perhaps one of the world's finest DJs at present, presides over Sónar's first sunrise in three years.
Saturday highlights are an epic experimental performance from trans diva, Arca; a phenomenal set from the UK DJ who needs no introduction, Joy Orbison; and losing ourselves for hours to the en vogue South African sound of amapiano with pioneers of the genre, DJ Maphorisa and Kabza De Small. Bewildering, brilliant and seriously big, the return of Sónar by Night feels like the last thing to slot back into place after these two barren years. It's so good to be back.
Earlier on Saturday back at Sónar by Day, Canary Islands rap group Locoplaya buoy a lively crowd with some irreverent humour and an exceedingly talented DJ, before DJ Python reaches deep into his bag of percussive Latin American deep house for our standout set of the weekend, and one of the world's most hyped dance duos, Overmono, take us on a sonic journey through their world of rave-inflected euphoria.
And this is all before we mention more than 60 speakers at Sónar+D, a host of tech-art installations and presentations, the SonarExtra programme throughout the centre of Barcelona, and all of the myriad of unique elements that makes this festival so beloved by the city.
With more than 122,000 attendees over the weekend, one of the most diverse crowds of any festival enjoying one of the most diverse lineups, Sónar's eventual return was an emotional homecoming of pure joy. Next up? Un SónarVillage a S'horabaixa, a three part series over the water in Mallorca; the 7th edition of Sónar Istanbul; the 2nd edition of Sónar Lisboa; and, of course, the 2023 edition back here in Barcelona, the festival's 30th anniversary. The anticipation begins now.