From the 52 square metre Aviator rooms, complete with views of the rambling courtyard, through the more industrial Aviator Signature room with oversized windows that allow natural light to flood in over the free-standing brass bathtubs and showers, and on to the lavish 79 square metre Aviator suites—with separate living area, a mustard-hued guest room, and glass walls that overlook the atrium—Stamba Hotel is a damn fine looking property to hole up in. And that's before you get to its staggering communal spaces.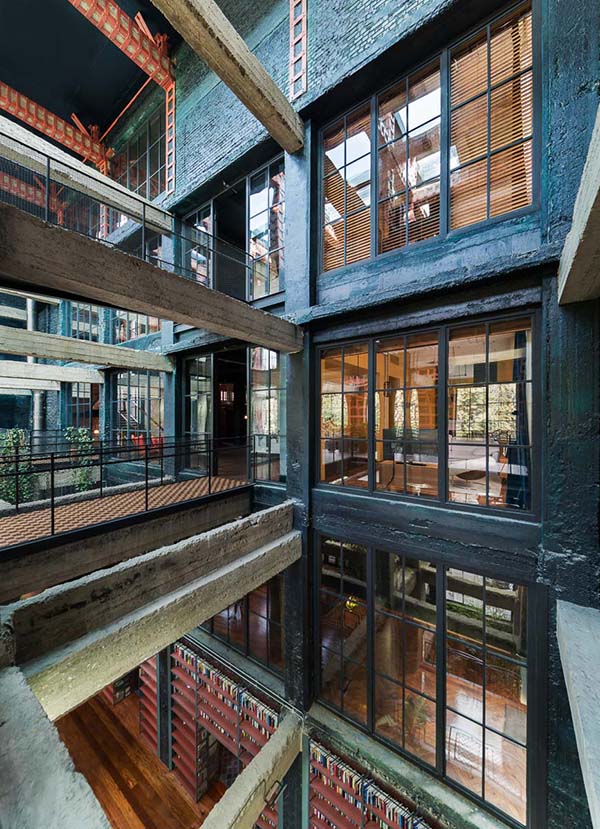 Located in what was once Georgia's most important printing house, this Tbilisi design hotel—set within historic atriums, passages, and courtyards—is a true celebration of the capital's ever-evolving identity as a hotbed of creative talent and originality. At the crossroads between Asia and Europe, the city has established itself as a cultural melting pot, aspects of both Western European and Caucasian life—as well as a burgeoning fashion and music scene—making this the place for those seeking something different to travel to.
Complementing the high ceilings and exposed brickwork that shape the guest rooms, Stamba Hotel boasts a series of outside spaces including an outdoor amphitheatre, courtyard, and a second structure with coworking facilities. Hop into an Aviator helicopter and see the country from a Bell 505 Jet Ranger, or for those preferring to keep their feet firmly on terra firma—whilst still thrill-seeking—the two-floor Casino Aviator combines first-class tables with sumptuous interiors, accented by vintage chandeliers and bold tones of red.
Led by Adjara Group CEO Valeri Chekheria and owned by Temur Ugulava, Stamba Hotel blends nostalgic references from the 1920s and '30s, while new touches lend the hotel a distinctly contemporary edge. Feeling almost museum-like in places, guests can immerse themselves in a real ode to history from vintage furniture and Soviet-era pendant lamps to much loved reads found in the hotel's floor-to-ceiling bookshelves.
With Café Stamba serving classic local dishes; the relaxed, Instagram-ready Pink Bar mixing up fresh cocktails; its own Chocolaterie & Roastery; and the opening of the striking glass-bottom rooftop pool in 2019, Stamba Tbilisi is as culturally diverse as the locals that have defined its city's current renaissance.