Photographer Peter Steinhauer has made a job out of snapping all from urban architecture to natural landscapes mostly in Asia since 1993. When arriving at Hong Kong's old Kai Tak International Airport in 1994, the photographer's attention was immediately drawn to an ethereal structure encaged in bamboo, boldly standing out against the monochromatic skyline.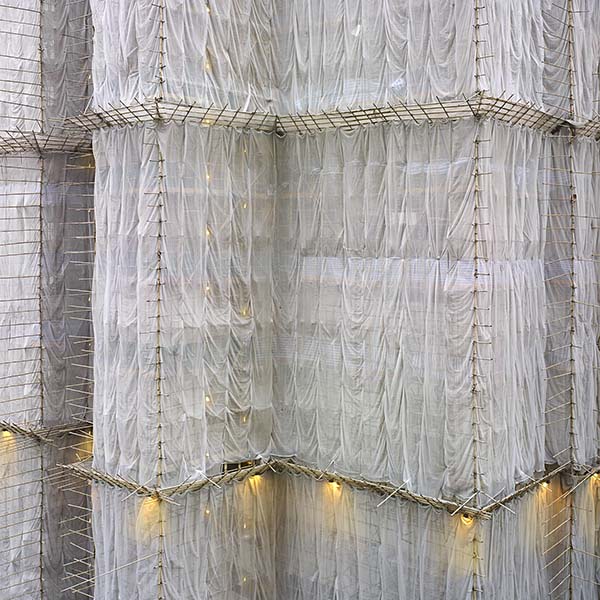 "My immediate thought was that the environmental artists, Christo and Jeanne-Claude, were in Hong Kong wrapping buildings," says Steinhauer of his first encounter with these structures, hinting at their instant artistic appeal. "As I rode in the taxi to my hotel, which was on Hong Kong island, I saw two or three of these buildings wrapped in different colours and realised that this was some sort of a renovation process in Hong Kong, and not Christo and Jeanne-Claude."
His curiosity well and truly piqued, Steinhauer would begin snapping countless 'reference' images whenever he visited the city. In 2007, though, all would change. Given the opportunity to relocate to Hong Kong, the American would take a project some 14 years in the making to the next level. "I found myself constantly looking for them when going around Hong Kong in my daily life, taking note of where they were and then getting in my car to go and observe and photograph them. From higher vantage points, which there are many of in Hong Kong, I found myself scanning the urban landscape looking for wrapped buildings."
Increasingly intrigued by the lives of those living within what he was now calling 'cocoons', Steinhauer's obsession became reality in 2008 when the building he was living in became encased in one of these structures. "It felt like we were actually living inside of a cocoon, as everything in our apartment took on a dark shade of green. We would see men working outside our windows, clinging to the bamboo scaffolding, expert hands tying two huge bamboo poles together within minutes. I was enthralled by the efficiency, ease, and quick pace of their work, evidence of many years of experience in this highly dangerous and skilled profession. I imagined it happening to a caterpillar when it goes through its transformation; that is, an army of small men working their magic to reveal a more beautiful version of itself."
Just as a moth emerges from its pale yellow papery cocoon, the buildings in this body of work will one day be set free from their constraints, unveiled to reveal new façades. Until then, they exist shrouded in fascinating cloaks. Hong Kong being the final stronghold of bamboo scaffolders, Steinhauer's series represents a unique insight into a process that may one day be extinct. Wrapping up 100 of his remarkable images into one hardcover compendium, Cocoons—published by Powerhouse Books—is an essential document of a sublime secret in urban architecture.