We live in times of unparalleled exposure to brilliant design. It's everywhere. When Jony Ive took Dieter Rams's principles of design mainstream, a whole generation became more in-tune, gained a higher capacity to appreciate great design, demanded more of the world at large. As Instagram proliferated, those demands increased. Looking good is no longer a choice. But what of the great work we never get to see?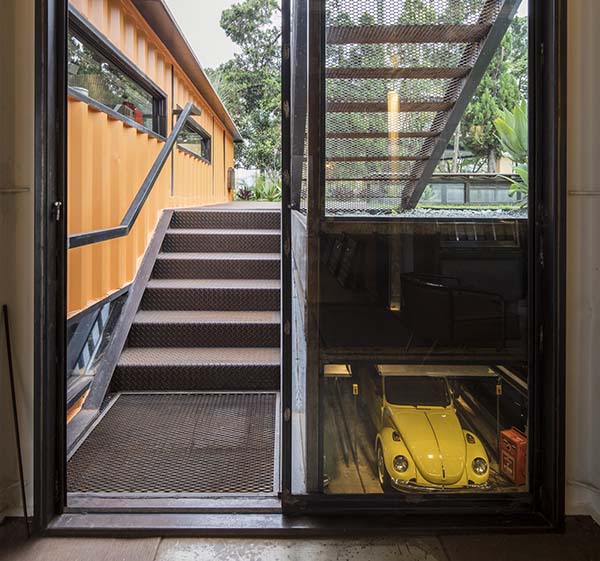 Brazilian architecture and design studio SuperLimão—in partnership with architect Gabriela Coelho—have completed works on an expansive gallery in São Paulo. And these images might be the only chance you have of appreciating it. A private space designed to display the collector's car and art collections—at the same time accommodating a requirement to introduce space for an office, workshop, gym, and kennel—this is a project that typifies the quality of design that, to most, remains hidden.
Conceptualised around the use of four shipping containers and accompanying metallic structures, the studio space was covered with a layer of OSB board to make a sturdy support for attaching tools and machinery. Structurally supported by two pillars, the garage contains a car lift allowing the owners' bevvy of fantastical vehicles from the ages to be swapped and changed as frequently as desired, and with great ease. Perforated screens and glass afford views over different levels, as well as from the gardens; dense tropical vegetation considered for São Paulo's microclimate.
These photographs offer a glimpse into a world of design that frequently remains out of view for the masses. (If a tree falls in a forest?) For one lucky collector, and their friends and family, SuperLimão and Gabriela Coelho's stellar project is a reminder that just because it's out of sight doesn't mean it should be any less brilliant.