Collaborating with over 6,000 artists from around the world, Displate is a community for art lovers to browse and buy unique posters printed on thick high quality metal that can be fixed to your wall in some 20 seconds thanks to clever magnetic mounting.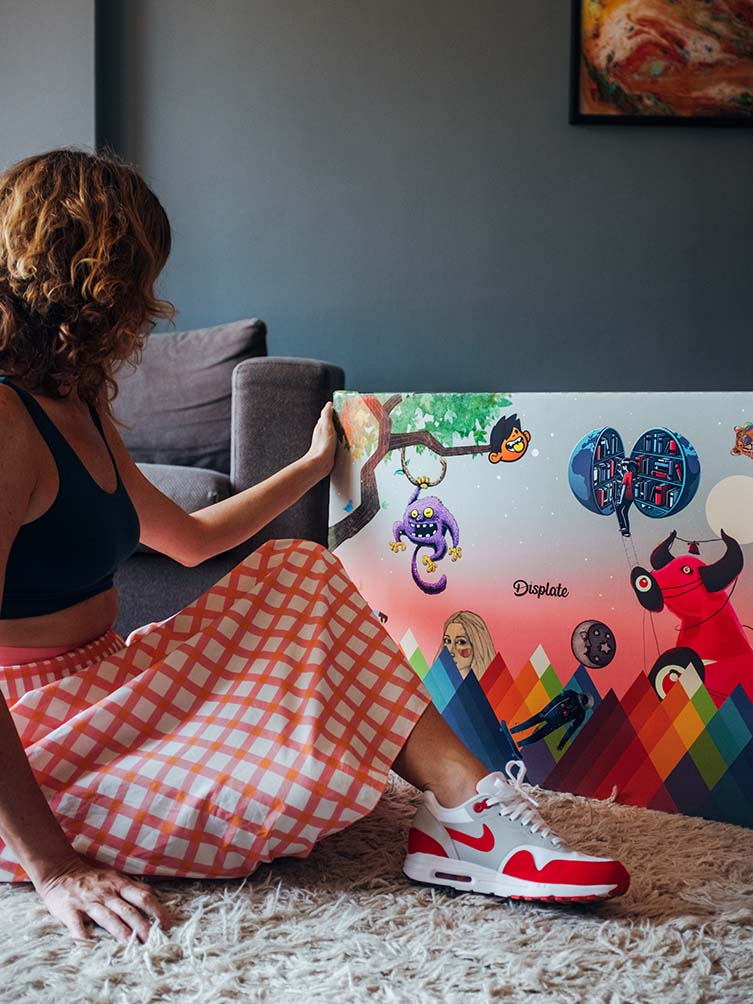 With a piece of wall art to suit everybody and every style—genres ranging from abstract to minimalistic; illustration to contemporary; photography to text art and more—Displate's unique print alternatives are capable of transforming any space in seconds. Putting the arty platform to the test, we've brought new life to We Heart HQ with a pair of new pieces of graphic art. (The artworks arriving in one of the most insanely fun packages we can remember receiving.)
Jun Portrait 1, from the Jun Hikari collection by visual artist Z.A Setiawan, is the first in a series of eight Displates that focuses on Jun, a vibrant pink-haired, hipster female showcasing a range of styles and stances. At 67.5 cm x 48 cm, this top quality metal poster has made its way onto our office desk; an inspirational corner for an inspiring piece.
Measuring the same dimensions (Displate size: L), Floral Acrylpainting by artist Annette Feldmann (aka Nettsch) combines life and nature with a mysterious figure blending into graphical pastel-hued flora. With a passion to catch seemingly insignificant moments that occur in the everyday, inspired by impulsiveness and imperfection, the restrained aesthetic of Nettsch's print was the perfect complement to our studio's real life greenery, and blesses our white walls with a slice of that verdant essence.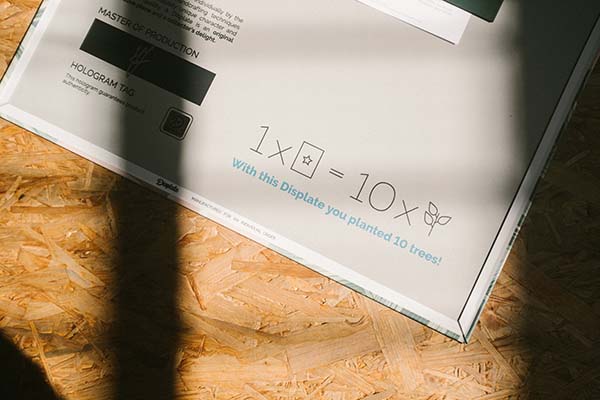 On a socially responsible level, every Displate purchased will see 10 trees planted; meaning that as well as personalising your home, you're contributing to reducing your ecological footprint and making a positive impact on the terrible deforestation (which, in part, traditional wall art contributes to) impacting our climate. Thus far, over five and a half million trees have been planted. Bravo Displate, and bravo Displate collectors.
With over 100,000 affordable designs, easy peasy light speed wall mounting—and not to mention the artist's signature and hologram added to the back of each plate for added authenticity and collectors value—the ease of starting a Displate collection is literally at your fingerprints. With so many to choose from, and each mounted using the same magnetic system, your art collection can be changed to suit your mood. What's more, we've struck a deal for We Heart readers, offering a discount of 20% off your own order at Displate.com, where you can use the promo code: WEHEART.