Bold, abstract, and emotive, Emma Howell's work exudes energy and life. The Gloucestershire-based artist creates paintings made up of varying-sized brush strokes and dots that flow in movement.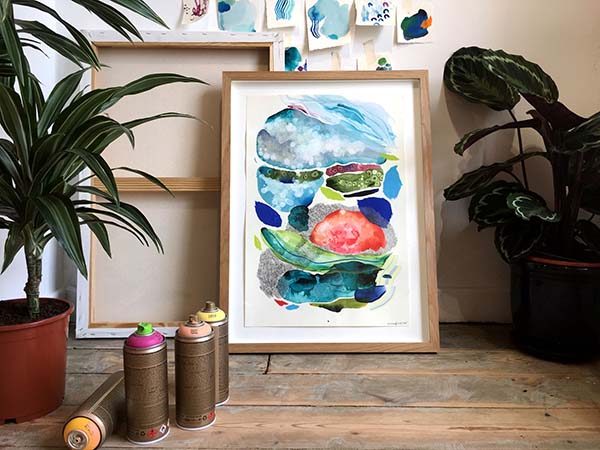 There is a vigour which creates almost cosmic vistas hovering on the paper as if paused for a split second in its nucleus. Her chosen colour palette is vivid and spans the colour spectrum, and she is drawn to painting abstract representations of places she has experienced. The emerging creative captures not only what she sees, but also what she hears, smells, and touches—building on life and everything that exists from weather, colour, sound, conversation, adventure, and opportunity.
Howell's work is inspiring in many ways, yet it is fundamentally grown from the tragic loss of her father. It represents her healing process, but also her zest for life; as a result aiming to take viewers on a journey of environments. Visually appealing, spiritually healing and motivational, Emma shows that beauty, peace and solace can be found all around us. We just need to have our senses peaked.
We Heart caught up with Emma just before the launch of her first solo exhibition to find out more about her artistic practice.
Tell us why you decided to become an artist?
For as long as I can remember, art has been like a second language for me. As my first method of self-expression, painting in particular has enabled me to develop into an independent and creative person, but has also got me through the loss of my father.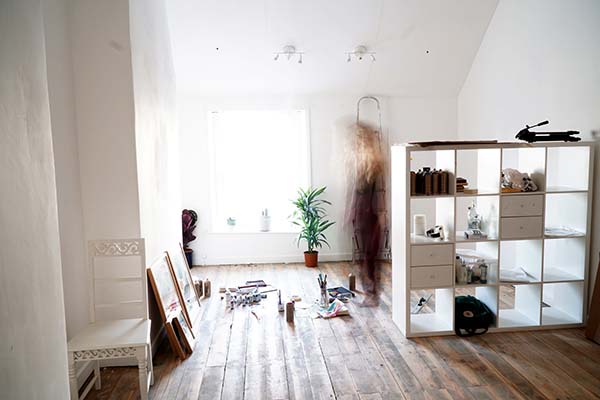 It did however take me quite a while to embark upon this adventurous career as an artist. Throughout school, fine art was undoubtedly my strongest subject. The history of past artists, the regular group critiques, and the opportunities to experiment with a variety of mediums sparked my curiosity. For some reason, however, I was adamant that art was not a realistic career choice; it felt too risky so I parted ways with my paints and entered university with a pile of forensic science textbooks instead.
So what changed?
Seven weeks into my second university attempt (in scientific disciplines), I had an epiphany. Feeling uncomfortable and disinterested after a lecture in organic chemistry, I slumped on my bed, glanced over at my desk, and noticed the chaos of drawings, sketchbooks, and pencil shavings sprawled across it. It was at this moment that I dropped out of university for the second time and moved back to my hometown where I began (and completed) my final degree in fine art.
Despite graduating with a first class degree, the reality of 'adult life' was something I couldn't quite get on board with, and yet again the career of an artist seemed to be unsafe and terrifying.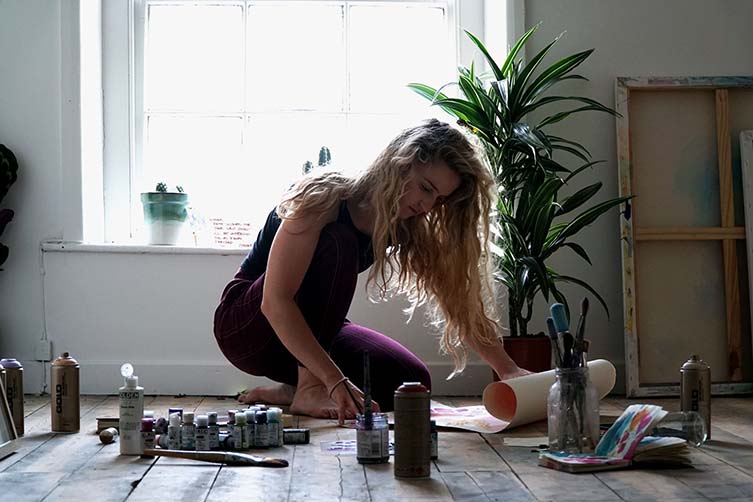 What finally made you take the plunge?
It wasn't until my father quite suddenly passed away in 2016 that I developed the bravery to commit to the career I'd dreamt about. Dad used to tell me to work for myself, because "being the boss is king". And you know what? He was right.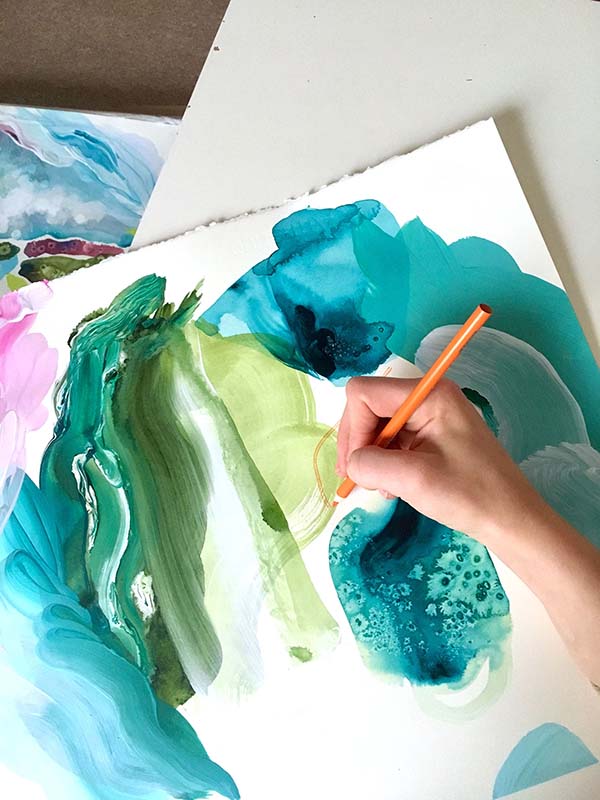 Can you tell us about the healing process after experiencing such a loss?
I've found death to be absolutely terrifying. No one can ever prepare you for losing a parent. When I lost my father, I lost my mind. I lost my ability to socialise, I stopped eating, I was unable to think logically, and I lived in a world that I can only describe as a Salvador Dali painting; it was a delusional and terrifying place to be. I couldn't work and became a severe hypochondriac, convinced that the rest of my family and I will too die of cancer. Honestly, it was terrible.
Fortunately, I escaped this hallucination of life by painting. It was the only thing I could do to quieten my troubled thoughts and soothe my mental pain. As I slathered colour across a surface, foreign feelings of calm and contentment began to manifest. For the first time in six months, I began to feel like a living and breathing person again. Admittedly, this was ever so slight—but I knew at that moment that this was the start of my healing process.
It will always baffle me how the mere act of painting has enabled me to deal with such a significant loss. But I've grown to believe that fear and control is the two things that have acted as the catalysts.
Can you elaborate on this? How did fear and control play a part in changing things for you?
The fear is of a blank canvas—a surface that's waiting patiently to evolve into something purposeful. There's a pressure, a force that can only be described as dormant creativity that is ready to erupt. As soon as pigment hits the porous surface, I've no choice but to concentrate, to trust my hand and to be in control; and control was something I felt I'd lost.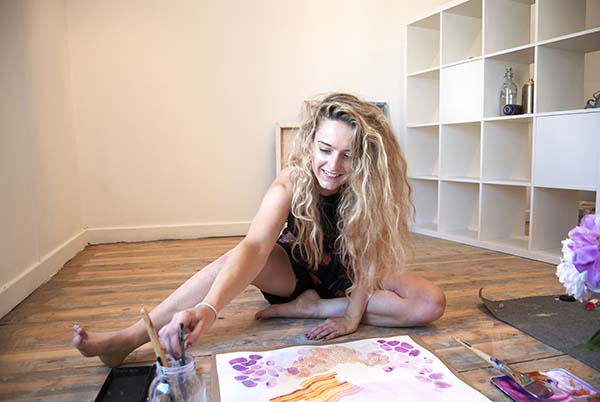 After about four months of expressive painting, I developed an interest in the outside world again—a world that I'd previously deemed grey, too tiresome and melancholic. The inspiration for new paintings, new colours, marks, smells, and conversations helped to generate new work. I stepped outside, embarked upon local adventures, and reestablished my relationship with life and everything it has to offer.
What would your advice be to others experiencing similar grief?
For anyone who has suffered a great loss and is in the process of grieving, I'd tell them to find a creative outlet. Whether it's painting, dancing, writing, or whatever, keep doing it until you start to feel more in control of yourself. Essentially, you'll need to 'find yourself' again. You need to redevelop yourself into someone that has to exist without the person you lost. Perhaps think about what they would want you to do.
I can honestly say (however tragic this may seem) that I am a stronger, braver, and more independent person than I was when my father was alive. It's just a shame that I've had to suffer to grow into the artist that I was always destined to be; and that he will never see it.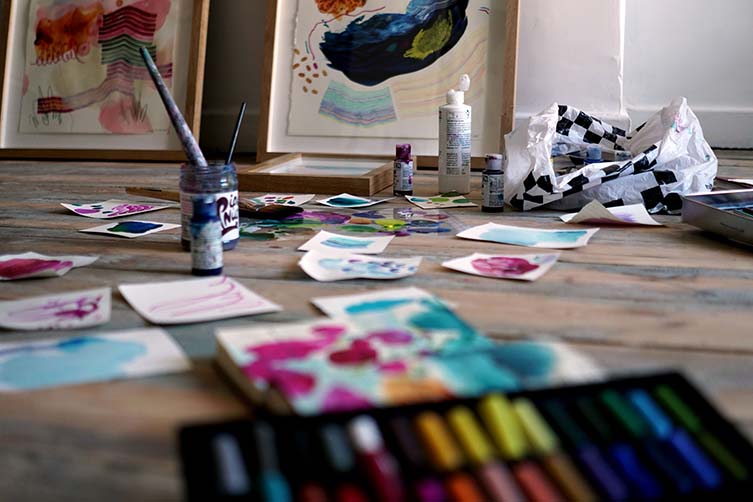 You explore and develop mark-making and colour-ways in your work, what colours do you particularly favour and for what reasons
As my work is quite dependent on experience, I feel that my colour palette will be ever-evolving. In a bustling city you're typically faced with a broad spectrum of greys, whites, and blues, whereas out in the countryside you're enveloped in olive green, dirty brown, and rusty orange.
Emotion and sensation also play a part in my choice of colours. For me, it's natural to associate a hue with a mood, a sound, or a feeling. For example, a cobalt blue could be a melancholic thought or a clamour of music; a magenta pink could be a moment of enthusiasm or a heated argument; a soft yellow the warming sun on my cheeks, or a complex conversation.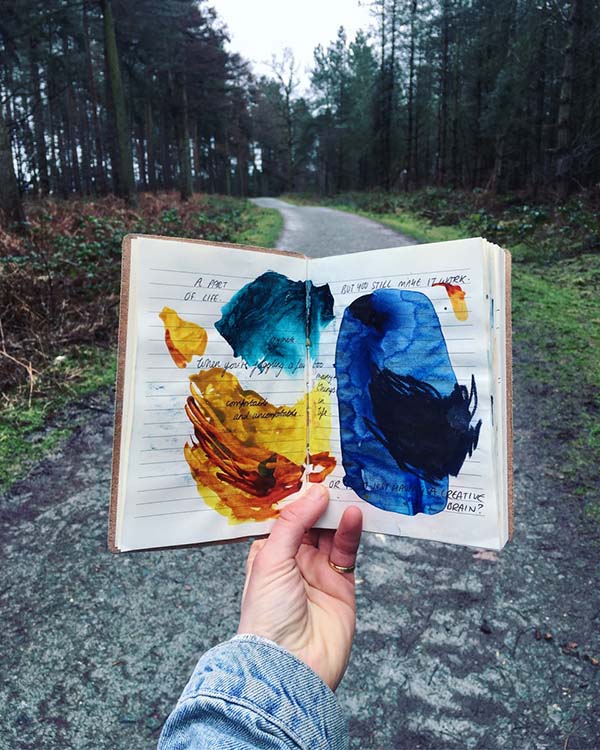 My most recent work has favoured earthy greens sourced from where I live, The Cotswolds, alongside my usual go-to blue, which is empathetic and kind to the eye.
Travel, places, and locations inspire your work. Tell us about some of your favourite places that you have visited and what these places 'gave' you as an artist?
Quite soon after my dad passed away, I had a wedding to attend in Hawaii. I know—pretty far from me, right? At the time, I was still in shock, very grief-stricken, and I was utterly agonising over leaving my mum for two weeks. The experience, however, changed my life. Hiking trails that stretched across Kauai's fresh and fluorescent green landscape triggered my senses that were lying dormant. Colour seemed to matter again; and matter a lot. The friendly culture, the delicious fusion cuisine, and the floral smells sparked something inside me.
Once I got back into painting a couple of months later, I started to have flashbacks of my Hawaiian adventure. It had a huge effect on the colours I used in my work—marks of jade green, dark magenta and zesty orange combined to form abstract representations of where I had been.
This method of recreating a place or experience became quite prominent in my work. I carry around journals with me to make documentation of places I've been, conversations I've overheard, textures I've felt and sounds I've tuned in to. I've found that even by exploring my hometown, abstraction and inspiration is everywhere.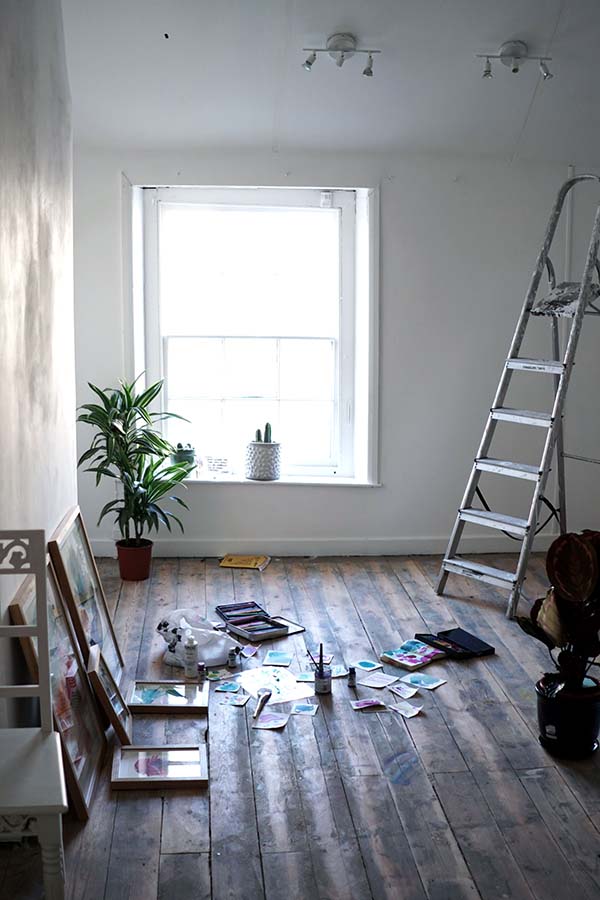 I believe that many of us take our home for granted. So, at the moment, I'm still enjoying Cheltenham and its neighbouring counties. The British countryside is incredible, and I'll be continuing to explore it this year.
Your first solo show Homegrown is opening in August, how did it come about and what does it signify?
The Homegrown exhibition is a monumental step for me in my career. Not only is it my first solo show, but it's also an opportunity for me to speak about my work and plunge into the deep end of a career as an artist. The whole show is in loving memory of my dad, Mark. It will be hosted in my studio-come-gallery space, which is above the music shop he founded in 1985.
When he passed away, my mum took over the business and reduced the stock upstairs, which allowed me to move in and have a place to work. Hobbycraft are sponsoring the exhibition, which is a collection of painted adventures and represents 18 months of healing. The 30 abstract paintings in the show are there to take you on a visual adventure and to introduce you to a new perspective—larger works are adaptations of pages from my journals, and my smaller works, The How Series, are deconstructions of colour and mark combinations sourced from nature and conversations.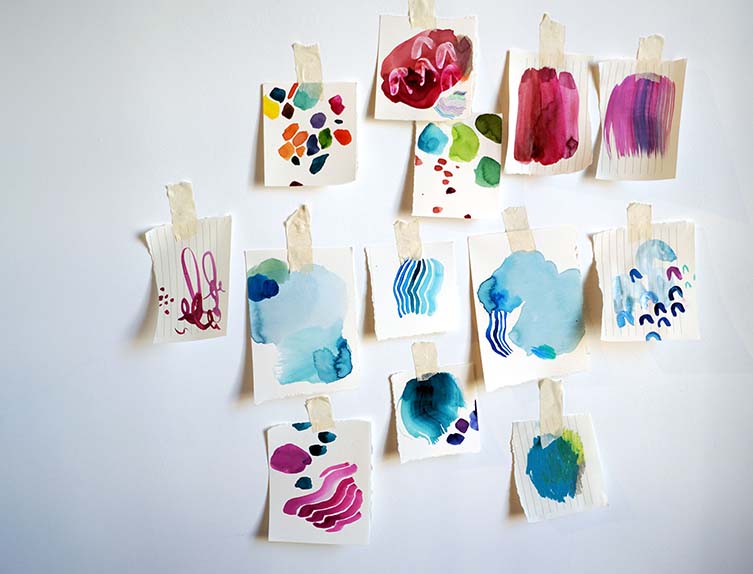 What are your plans once your solo show closes
Once the doors close, I have a few commissioned artworks to complete and a brief to finish for a brand I'm working with. I'll then focus on my next project. I want to explore the UK more, perhaps climb the mountains in Wales or wander around the rocks in Cornwall (with my paints and brushes, of course). With new experiences comes new artwork. So, I want to look further and dig deeper into my process, be braver with my choice of materials and work on a larger scale—and out of my comfort zone.
Join Emma Howell at the opening of her first solo show, Homegrown, on Friday 3 August from 7pm till 10pm at Aroundabout Sound, 448 High Street, Cheltenham, GL50 3JA. The exhibition is on view until Friday 17 August, 10am till 4pm, Tues to Sat or by appointment.