Heist gallery will present Polyphony, an inaugural review show of Maria Kreyn's work, at a secret London location from 10—28 May. For the first time, Heist gallery—who are on a mission to turn the white cube experience on its head—will curate a show at one of central London's most enchanting spaces. Taking an experiential approach to exhibition staging, Heist will lay on a production where visitors can register for free admission. Once guests receive their invite, they will be given the location, and a doorman will usher them in for a highly personal and rich textural experience.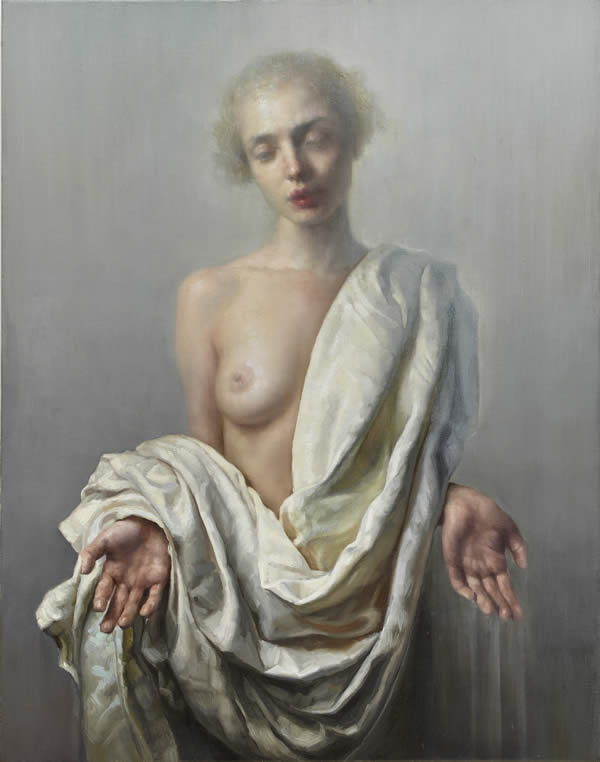 In 2014, Mashael Al Rushaid founded Heist as a gallery from a grand home in Notting Hill with the objective of giving collectors a sense of living with the art. They would host dinner parties hosted by the likes of Ronnie Wood, food by Jo Wood, and the interior would evolve with each show; being completely transformed to complement the work of the world-class artists that hung from the walls. Taking their manifesto forward for 2018, Heist's new concept is to show work in the most inspirational settings and to create imaginative productions around the work. Polyphony, explains Al Rushaid, outlines much of their artistic vision for the future; to seek out some of the most extraordinary spaces in London and re-contextualise them so art lovers are afforded different ways of experiencing art.
For Polyphany, Al Rushaid and Kreyn felt that the through-line that underpinned the work was consciousness and introspection, so they came-up with a narrative, which they created specifically to resonate with Kreyn's work. Al Rushaid explains, "Maria is an extraordinary artist so we wanted to create a magical counter-world in which people could engage with her and her work. She's a millennial with an old master's hand. Its a modern twist on classical painting, a refresh on the beautiful paintings created in the Renaissance and Baroque era."
Kreyn moved to Norway aged 20 to study as a painter's apprentice. Recognising her talent, Kreyn's tutor sent her away to Reykjavík, where he owned a stately building that was once a public library. He encouraged her to paint as much as she could, while her sole companion was another residing artist whose mentor had also sent away to paint. They would often drive out into the icy wilderness to paint landscapes outdoors, bracing the cold and wind which would chap their faces and ravage their hands. She and her fellow artist and housemate would return to a grand, empty household, filled with antiques and relics of the past, only sporadically connecting with people living half a world away.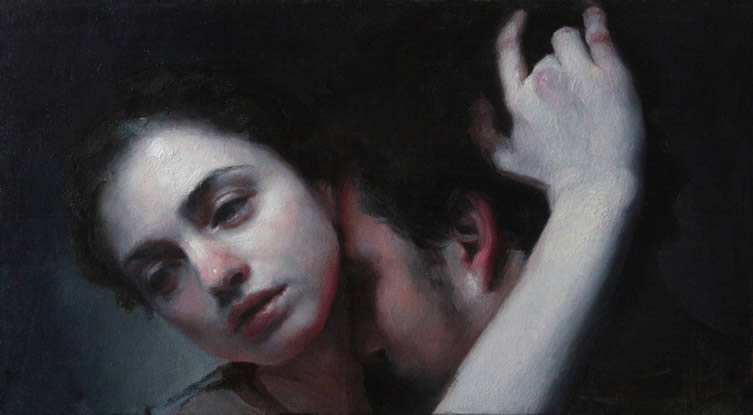 Maria started painting about being connected and disconnected at the same time, capturing an ambivalent state of being that has become her metier. After Reykjavík, her tutor sent her to a château that he and his wife were renovating outside Paris. Maria was duly instructed to continue to paint full-time, living alone in this stately pile while liaising with the renovation team although she barely spoke a word of French. With limited human connection, with a silence and stillness that has informed her work, she focussed on her craft, creating the psychologically-charged works which are now her signature.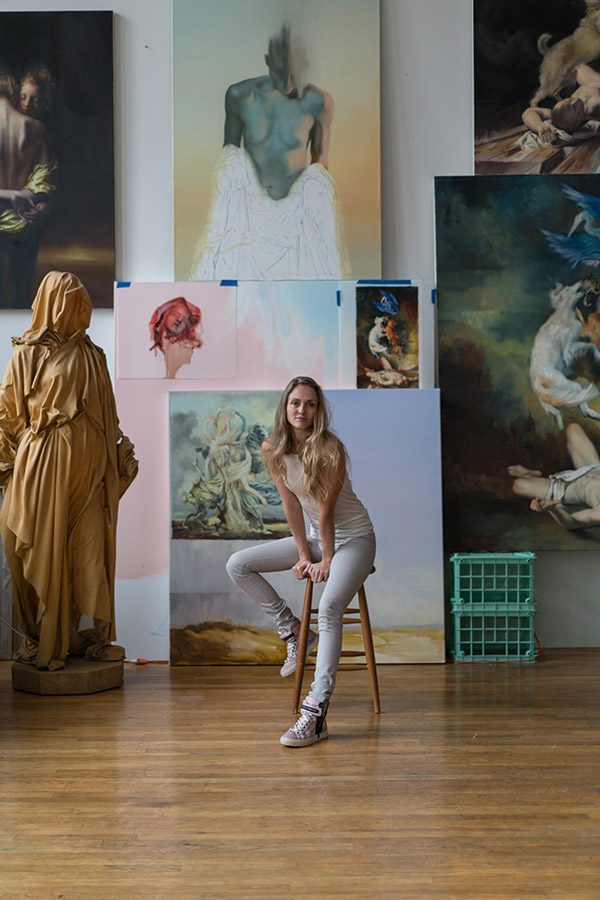 Maria explains that the sense of being connected and disconnected at the same time is a common thread in her paintings and drawings. With regards to her reinterpretation of women in the canon, she presents them as both melancholic and heroic, ambivalent in their intimacy. Women are centre stage, they are the narrators, empowered, even in their vulnerability. In 2016, her most famous painting Alone Together inspired the storyline of the ABC series The Catch, appearing in each episode. The producers were so taken with the work that they wrote Maria into the show, and she was a character in season one without actually appearing. "The feeling of being alone together", she reasons, "it's a struggle we've always had. We're still seeking the balance."
Entitled Polyphony, referring to the flow of musical voices that are at times contradictory, yet always harmoniously resolved, both the artist and curator wanted to introduce multiple audio elements into the production. It is this context that Al Rushaid wanted to recreate, as well as giving a sense of the meditative state that Kreyn would find herself in, becoming somewhat lost in the work. Without giving too much away, once guests enter the mise en scène of the exhibition, they will circumvent around Maria's art, while a number of audio and visual experiences will enhance the work. Musical performances have been co-curated as a collaboration between Heist gallery and Sofar Sounds, a global organisation which puts on gigs in magical and intimate spaces; having previously managed to persuade some of the world's biggest selling artists to perform in people's living rooms.
An audio composition by Bogotá-born punk rock and sound artist David Triana will complete the journey through the purpose-built set. Guests will also be able to experience an immersive fusion of sound through a sound bath; via planet gongs; native flutes; shamanic drums; angelic voices; and crystal bowls as created by the masters of high frequency, Tim Wheater, Cherub, Aaron Horn and, Sula Mae.
Meanwhile, there will be a series of art talks and discussions from the likes of renowned artist, patron, and author, Maryam Eisler. Al Rushaid explains that it's the stillness of how Maria learned to paint and how it informed her work that they wanted to capture. As there's something markedly mystical about how she paints, Heist wanted to take people on that journey and encourage them to have their own moment of serenity, away from the crowds. As for the secret location, they wanted to make a virtue of the fact that you would have to seek out this cavernous space on one of the busiest streets in London and just take a breath, come for a sound bath, enjoy some beautiful art or attend a talk.
"Art is not meant to just be seen and we hope that Heist in some way redefines how it can be experienced", says Al Rushaid by way of explaining. "We're offering multi-sensory means of interaction with artwork and this will be the first of many shows. We want to bring art closer, so come and find Heist."
Polyphony by Maria Kreyn and Heist gallery will run from 10—29 May at a secret location.