Marlene Steyn's practice is one that typifies the cliché weird and wonderful. Oft difficult to decode, Steyn's paintings and sculptures are multi-layered, subjects intertwined – the results represented in delicate narrative style. When I first discovered the young RCA grad, I was instantly drawn to her subhuman characters, her web-like compositions. Their bonded forms and patchwork approach catch my eye: braided bodies, perpetual empty torsos, hints of psychoanalysis and overactive imagination. Delving deeper into Marlene's surreal, complex and often amusing paintings, my curiosity moves into overdrive.
Many things fascinate the South Africa-born artist, from nature to the body and its orifices, to the 'self' and its place in the universe at large. Inspired by the likes of Wangechi Mutu, Jan Svankmajer and Allison Schulnik, Steyn's work is expressive, somewhat abstract, largely upbeat.
I sat down with the rising star to chat about her work, to discover what inspires and propels the young artist to express such imaginative compositions. We also get a mini insight into the artist as a six year-old adventurer, growing up 'outside' in South Africa's bountiful land, something that has naturally shaped Marlene and her practice.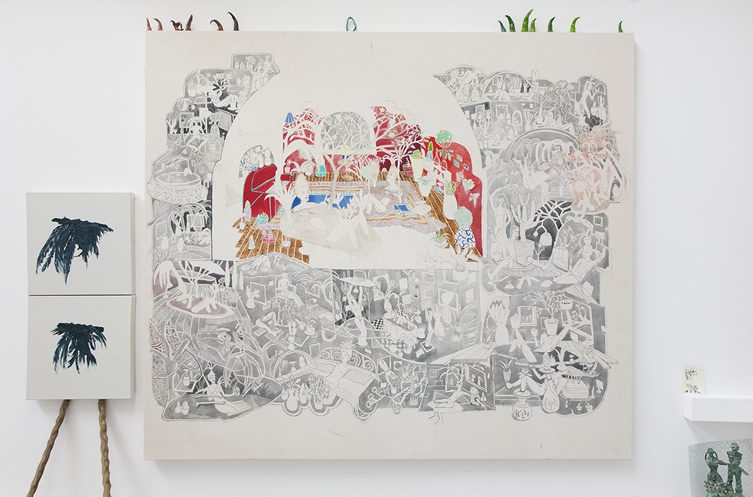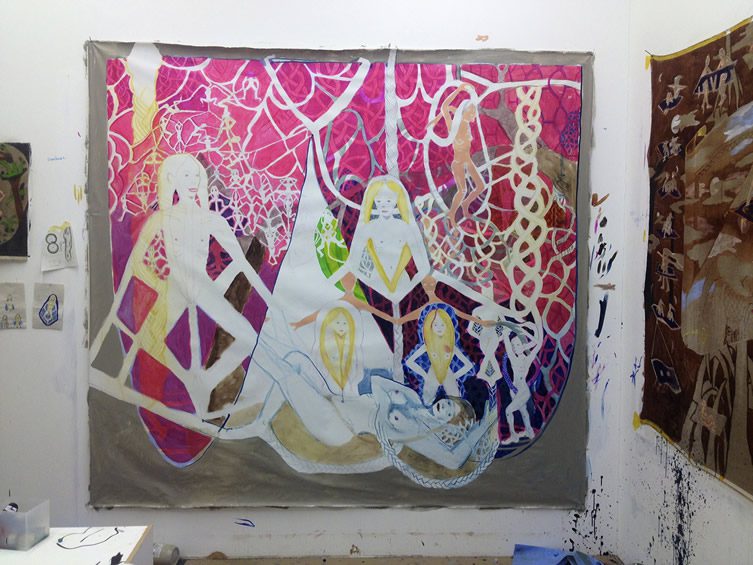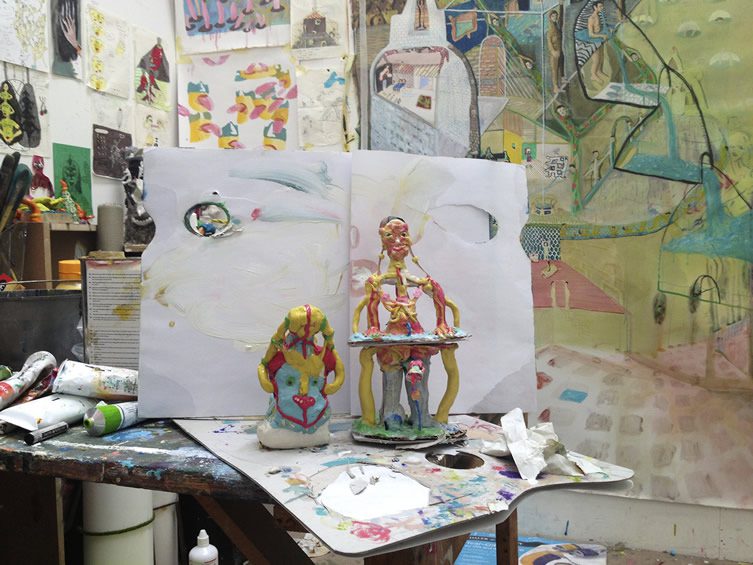 The subjects of your sculptures and paintings are often humans represented in non-humanistic ways. What is it with the body that fascinates you?
 
I think in figures, and have always been drawn to the expression: "figuring something out". In my practice, thinking and figuring are Siamese twins. I am fascinated by our relationship with what surrounds it, be it other humans, nature, furniture or even abstract things like desires and fears. For me, the body in art is transportive; it is in a sense the most familiar form – the "thing" we see in the mirror in the morning, the "thing" that embodies us and everybody else. This allows the viewer to be able to identify with uncanny figurations.
 
Tell us about growing up in South Africa. How has that influenced you and what inspiration do you take from your homeland?
 
The South African landscape is at times drool-inducingly beautiful, and in other times poisonously dangerous. This has shaped my practice and me. Growing up in South Africa was growing up outside. I preferred flowers to dolls, and they would often ride on the back of our golden retriever. At the age of six I had established a medical practice for the sun beetles, centipedes and hairy spiders that drowned in our swimming pool. I managed to save a few with my secret herb potions. On holidays my family and I would often go to the wild reserve where almost all the wild animals you can think of roam freely outside the fence. The landscape, with elements of danger and awe, definitely set the foundation for the imaginary narratives that thread through all of my work.
 
People and objects, creatures and structures: what is the significance of these conjoining and becoming the subjects of your paintings?
 
I am intrigued by psychoanalysis, especially in theories that explore the unconscious and the different processes of self-formation. I think the 'self' is a very slippery and complex thing that cannot be boxed-up and labelled. Through conjoining, braiding, weaving and compressing figures and objects, I guess I am proposing a subject that is not apart, but rather a part of a more intricate web or tapestry. In a way, I want to visualise how we are formed and reformed through and with our surroundings – and how this process of taking form is ever-changing.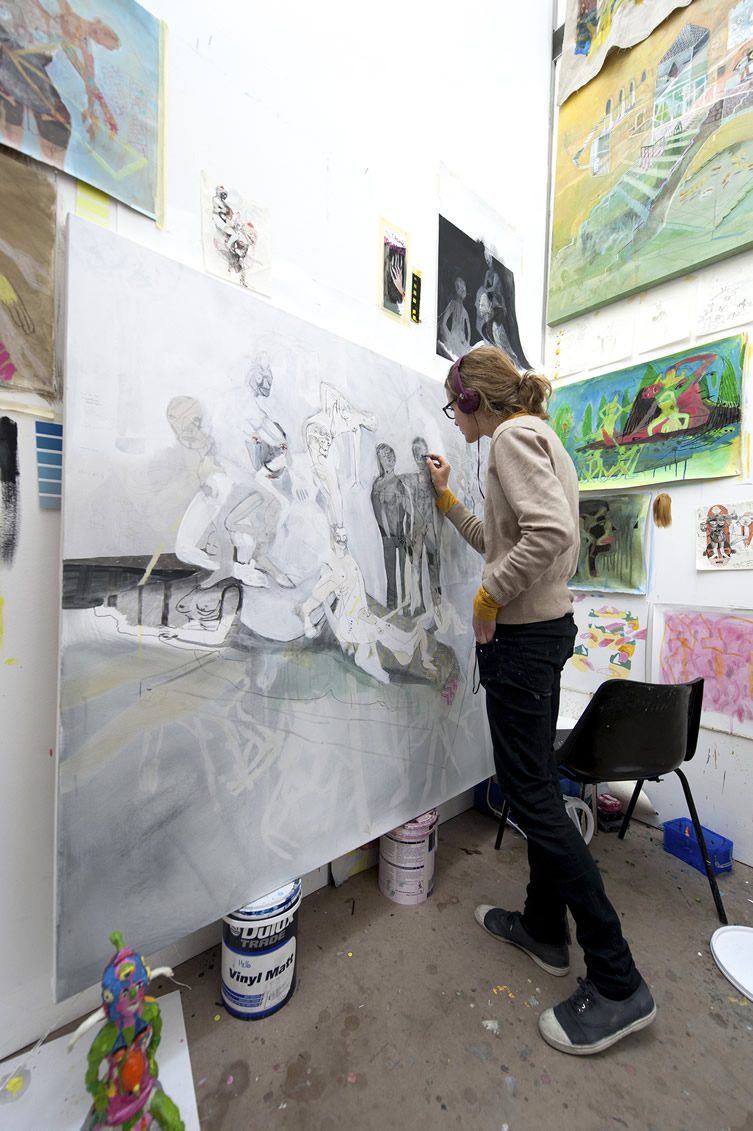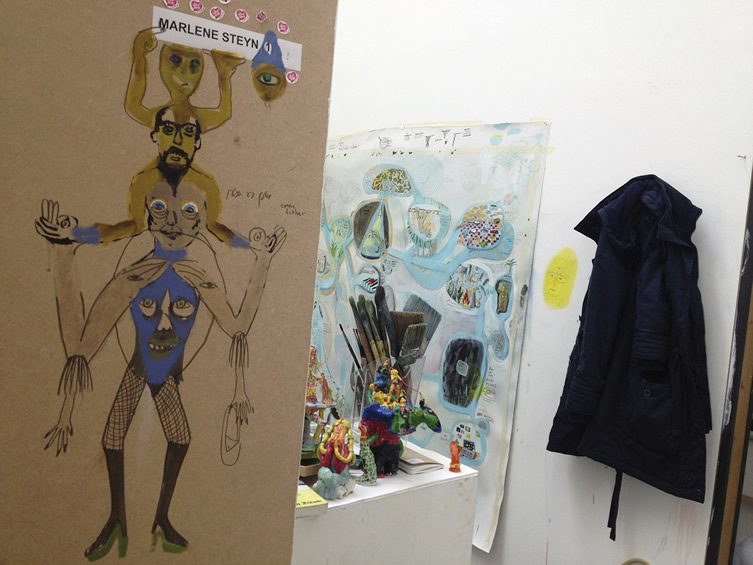 Reincarnation, or the circle of life and afterlife, seem to appear in your work. Where does this come from?
 
I want to create figures who are in a process of becoming – who never reach a final destination or a point of coherence. I can see how you read reincarnation as a theme in the work, and it is definitely something I am very interested in, but while I am painting or sculpting I would say that I am more invested in thoughts surrounding doubling and mimicry. Where a 'self' loses and is loosened from her mould.  
 
In your work you are essentially a narrator that paints/sculpts. Would this be a fair statement? And do you also write stories without visualising them?
 
This is definitely true. I am very intrigued by the relationship between the see-able and say-able, and I often think about my paintings as stories I could not have written with words. I also often write poems and stories and sometimes they exist only as texts. During the time that I wrote my dissertation at the RCA, I became much more invested in creative writing and found a poetic language that can reflect a painterly sensibility.
 
There appears to be a strong influence of intertwining, of uniting objects or people. Does this have anything to do with loneliness in its simplest personal form, or is it a part of the wider universal picture?
 
I think the intertwining of the figures and objects into compressed moieties has to do with a wide spectrum of many things, some light-hearted and humorous, and some more serious and sombre. Loneliness would definitely fall into this spectrum as it is again intertwined in the territory of desires. I would be very reluctant to say that the work is about "loneliness" as it is simultaneously about relationships, silliness, contemporary culture and imagination.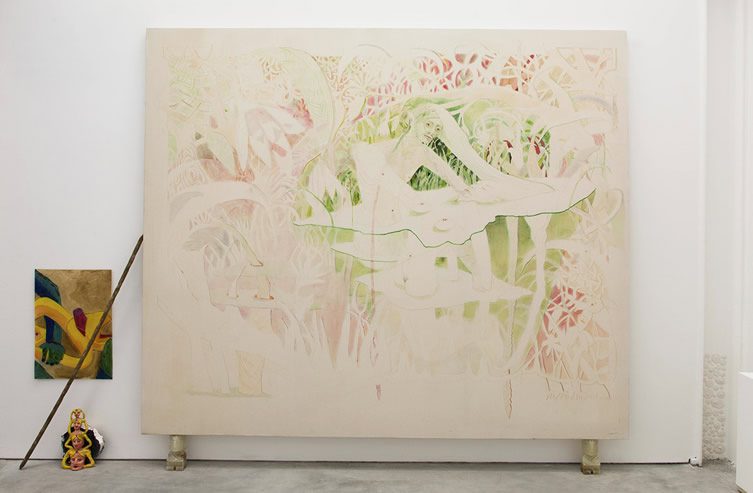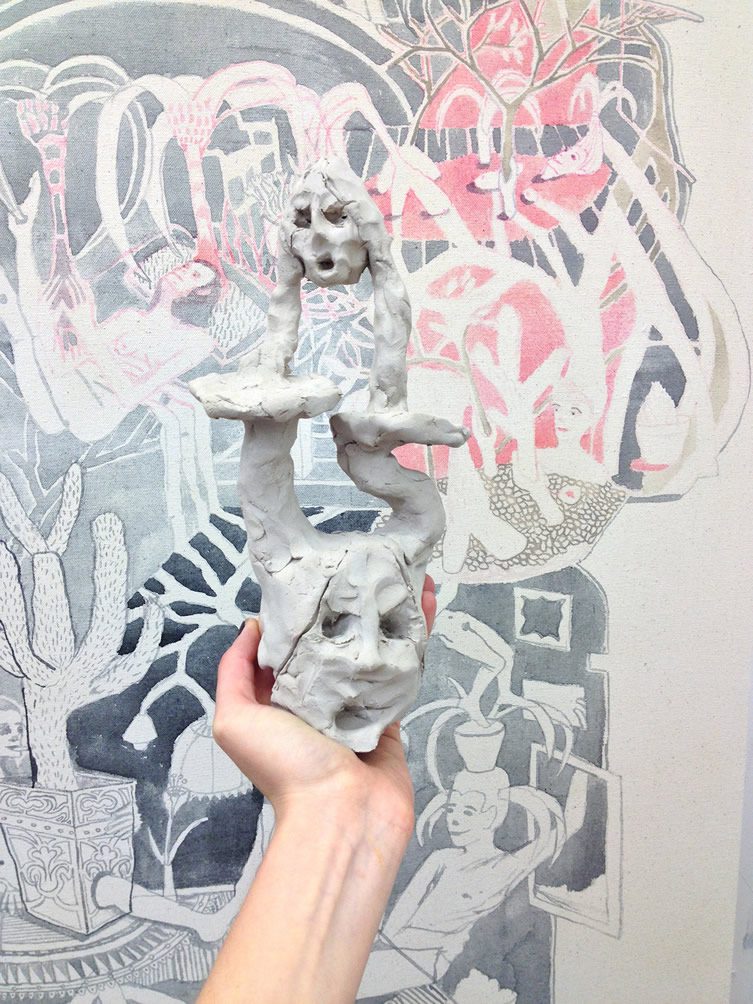 Hieronymus Bosch has been referenced as an inspiration on your painting, for his complex triptychs that illustrate moral or religious narratives. Who or what else would you say has inspired you thus far?
 
The list will be too long, but my absolute favourites in terms of historic and modern artists dealing with figurations, apart from Bosch, would include William Blake; Victor Brauner; Richard Dadd; Henri Rousseau; Giuseppe Arcimboldo; Jan Svankmajer and Frida Kahlo. Contemporary artists who deal with the figure in very interesting ways who I follow include Dana Schutz; Wangechi Mutu; Nathalie Djurberg; Allison Schulnik; Ryan Mosley and Dasha Shiskin. I am equally intrigued by outsider art including illustrations, old manuscripts, myths, fictions and historical figurines.
 
When not painting or creating what do you like to do – what would a typical day be like for you when not in the studio?
 
When I am not painting I am drawing. But when we take away the stationary, I love to jog, read, cook and drink tea or wine with my family and friends. My favourite places include the sea (I am an under-cover mermaid) and our Karoo farm in South Africa, where I am extremely happy on a horse's back.
 
Now back in SA, what is next for Marlene Steyn?
 
I have been back for a month and have spent most of it absorbing the sun's rays. I have so dearly missed London and spending time with my family and friends. I was awarded a fellowship for the beginning of next year to paint at the Vermont Studio Centre for two months. After that I plan to make Cape Town my base and to continue to apply for short-term residencies abroad. I also have a solo show next year in London at Lychee One, so look forward to visiting again.
***