West is Best seems to be the proud hashtag attached to many west London hangouts. As a Londoner, you base yourself in one of the cardinal directions: East or West, perhaps South or North (or even Central if you can afford to), and more often than not head out no further than you need to. From Clapton it's a 'day out' if you want to go to Crystal Palace, a night out in Brixton if you're based in Notting Hill. Let's just say it's an epic journey home. Sounds ridiculous but in a city as big as our capital, it's how it is. Ashamedly, I rarely venture west. It's like another town to me—the people, the landscape, the architecture, the vibe. Different.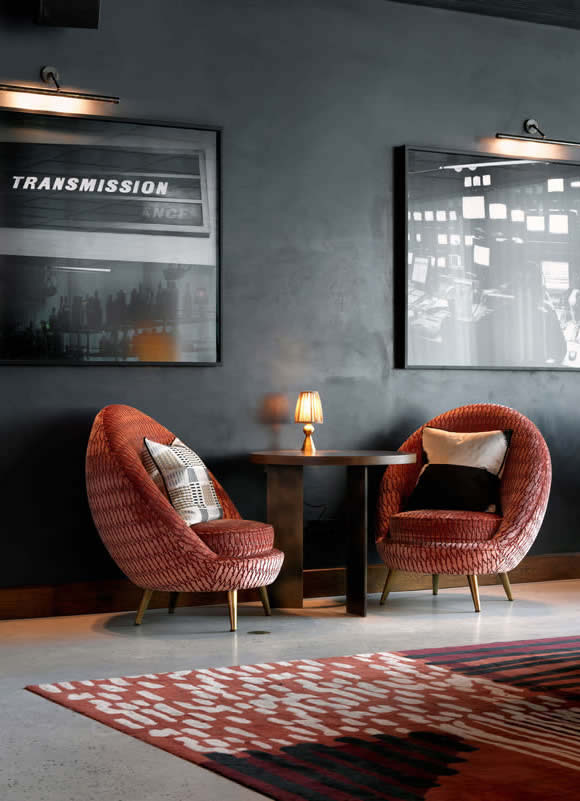 Each locale, however, is laden with its own hotspots, as these vast neighbourhoods are loaded with culture and experience-driven folks that demand to be entertained. One of these new creative-hubs-in-the-making is White City; synonymous with the former BBC Television Centre, and more recently Westfield. The former, an epic structure designed by Graham Dawbarn CBE was where British telly magic happened from the early sixties until it closed its doors in 2013. Kings of comedy, drama, music, and sport were made in this building. It was where television gold was produced, Blue Peter inspired us to make things using washing up bottles; Top of the Pops made our parents dance; and Sir David Attenborough showed us the magic of nature.
Befitting its locale and history, Soho House & Co's latest manifestation, White City House, now resides there across seven floors of the iconic circular Grade II-listed Helios building and its crescent extension. A whopper spend we're sure, there are two members floors including a rooftop pool and bar. The 45-room hotel is open to the public, and guests have access to the gym and the House during their stay. The Allis, an all-day restaurant and bar that dominates the entire entrance floor and outdoor terrace, is open to everyone and acts as the reception for hotel and members areas.
There are mid-century design nods all over the House, from George Nelson lamps to Terrazzo tables and flooring. Taking inspiration from the history of the building, BBC motifs feature across the rooms, and both members and public spaces. Sir Peter Blake was commissioned to create collages of the BBC's most-loved personalities and characters, while other contemporary pieces by Archie Proudfoot and Chris Levine—among others—strategically adorn the spaces to continue the homage.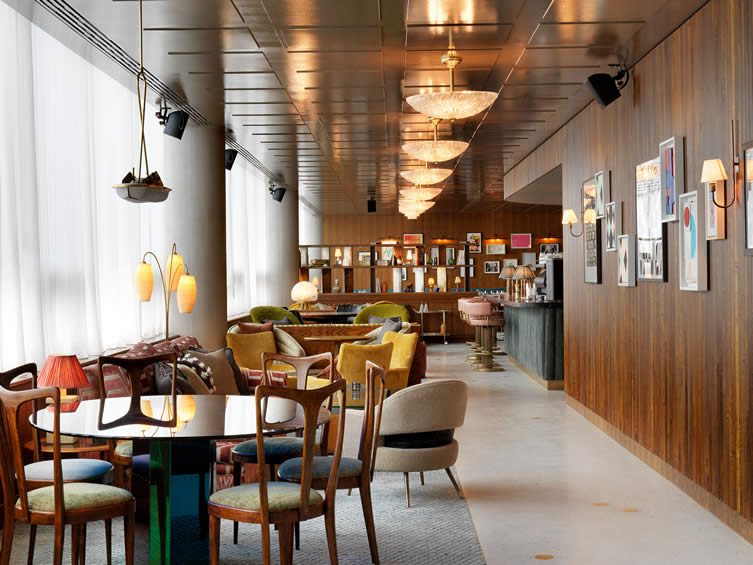 Members at White City House have a lot to play with when they are not ferociously typing away in one of the many rooms, bars, or hangouts. (Which, by the way, are wonderfully kitted out.) There's a retro Mad Menesque sunlit rooftop swimming pool and bar, with specially designed Terrazzo tile flooring that runs from the outside in; leading to a curved bar with leather stools and painted gloss timber ceiling stands. The 9th floor boasts the Horizon Terrace with fern trees, plants, and awning, and creates a vibe of pure relaxation and faraway lands. The House Canteen is an open kitchen serves global dishes, so if you want dumplings, or guacamole and corn chips, pizza or grilled meat, you got it. The Dear Tony Hart art collection adorns the entirety of the back wall, and the epic city views make considering membership a no-brainer.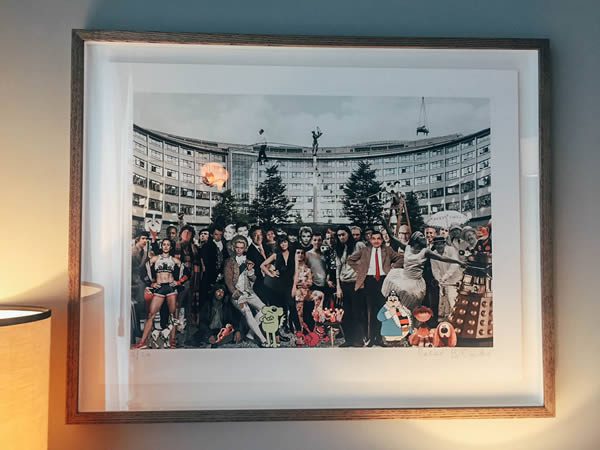 Hotel guests can choose from 'Tiny' to 'Big' rooms, and our 'Medium' was plenty charming and sizeable. The emperor-size beds could sleep a family, and the multitude of pillows suiting every need is worthy of any princess. Our view wasn't particularly inspiring, but with a fully-stocked mini bar and design features such as the many 1960s light feature and Hollywood mirror dresser to admire yourself in, it didn't really matter.
Hotel guests, as well as members, can make the most of one of the biggest gyms we've ever seen. Set in the basement and spanning 24,000 sq ft, it is also one sexy looking space. Dark wood and low lighting create a sort of zen balance with the state of the art machinery. The House also boasts a Peloton bike, and we hear it's one of only three in the country. A sultry indoor pool inside a poured grey concrete room allows for relaxed fitness and steam, sauna, and hammam room that could see you spending more time in the gym. Serious gym freaks will LOVE it.
With something for everyone at White City House, hotel guests can enjoy all the facilities, while members can get away from it all or host meetings. As a local you can pop in for a coffee and a bite at The Allis and enjoy its open-to-all relaxed vibe. As one of the most important landmarks of British popular culture of the last sixty years, it would be a crime not to pop in, maybe stay the night and see what Soho House & Co have done with the place. Visitors will appreciate the epic homage to the history of the building and all that took place inside.