Room Mate Giulia has a touch of the Wes Andersons about it — which is fitting, given that the revered filmmaker's debut interior design project is just a few kilometres away; the Texan's kitschy Bar Luce keeps visitors to the imposing Fondazione Prada fed and watered. From south to central, though, Giulia is just a hop, skip, and a jump, away from the the Duomo di Milano's resplendency, and has a designer equally esteemed in their field.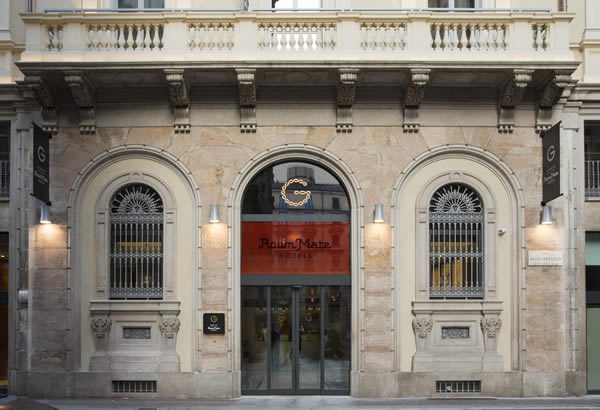 Spaniard Patricia Urquiola has run riot with her trademark love for colour and materiality, having been given a free rein by former Olympian Kike Sarasola, founder of Room Mate Hotels; the prospering Spanish chain who — with openings in the likes of Rotterdam, Paris, Florence, and Barcelona — are adding 10 new hotels to their portfolio this year.
'Working with Room Mate is wonderful,' explains Urquiola, 'they have given me complete freedom as they are not afraid to make a difference. Room Mate Giulia combines the essence of Milan; it's new, fresh, fun and welcoming.' Which is true to the nth. The Anderson touches arrive in the attention to detail and deep-set appreciation of times past, the rooms themselves the best example; informed by typical Italian domestic spaces, they are nostalgic, cinematic, perfectly realised.
The contract division of design brand Cassina (for whom Urquiola was appointed art director last year) have managed the hotel's entire fit-out — beds to cabinets, bathrooms to curtains — and where their mark hasn't been left, the building's history shines through. 'The hotel reflects the city through its colours, materials, images, irony, the mix of different languages and also its rigour,' the designer continues, 'all with the most intimate accuracy.'