The 1990s were a bit mad, weren't they? There seemed a perverse cuddliness to consumerism at the time, but retrospection reveals a stench of malevolence. The Mickey Mouse Club or Marky Mark in his underpants, the soft focus of Dawson's Creek and the escalating boom in Silicon Valley. Nirvana or the 'King of Pop'.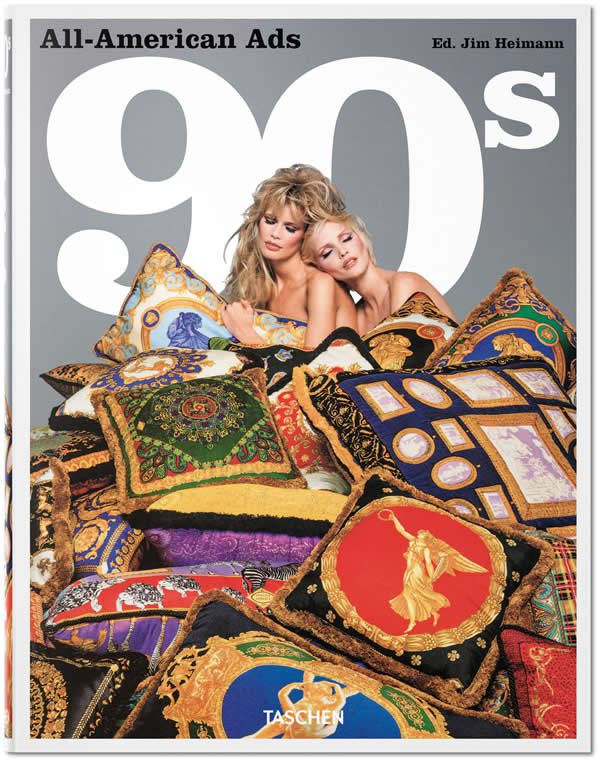 Daubed with over-saturation and a fake smiles, the 1990s represented peak excess. Bums and boobs were inescapable in a world before hashtag activism, and racism was a deepening crack being painted over at a rate of knots. Britpop. Tony fucking Blair. "I did not have sexual relations with that woman." Wars and massacres. Pop culture classics on box and in the box office. Grunge and nu-metal. George Michael in the toilet. Games consoles.
Money was everywhere. And stuff was too. Loads and loads of stuff. In TASCHEN's All-American Ads of the 90s, author Steven Heller and cultural anthropologist Jim Heimann delve into the murky world of marketing in the decade consumerism ruled. From the spiralling prevalence of luxury brands to the declining lifetime of consumer electronics; an automobile industry reinventing itself and that inescapable sexualising of the female frame. Pop videos, telly series, magazines, and films—as the decade progressed it began to feel like there was nothing left that wasn't an advertisement.
Containing six chapters that cover a range of 1990s advertising, from food and fashion to entertainment and cars, the 680-page hardback provides a disorientating journey through an age where culture became commodified, where innocence was laid to rest and the troubling tone of the 21st century was set. Documenting the close of a century that ate itself, Heller and Heimann's exhaustive compendium is a treasure trove of consumerism assimilating mass culture.
All-American Ads of the 90s by Steven Heller and Jim Heimann is available now from TASCHEN.