"To me," said advertising titan George Lois (oft cited as an inspiration behind Mad Men's Don Draper), "great advertising can make food taste better, can make your car run smoother. It can change your perception of something. Is it wrong to change your perception about something? Of course not. I'm not lying, I'm just saying, 'This one's more fun, this one's more exciting'."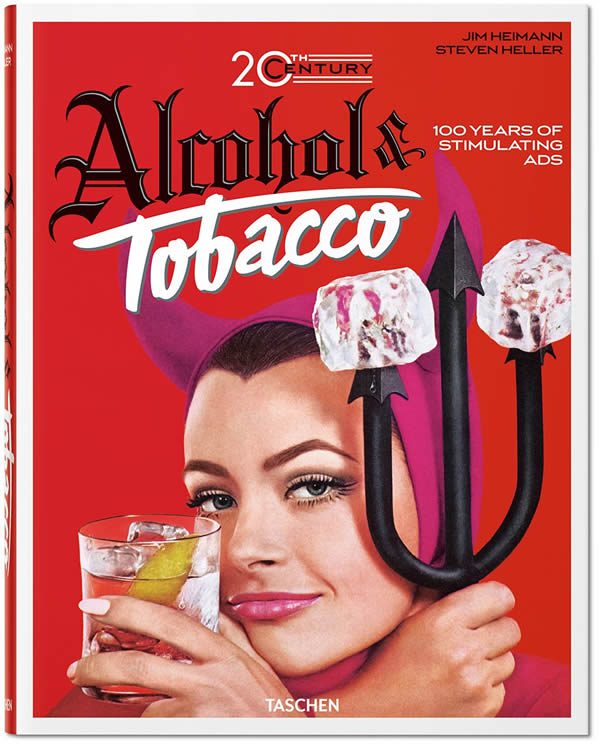 There can't be many industries who have benefitted more profoundly from the ad men's ability to change perceptions than those of alcohol and tobacco. From Lucky Strike to Asti, Marlboro to Bud Light, advertising has seduced consumers into a string of vices for decades; some campaigns so iconic—with brand images woven into American popular culture so effectively (think Leo Burnett's epochal Marlboro Man campaign)—that they remain identifiable by practically everybody to this day.
20th Century Alcohol & Tobacco Ads, edited by TASCHEN America executive editor and obsessive design collector Jim Heimann—and with words by Steven Heller and Allison Silver—is a remarkable selection of vintage adverts that showcase the abundant campaigns and trends of drinking and smoking in the history of the United States; exposing how manufacturers nudged customers to booze and puff their way through the 20th century with the help of creatives like George Lois.
Presented as a 392-page hardback published by TASCHEN, Jim Heimann. 20th Century Alcohol & Tobacco Ads, dives into the cultural anthropologist and historian's extensive archives; exploring a defining chapter in advertising history, the trends of each era captured page after page as clever, enticing, and sometimes subliminal messages.