"One can travel this world and see nothing," once said the great Italian still life painter, Giorgio Morandi. "To achieve understanding it is necessary not to see many things, but to look hard at what you do see." Informed by Morandi's restrained use of colour and simplicity of subject, you can't help but feel the Italian would have been impressed by Lucas y Hernández Gil's exquisite attention-to-detail at Seville's Casaplata.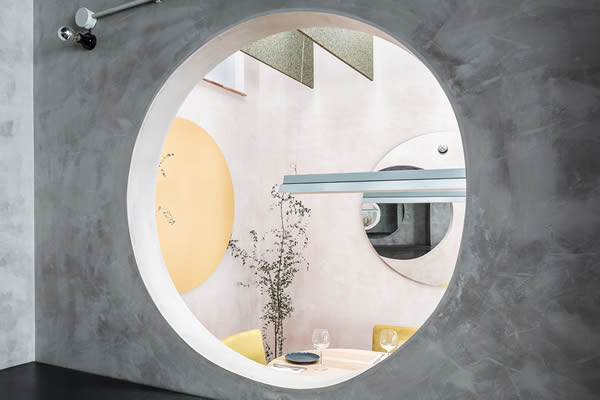 Located in the heart of the Andalusian capital, in an area many look to recall the past, the Madrid-based design firm deliberately bypassed nostalgia for this project—instead looking to the future to create a space with industrial edge—via swathes of unpolished concrete—a limited pastel colour palette, and bold usage of hard-lines and circular motifs; all positioning Casaplata as a trailblazer in Seville's hospitality scene.
Writing for the February 1955 issue of ARTnews, the future art historian John Berger called Morandi's work 'monastic' for its restraint—foreshadowing the work of Light and Space artists like James Turrell, it's clear there is more than influence than his renowned colour palette on this staggering space. Yes, his tonal subtlety—of delicate pinks, greens, blues, and yellows—complement stark grey walls, softening the appearance of exposed piping, corrugated metal ceilings and concrete flooring, but large mirrors and sensory lighting recall the experiential work of the artists Morandi would inspire.
With Lucas y Hernández Gil's artistic environment serving as a backdrop to a gastronomic experience—where equal progressiveness is applied to Mediterranean cuisine and craft cocktails—Casaplata is an experience light years ahead of what you might expect from Seville's traditional La Alameda.
@casaplatasevilla
@krestadesign