The skyscraper is king in Tokyo, and with one of the highest population densities in the world it certainly makes sense. The phrase 'bright lights, big city' could have been made for Japan's capital and the luxury hotels and restaurants occupying these immense constructions have taken full advantage; offering guests and diners alike an ideal viewpoint over that neon-lit skyline.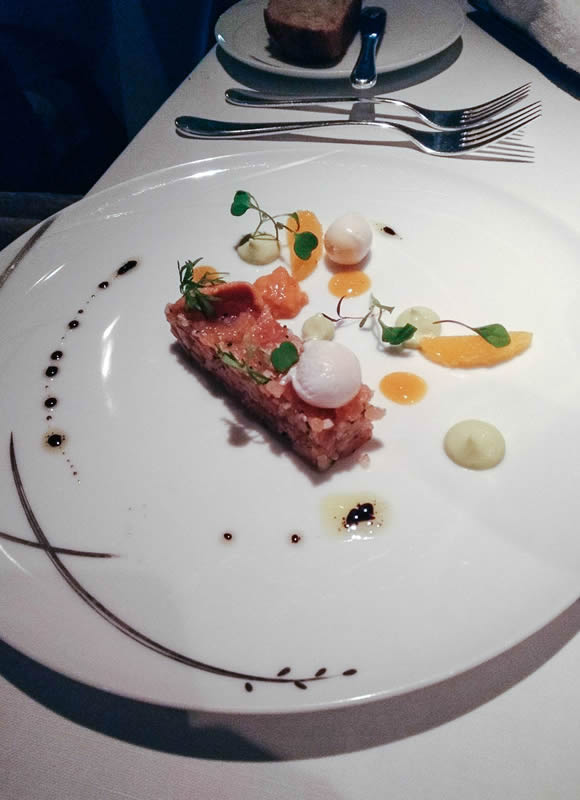 The Peninsula Hotel, celebrating its 10th anniversary this year, is no different. The 24th floor of this glitzy celebration of intense luxury is home to Peter at The Peninsula, a glamorous dining experience where the interior is just as exciting as the stunning views and international cuisine it serves up as a side.
A grill restaurant which offers so much more, Peter takes the best Japanese produce and introduces it to the world, bringing in flavours of Perú, France, and Italy to recast traditional ingredients. Our culinary odyssey takes us through the entirety of Japan, from the northern-most island of Hokkaido with its raw salmon, delicately marinated then lightened with citrus, sea urchin and quail egg, to the Pacific coast with freshly-caught alfonsino paired with cavolo nero and a star anise espuma; then to the country's southern-most island with the most popular meat in Japan cooked in two ways: pork loin and sausage, paired with caramelised apples and red wine jus. A distinctly European combination.
The centrepiece of Peter's extravagant menu is that supreme Japanese speciality: wagyu beef. Offering different cuts and quality by weight, the highlight of the restaurant's grill selection is the Kobe sirloin, resplendent with its impeccable marbling and that melt–in-the-mouth-without-losing-a-drop-of-richness flavour. A veritable Eden for meat eaters.
The backdrop to all this is one of high octane glamour and avant garde interiors created by renowned US and Canadian architecture and design team Yabu Pushelberg. Light and video installations dance across the walls, metallic trees fill the dining room, and semi-circular pods enclose private dining spaces. This futuristic setting could seem out of place in any other city but Tokyo. Here, more is definitely more and—if it can be interactive—even better.