Set over a single level, Beirut's hedonists and trendsetters are descending upon new nightclub 2 WEEKS, as light, materiality, and a moody visual language coalesce to create an experiential experience for club-goers.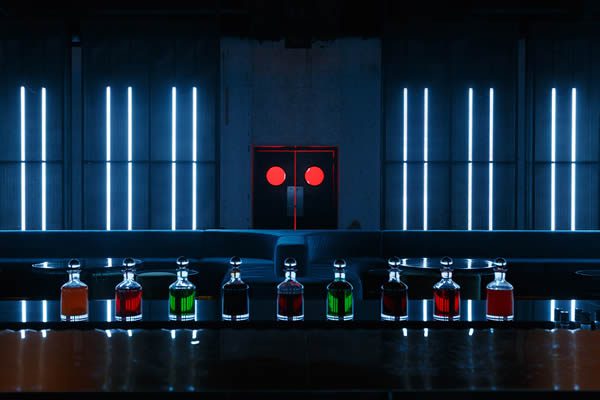 Located in Biel, overlooking the city's sea port, Rabih Geha Architects created a webbed black steel shell to house a bar, DJ booth, and seating areas. Containing a large part of the club, this shell, a 'shell within a shell' forms the basis of Geha's concept of viewing another world from the inside, the outer shell—raw with damaged walls—remains visible, an integral part of the destination where guests socialise in a chill out bar.
"The concept is about offering the club goers an immersive experience within an interior shell created to envelope the crowd, all the while still filtering out to the outside via the mesh," explains the architect, "it creates a sense of discharge. The path to the main space, which is the outside bar, is one of discovery, forming a palette of experiences before entering it." Based on the notion of containment without caging, RG/Architects worked closely with the team at Addmind Group; the client well-respected for their innovative approach to nightlife.
As visitors move around the shell, they switch between luxurious and industrial interiors, linear light elements encouraging playful interaction and movement without limits. Renowned for their use of light, Geha's practice set the mood dial to semi-dystopian futurism, completing an immersive experience for Beirut style-conscious ravers.