A collaboration between LARTE Milan and Roya Hospitality, LARTE Dubai is an all-day dining affair combining the best of contemporary Italian design, culinary creativity, and artistic expression — all wrapped up in a trattoria cum restaurant located in the city's dynamic Design District.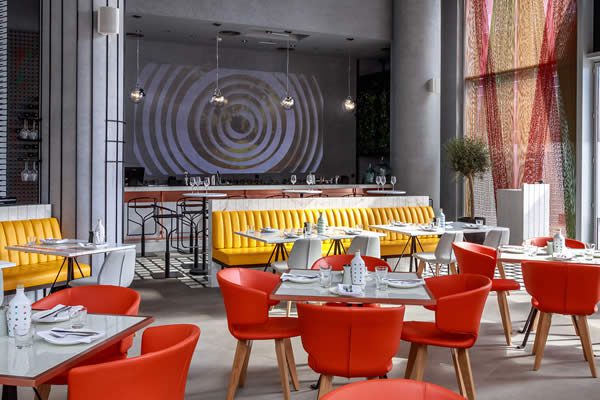 Living by the philosophy of bello, buono e ben fatto—which means 'the beautiful, the good and the well-made'—the Dubai Design District eatery follows on from a flagship concept in Milan, and focusses on the wholesome qualities of simplicity, honesty, and seasonal food; serving up fresh zucchini, arancini, beef bresaola, and carpaccios alongside bountiful salads, soups, pastas, meat, and fish.
Taking inspiration from fashion and art to create a space that harks to the eclectic—unconventional, yet approachable—interior design studio Bishop Design LLC used bold coloured fabrics, surface projections, and bespoke furniture throughout. Befitting of its surroundings, the venue also features floor to ceiling windows dressed with criss-crossed coloured strings of wool; arresting peg walls from which hang works of art; misfit art installations; and other quirky design objects.
Bishop Design nicely bring raw materials and refined details together throughout the design focal points of LARTE—drawing the eye to its bar and counters, the establishment's focal point; iluminated by sleek lightning and stacked with baked goods, biscuits, and condiments—which diners can eat in or take away. Design-conscious and art-heavy, Dubai Design District's LARTE brings Milan's quintessence to the desert in style.