Alex Chinneck is an artist who deals in whimsy and the illusory. Following projects that have seen a steel, upside-down electricity pylon for London Design Festival, and 7,500 wax bricks put to use in order of giving the notion that a façade of a Margate house was slipping away, Chinneck has just unveiled has latest work: Six pins and half a dozen needles.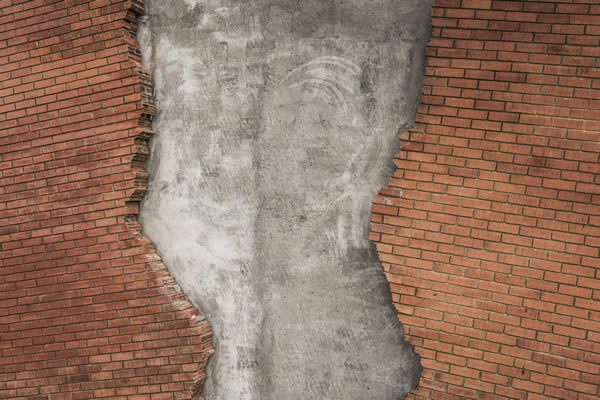 Located at Assembly London, a multi-purpose campus in the capital's Hammersmith neighbourhood, the public artwork has been built using 5,000 bespoke bricks, and reaches 20-metres high … appearing as though it his ripped in two, intended to resemble a ripped page, the British artist has once again employed his signature style; a mixture of art, architecture and engineering creating surreal unease.
The thought-provoking installation — 14-months in the making — was commissioned by AXA Investment Managers for Assembly London, and signals Chinneck's first permanent artwork; his studio already confirmed to be working on more. Conceived to engage onlookers and evoke fun and positivity, the sculpture has been designed with a 'cartoon-like quality', looking like it's come straight off the set of Who Framed Roger Rabbit; a much-needed respite from the seriousness of our age.