Refurbished bedrooms, public spaces, lobby and a new dining experience can all be found at San Diego icon, The Pearl Hotel, which has been welcoming guests since 1961. Having undergone extensive renovations, the old beauty reemerges as a 'new' modern and stylish boutique hotel for the Point Loma neighbourhood.
Operated by Casetta Group, who worked closely with architecture and design firm Electric Bowery (who worked on Los Angeles's superlative Silver Lake Pool & Inn), the property retains its 1960s mid-century California aesthetic, whilst a natural colour palette adds a relaxed, San Diego coastal vibe. In the public spaces, lushly kitsch brick walls and tiled floors are softened by lush greenery, glowing glass pendants, and an extra-large leather sofa placed in front of floor-to-ceiling windows—decorated with contemporary illustration—that let the natural light flood through.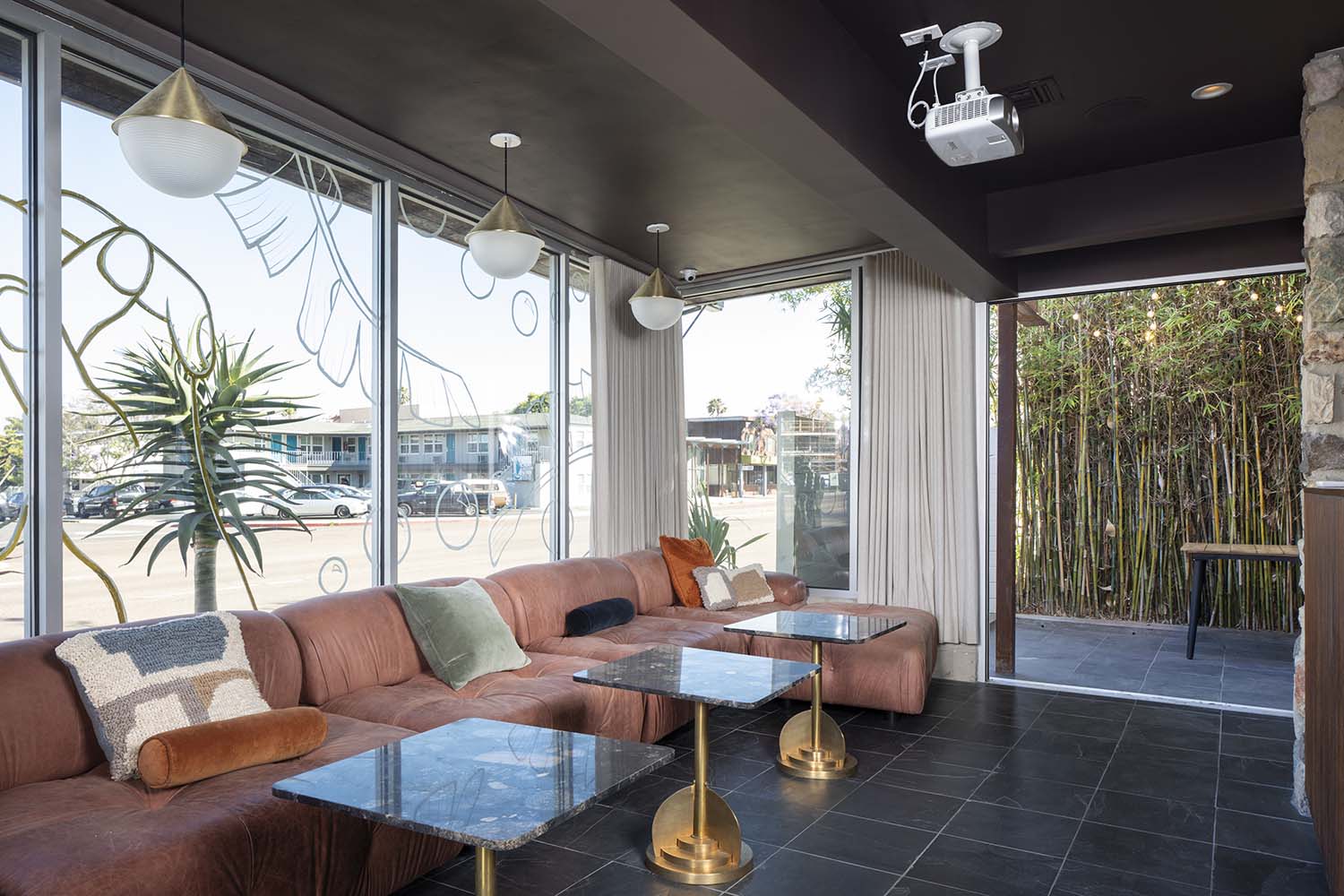 Guest rooms, of which there are 23, have been curated and reconfigured by San Diego-based Pow Wow Design Studio; each one a haven of calm with neutral tones, natural materials and organic textures. From solid wood furnishings to crisp white linens, flat-woven rugs, art and ceramics, guests are encouraged to reflect on the understated cool of Point Loma from a boudoir with nods to the glamour of Palm Springs in the '60s, and all the energy of Downtown San Diego. Ocean Bottle reusable water bottles and Roen x Casetta 001 candles, created with an exclusive blend of coconut wax, make up some of the inform amenities that adhere to the brand's ongoing commitment to eco-friendly travel.
Completing the property—as well as the legendary oyster-shaped pool that remains, albeit with an updated terrace area—is an updated dining experience, Charles + Dinorah (named after the hotel's former husband-wife owners) offering an adventurous yet approachable menu which can be enjoyed in the newly renovated restaurant or poolside. From oysters and shrimp taco, steak carpaccio and Vietnamese caramelised chicken wings, to the Chef's charcuterie board or the Pearl burger, dishes and drinks are made to order with the very best produce around.
Enjoy a mountain of Americana-infused retro style with coastal vibes and laidback glamour; The Pearl Hotel, San Diego, is the authentic blast from the past we're all craving right now.