Looking toward the incomparable style of film director Wes Anderson, namely the unforgettable and offbeat visual milieus he weaves onto the screen, Melbourne-based design studio Biasol have conjured their own idiosyncratic environment in Chengdu; at the capital of the Sichuan province's The Budapest Café.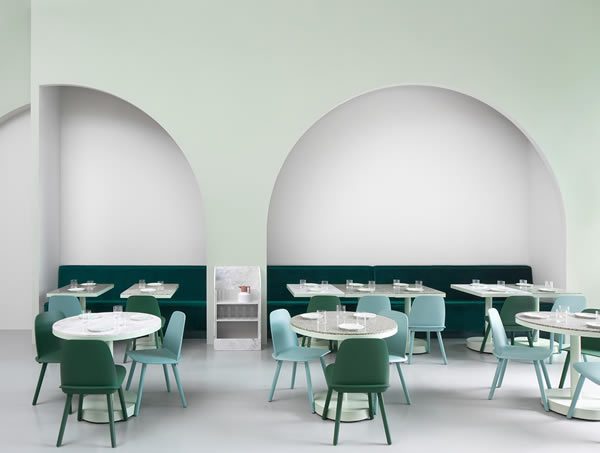 With a brief that included the request to 'appeal to social media-savvy females who enjoy café culture', the design studio ticked off every box possible. First by understanding Anderson's style — his symmetry, meticulous attention to detail, and whimsical set design — Biasol have pumped vivid and nostalgic colour palettes into the café; the cult director's eye for single perspectives creating a unique sense of two-dimensionality that is rare in interior design.
A relaxing yet indulgent ambience fills The Budapest Café, bringing Melbourne's café culture to the capital of up-and-coming Chinese city — elegant aesthetics lending the space that requested feminine touch. Layers and design features encourage customers to explore the café, its mezzanine level offering a view from above that is another common Anderson trope. Contrasting hard and soft colours are designed to reflect the personalities of the characters in The Grand Budapest Hotel.
A pink ball pool, neon signage, and original Eero Aarnio Bubble chair add an element of skittishness that rockets this evocative space to the top of Chengdu's must-see food and drink destinations.