Most people probably don't, or won't, remember their 20th birthday. You'll have been having too much fun. You're young, up on the latest trends, determined to have a fucking good time, at all costs. Fast forward twenty years and you'll probably be saying things like 'funky', and 'down with the kids'. Your idea of a rave could be dusting off an old Dire Straits record and turning it up just loud enough so your neighbour can hear it as he mows his lawn in deepest, darkest suburbia. Twenty years is a long time, and staying current is difficult, especially when you're a progressive electronic music festival. Founded in Barcelona, 1994, by Ricard Robles, Enric Palau and Sergi Caballero, Sónar celebrated a landmark birthday this year, but is it still relevant?
Operating as the elder statesman of the Catalan capital's dance music scene, Sónar is responsible for the entire city losing its inhibitions for the best part of a week each year – the fringe scene having flourished over the two decades of the festival's dominance, so much so, that for a week each June Barcelona practically becomes Ibiza. Anti-Sonar/Off-Sonar, the unofficial separatist splinter parties are massively popular attempts to upstage the granddaddy of Catalan electronica, with countless revellers flying out solely for the infamous beach, pool and rooftop parties that dominate the fringe hedonism. Can a titan like Sónar – constrained by location, sponsorship and with the weight of history on its shoulders – be dethroned by smaller, more transient parties? We dropped in on their 20th birthday for a brain-bashing few days to find out just that.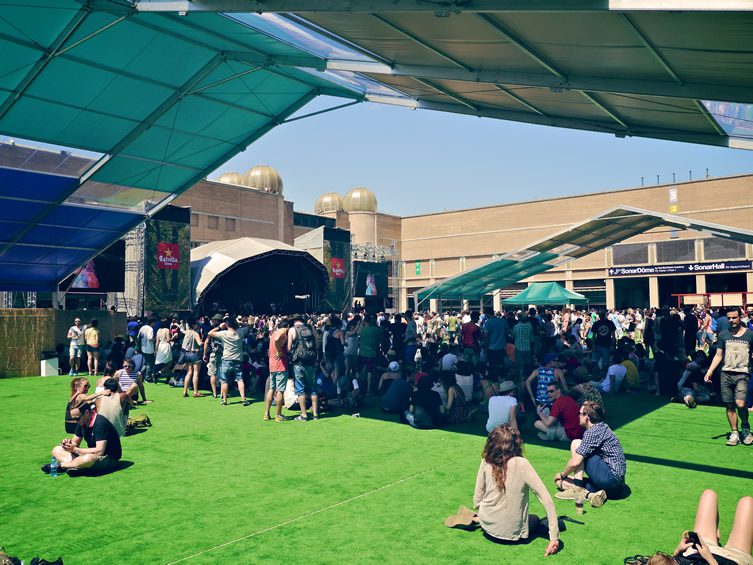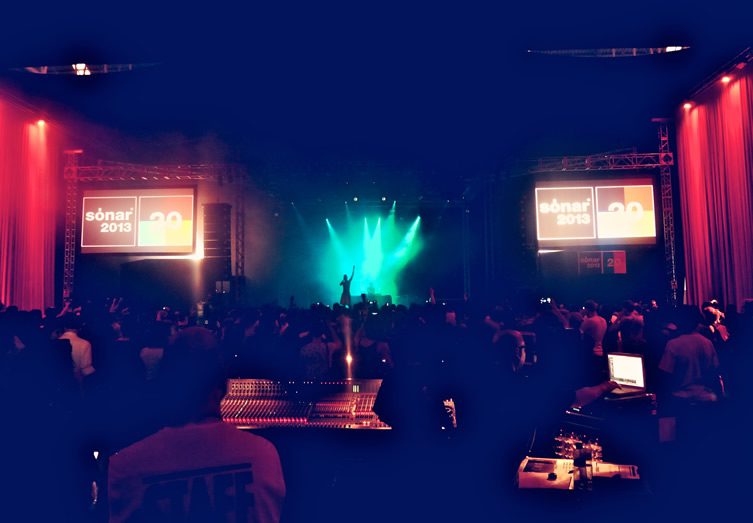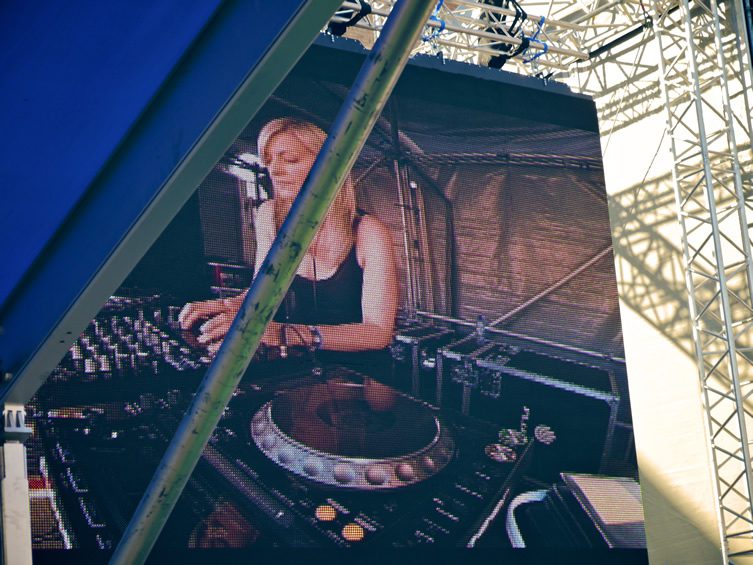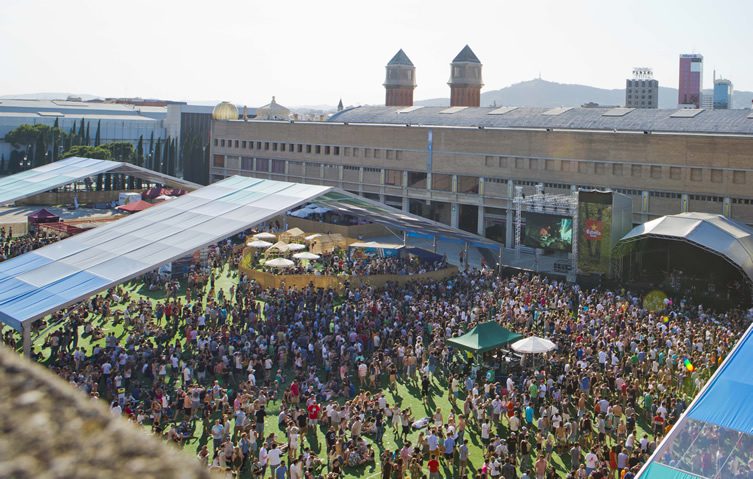 In terms of format, Sónar is a double dish affair; less hors d'oeuvre and main, more two American-sized portions heaped onto a dizzying platter, but wildly different to one another. Sónar By Day a cool, relaxing affair, Sónar By Night a daunting colossus carrying the spectre of wide-eyed casualties and feet that have danced until they've bled. It's a juxtaposition that you'll encounter during 24 hours at most festivals – but here the lines are literally drawn for you, by some 4.5km.
Settling in nicely to its new Fira Montjuïc venue, 2013's Sónar By Day was accompanied by the festival's debut Sónar+D – a kind of progressive trade show cum arts and music space, seeing installations from the likes of Alex Trochut sitting alongside workshops, panels and a Market Lab that put innovative tech companies infront of a captive audience. Music Hack Day also placed hackers and artists side-by-side for 24 hours, literally, to devise all manner of techie gubbins that went right over our heads (in a good way), including things like Brain-Computer Interfaces. Blimey.
Outside, the prickly fake grass is the place to while away the wicked effects of shaking your limbs until 7am – toxic tequila-teeming frozen margaritas take the edge off your early morning sins, and the dreamier side of electronic music is catered for on stage. Day one sees Peckham chillwave superstar Gold Panda dropping the twinkly glitches of his recorded material for a heavier live sound, perfect early-evening goodness to put charge into those dancing shoes. The sun-basked SonarVillage stages the likes of Modeselektor, Rob da Bank, Lindstrøm & Todd Terje and Mary Anne Hobbs over the course of the weekend – horizontal, beer in hand, unhealthy helpings of UV rays and waves of forward-thinking electronica washing over you… there's times when you'd be happy with SonarVillage being the beginning and end of this four day city shindig. But it's not…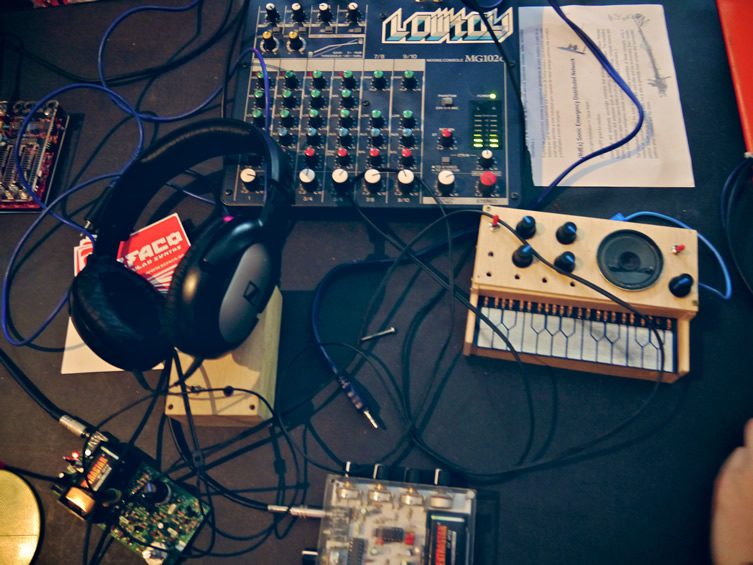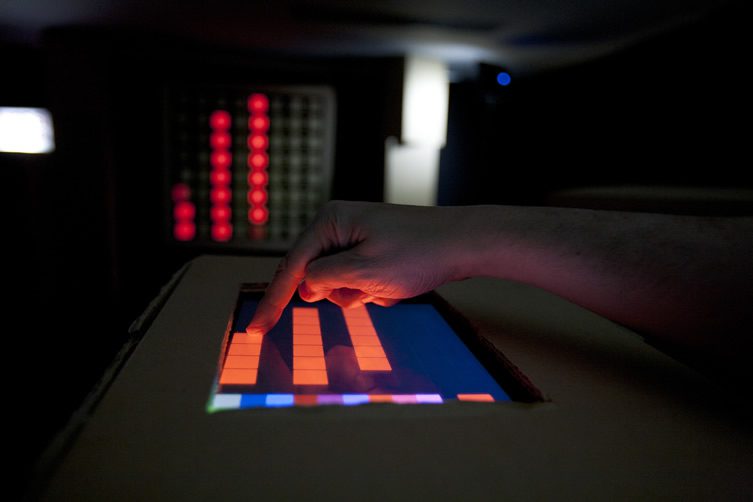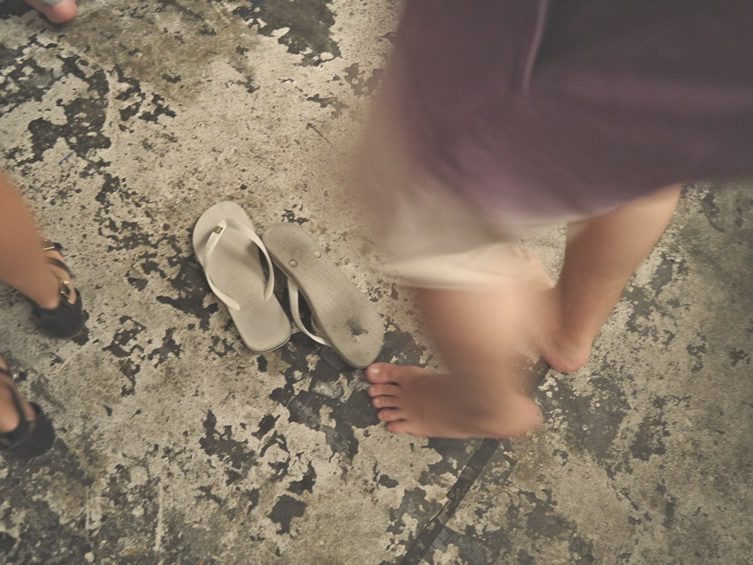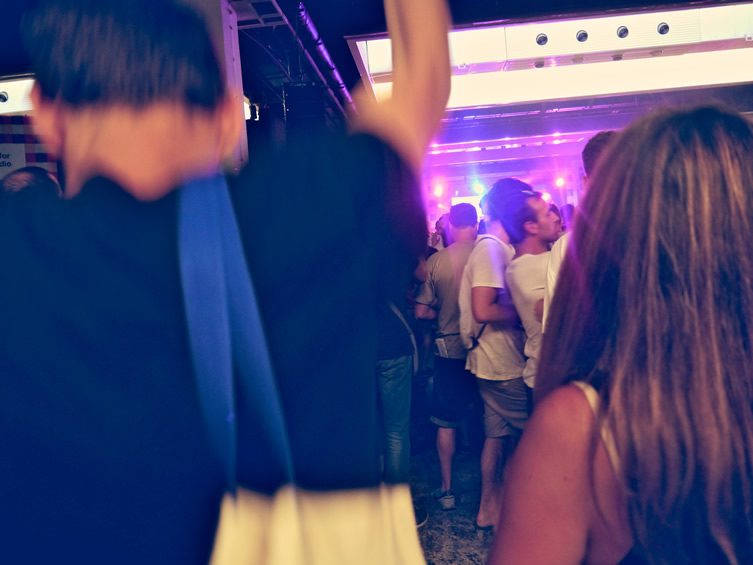 Inside are two additional venues with a warehousey feel that counteract the blissful empyrean outside; SonarHall and SonarDôme, that is accessible via an escalator. Escalators at festivals are vastly underrated. Completing the By Day venues are SonarComplex and SonarCinema, alongside Sónar+D's various nooks and crannies there's a dizzying array of programming to take your pick from. And what of said programming? It's impressive stuff – there's provocative drag queen posturing from Mykki Blanco, post-rock electronica from Liars, hip-hop experimentalism from JJ DOOM and Hudson Mohawke and Lunice's TNGHT, who were exceptional – storming beats from their eponymous debut EP tearing through SonarDôme, which really is a splendid little venue. In fact, one of our two highlight sets from the weekend came right before TNGHT on that same stage; Manchester-based Ireland-born producer/DJ Krystal Klear laying waste to the assembled crowd with a record box overflowing with disco, new jack swing and dancefloor-bulldozing, über-grin inducing certified classics. Dancing barefoot on concrete never felt so good.
By 10pm, and following a day of misbehaving in and out of the sun, your early-morning frolics are a thing of the past – it's ready to hop aboard the party bus and descend on the cavernous out-of-town Sónar By Night venue. Actually outside of Barcelona itself, Fira Gran Via L'Hospitalet is a conference centre of gargantuan proportions. Day turns Night – utopia turns dystopia. Occupying four hangar-sized spaces, Sónar By Night is a truly immense feat and daunting for many I speak to. Luckily, I like raving in warehouses with lots of people, and this is probably the biggest warehouse you'll ever rave in. This is like giving a dinosaur bone to a dog – give me seven hours a night here and I'll be your eternally loyal four-legged friend.
Sónar By Night is where the festival's headliners do their thing on Friday and Saturday night; past years have seen Beastie Boys, Björk, Daft Punk and The Chemical Brothers occupy the top of the bill but as Sónar celebrates twenty years in the game, it's fitting that this year's biggest names are categorical pioneers of electronica. With 75 years of electronic experience behind just two artists, there's few who could argue that Kraftwerk (performing in 3D) and Pet Shop Boys weren't fitting headliners for a landmark year in the festival's history. The sight of tens upon tens of thousands of people dancing in classic anaglyph 3D glasses is brilliant enough, but to a soundtrack of Autobahn, Computer Love, The Model, The Robots…? Epic.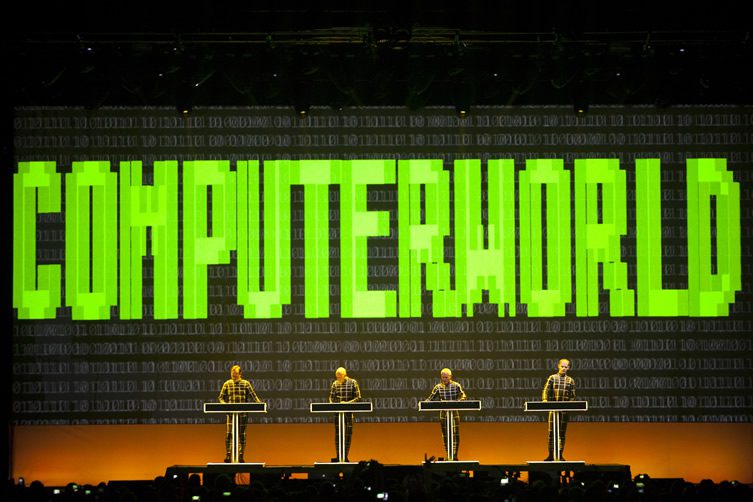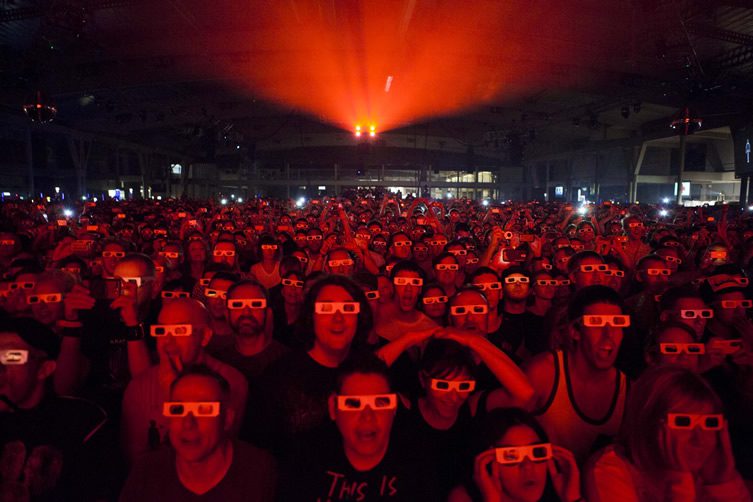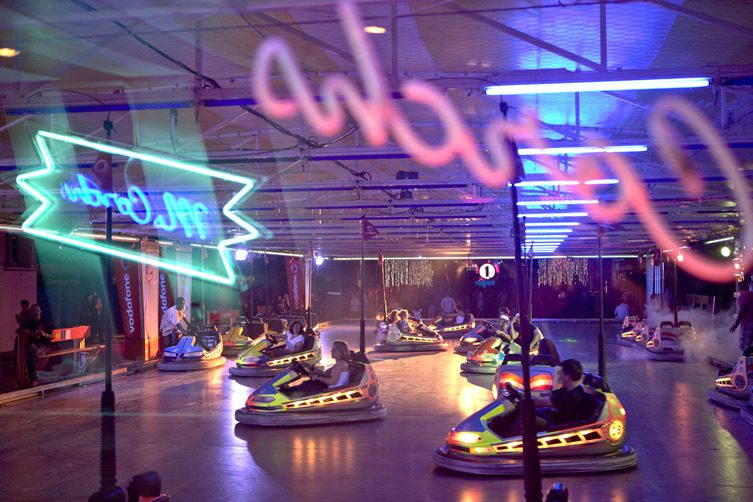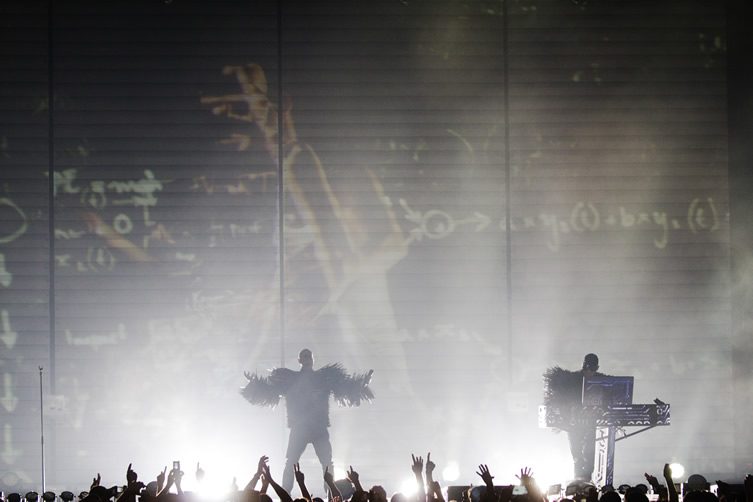 The same can be said for Pet Shop Boys' über-camp ultra-performance, if anyone with more than a passing interest in electronic music elects to mock messrs Tennant and Lowe, then they should be lined up and shot. Dispatched for crimes against respecting your scene's heritage. Respect and heritage are evident in all that Sónar do, there's four decades of dance music catered for over the weekend and from all corners of the world, not least the well-represented Spanish artists – something its head of programming, Enric Palau, has been passionate about since its inception. We respect the British '80s icons by losing it to It's a Sin, Suburbia, Always on my Mind and an explosive West End Girls.
The headliners are joined in the infinitely vast SonarClub space by other big-hitting commercial names, most notably with the controversial nod to EDM in the shape of Major Lazer and its much-derided kingpin, Sonny Moore – aka Skrillex. Intrigued, we decide to see what all the fuss is about. It's strange, very strange: the manifestation of DJ/producer as rock god, the epitome of '90s Superstar DJ culture. Moore appears in his spaceship (no, honestly) to a backdrop of disorientating visuals, Barcelona FC t-shirt, trademark emo haircut and glasses – he tears through a clearly pre-programmed melee of sonic-assault bro-step sub-bass insanity, carefully sequenced to his projected visual backdrop. He's clearly very talented, and the crowd are much less judgmental than they could be, people are here to have a good time, and they embrace new electronic music, whatever its guise. It's oddly rather fun, but still comforting that there's a choice between Richie Hawtin and Derrick May to be made afterwards.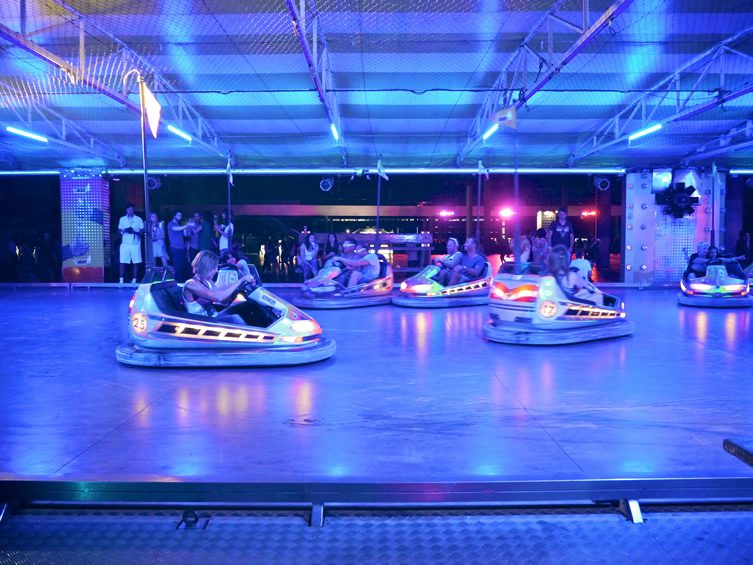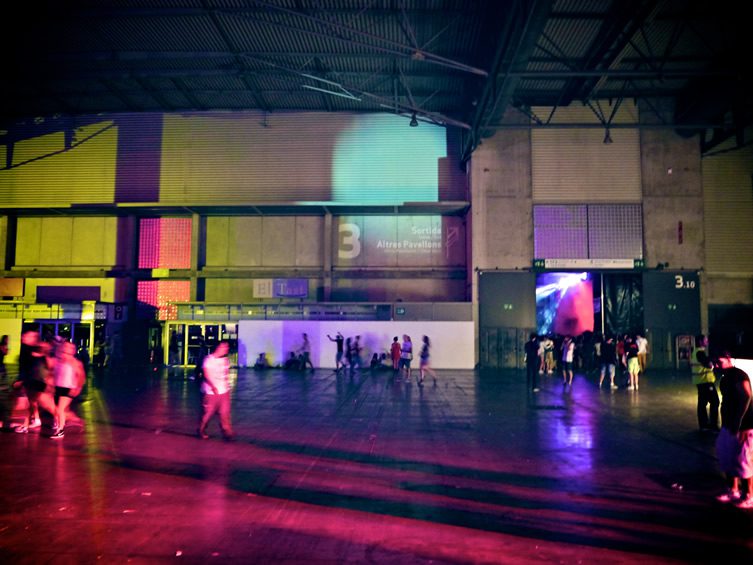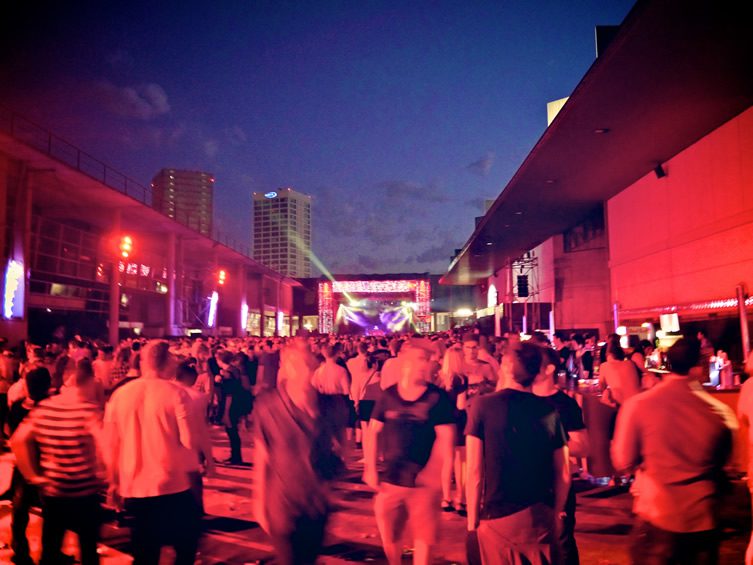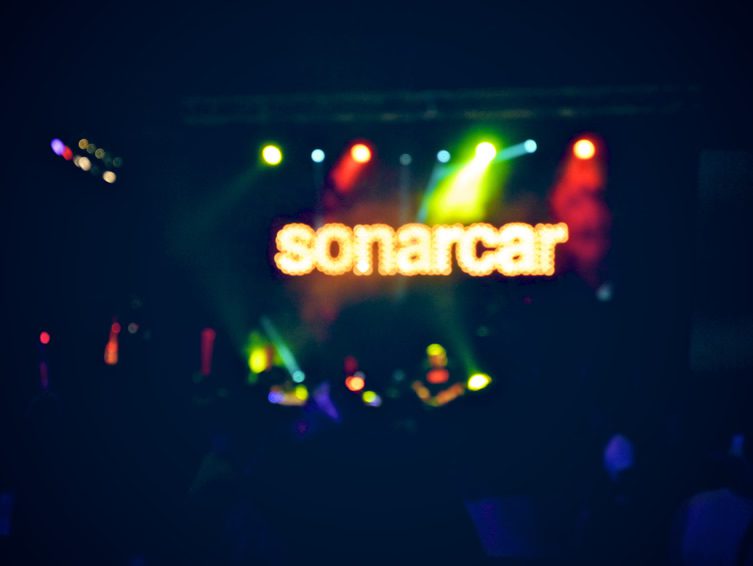 Directly adjacent to SonarClub is By Night's first outdoor space, SonarLab, which is directly followed by an unfathomably large chill-out space that goes by the name of SonarCar – it's the site of Sónar's dodgems arena, an actual bumper car track accompanied by a small stage pounding out fresh electronic sounds. It's like Blackpool on Prozac. The fourth and final space at the Fira Gran Via L'Hospitalet is SonarPub, possibly the venue's most intimate, with just a few thousand or so revellers dancing under moonlight and dawn. It's SonarPub that's the setting for our By Night highlights, a three and a half hour celebration of French super-label Ed Banger's tenth birthday culminating in a Justice DJ set, the Parisian duo blazing through fat squelching tracks from † and dropping The Ronettes' Be My Baby, for added euphoria. It's breakneck stuff and, as Gaspard Augé and Xavier de Rosnay make way, Croydon's most famous son, Oliver Skream Jones, steps up to the ones and twos for a blistering hour or so of eclectic four-to-the-floor bangers – long done with the genre he helped to shape, this is the best Skream has sounded since his iconic dubstep sets gave him the status he holds today. Thunderous techno, smatterings of grooving disco, it's the second to last set of the weekend, and a fine one to remember a fine festival by.
So, still relevant? You bet. Paying homage to electronica's past is not playing it safe, it's utterly essential to a scene's longevity that anyone enticed by the entry-level instant gratification of a Skrillex should get to know the heritage and relevance of a Derrick May. Putting it all together under one roof encourages such exploration for today's young ravers. Sónar+D is a fitting expansion for the festival's commitment to curating related visual arts and technology content that's intrinsically linked to the electronic music it programs, it's natural progression and progression is something Sónar is all about. Cutting-edge performers are celebrated, given a bigger stage than at most other international music events and its visitors are treated with respect regardless of their preferences, there's a distinct lack of pretentiousness that is the hallmark of many similar events. Inclusiveness, impeccable programming, sun (let's not forget the sun), imposing venues, an emphasis on having a damn good session of merrymaking… here's to another twenty years of eternal youth. Salud Sónar.
***