Freehand Hotels, the hip hotel-cum-hostel chain from the Sydell Group; the creators behind The NoMad, The Line Hotel, The Ned and Freehand Miami and Chicago opening its first West Coast property. Freehand LA is a 226-room hotel that provides 167 accommodations and 59 shared rooms — retaining its strong sense of community and social culture, the brand also expands into the 'luxury' sector here in Los Angeles; the Freehand LA offering superior rooms, suites, room service and nicely kitted out doormen.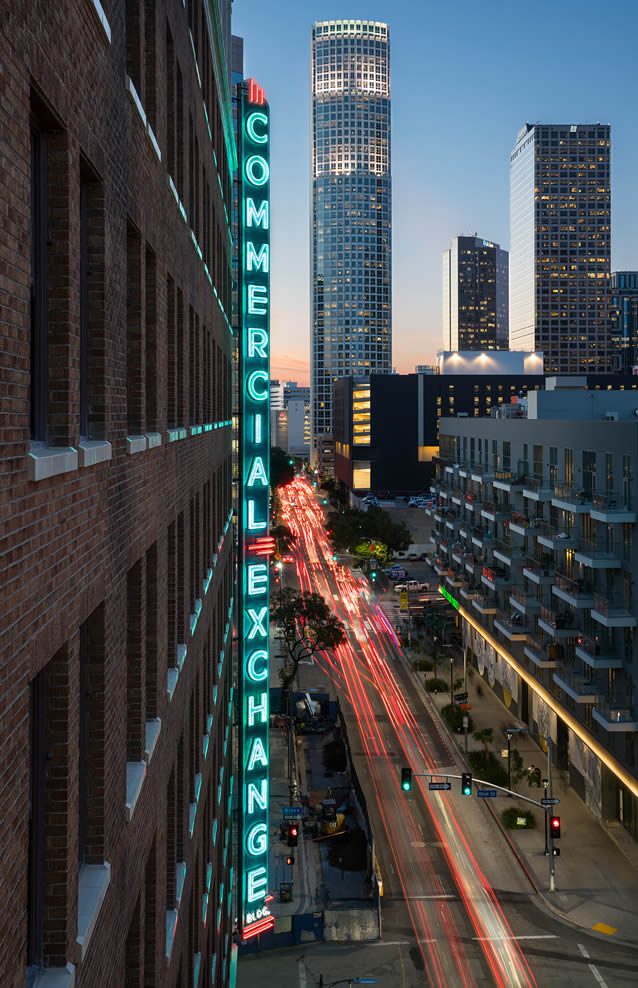 As with the Miami and Chicago accommodations, the Freehand's public spaces allure guests to kick back in the surrounds of innovative design and a curated food and drinks programme — Broken Shaker is the communal lobby area and craft cocktail bar, and the hotel features a concept store by Venice's Flowerboy Project and coffee shop by Café Integral. The Exchange is the property's restaurant, led by the team behind Bar Lab, and pays homage to the restored 12-storey blade sign; beneath which you'll find its entrance.
As with the Miami outpost, the hotel pool (here on the rooftop) is a departure from city nightlife, more of an urban retreat where guests find themselves among lush greenery, vintage furniture, laid back vibes and cocktails that have been infused with homemade elixirs and fresh herbs.
Located in the historic Commercial Exchange building in Downtown Los Angeles, developed by Rudolph Rosenberg in 1924, Sydell Group called upon long-term collaborators Roman & Williams to create a space that nods to the past whilst layering a modern interpretation of LA's evolving urban landscape. The result is a decadent blast through the city's old and new, and combines a mural by LA-based art collective CYRCLE; earthy decorative elements that hark to Frank Lloyd Wright's organic architecture; hand-crafted furnishings; vibrant tapestries; and locally-produced amenities.