The opening of a whopping pair of hotels with a combined 727 bedrooms, Moxy and AC Hotel Downtown Los Angeles bring a prominent 37-storey addition to the DTLA skyline; the two Yabu Pushelberg-designed hotels (including Moxy's first in LA) home also to 12 new dining and entertainment venues as well as 13,000 square feet of meeting and events space for travellers and locals alike.
Located on the corner of South Figueroa and Pico streets, the collaboration between the two distinct brands not only broadens their appeal amongst guests, it provides a memorable experience through an abundance of offerings. From Moxy's vibrant energy to the elevated, residential aesthetic of the AC Hotels by Marriott brand, the property will appeal to independent explorers who are conscious of value, travel on their own terms, and prioritise thoughtful and intriguing design.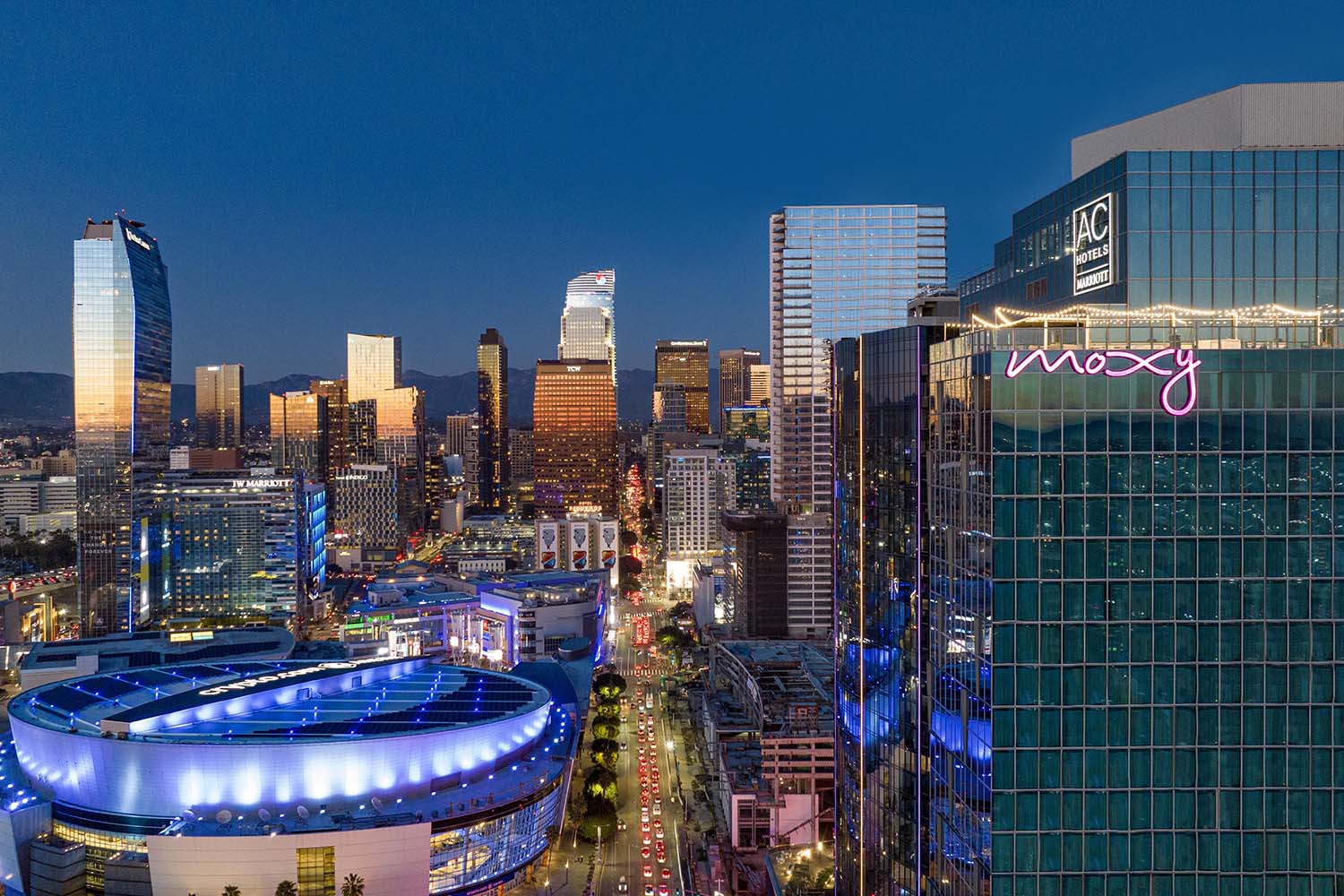 For those seeking a spirited stay, the 380-room Moxy reflects the bold, adventurous spirit of California, a haven for modern nomads in Los Angeles's creative epicentre, with cosy rooms designed for flexibility. Floor-to-ceiling windows allow the SoCal sunshine to pour in, whilst adaptable space-saving furniture and storage solutions allow guests to stake their own claim to the space. Distressed leather headboards evoke a well-worn motorcycle jacket and a sculpture consists of chrome motorcycle handlebars mounted on a taxidermy-style plaque; a nod to the twin desert themes of bikers and wildlife.
In contrast, Yabu Pushelberg imagined the interiors for AC Hotel Downtown LA as an artist's loft, bringing the Spanish roots of the AC Hotel brand into conversation with the Latin heritage of Los Angeles. Warm, light-filled public spaces are contemporary and welcoming, while upscale, serene guest rooms provide a generously sized sanctuary for work or relaxation.
The jewel of the AC is the sun-drenched Sky Lobby on the 34th floor, with views of Los Angeles that stretch all the way to the iconic Hollywood Hills. The 347 guest rooms serve as residence-like respites from the energy of the city, with an open-plan design providing a seamless flow.
Bringing the two hotels together are the 12 astonishing dining and drinking options, each celebrating the city's creative energy and culinary heritage. Located on the eighth floor, Level 8 will immerse the senses with a selection of innovative dining and drinking offerings in addition to the likes of Bar Moxy, the AC Bar & Lounge, and 34th floor La Lo La Rooftop serving Spanish-style tapas below twinkling bistro lights and retractable sunshades.
Fusing luxury with youthful city energy, unbeatable lifestyle options with large-scale convenience, this design hotel duo is a vast new destination for Downtown LA.