Situated on a quarter of a mile of private beach, hotel Sound View Greenport is a 55-room property reminiscent of the golden era of motels with touches of New England modernism. Making the most of its enviable waterfront location on the North Fork of Long Island, guest rooms boast boardwalk-style outdoor spaces or private decks kitted out with beach loungers that overlook the beach.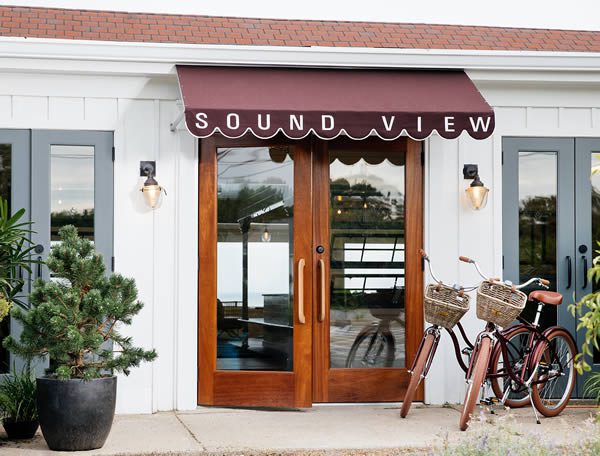 Influenced by the decadently stylish modernist beachside homes of the East Coast, Brooklyn-based design firm Studio Tack opted for a pared-down approach that throws together aesthetic touches like rich cedar wood, natural materials, and durable textiles alongside complementary hand-woven float rope rugs and custom colour-block Quiet Town Home bedspreads; all conjured up in and around that lush beach-shack pine.
Sound View's lobby area is an inviting spot where guests can take in the sounds and smells of Long Island Sound — as is the hotel's restaurant The Halyard, where award-winning chef (and owner of Mas (farmhouse) in New York), Galen Zamarra sources fresh seafood from the North Fork and Atlantic Seaboard to create a concise menu of American classics.
Less than 100 miles from New York City, Sound View transports its guests back to a time of simple pleasures. Dip your toes in the ocean; listen to the gentle waves; enjoy those panoramic sunsets; put down your damn smartphone; and breathe and taste the fresh sea salt air — here, way out on Long Island, you can let the spirit sweep you away.
@SoundViewGreenport
@studiotack