Slap bang in the middle of San Francisco's The Tenderloin, The Tilden its an artsy affair that embraces its neighbourhood's ongoing development. One of the city's last unaffected districts, The Tenderloin is a gritty underbelly that evokes a little of that pre-Giuliani New York City; it is also now home to revered independent galleries like White Walls and Spoke, and hip spots like Mr. Holmes Bakehouse, Mikkeller Bar and Whitechapel.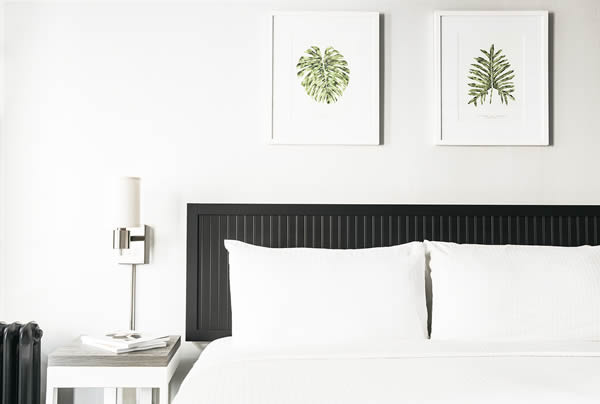 Serving as a sort of anchor to this thriving sense of creative pursuit, The Tilden occupies a classic San Francisco building; transformed inside and out by Brooklyn-based designers Studio Tack. It's the sort of place that quietly calls creatives from far and wide, giving them a place to be — a buzzing epicentre with a social lobby at its heart.
Naturally, the arts are represented in abundance, Jenny Kiker's series Living Pattern a highlight, the artist's botanical art delivering a warm sense of serenity throughout the communal spaces and guest rooms; coupled with Studio Tack's minimal take on sophistication, it gives The Tilden a welcome sense of calm amid its tenacious urban surrounds. Rotating galleries that support local artists, an artists-in-residence programme providing accommodation in their 2,100 sqft (of combined indoor/outdoor space) penthouse, and a 'poet-in-residence' whose work can be found throughout the hotel (including postcards placed in rooms at turn-down) just some of the other components that come together in a hotel that has art running through its veins.
New bar and eatery, The Douglas Room, ensures that all the arty types occupying the hotel won't be left hungry; The Café at The Tilden will dish out Equator Coffee espresso and drip coffee, and breakfast pastries will be delivered daily by local favourite Jane.
A new focal point for a neighbourhood on the up but still resolutely itself, The Tilden reflects inner-city San Francisco's sonorous pulse.