Taking cues from the nostalgic 'fish shop', petite Adelaide eatery Smallfry is an off-beat venue where concrete, stone, and wood combine to create a space that bridges starkness and warmth; complete with a Japanese twist.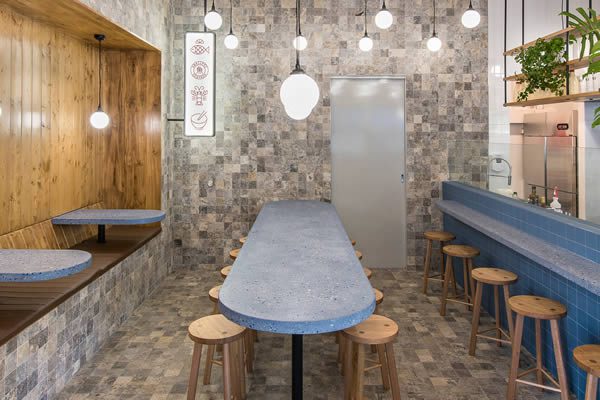 Set on their merry way with a brief to 'design something different, something that would stand out against other venues in the area and unlike other typical seafood bars', designers Sans-Arc Studio had to take into consideration the fact that the small site would need to work at maximum efficiency; with a service point to the street key to the operation of the business.
The resulting dining area and takeaway restaurant sure delivers on differential, and features integrated seating and a long communal table indoors; open kitchen with a selection of fish and seafood on ice; and compact outdoor dining facilities. With blue hues, concrete, granite and the use of sandy colours, stepping into Smallfry feels like a forway into your very own living ocean — a warm, inviting space for patrons to tuck into treats from the deep, enveloped in a cool ode to the briny and Japanese pop culture.