Having created such strong brand identity for Doctor Manzana — a shop that specialises in the repair and restoration of smartphones and gadgets — back in 2008, it was only natural that the expertise of award-winning creative consultancy, Masquespacio, would be called upon for the Valencia-based brand's second and most significant store.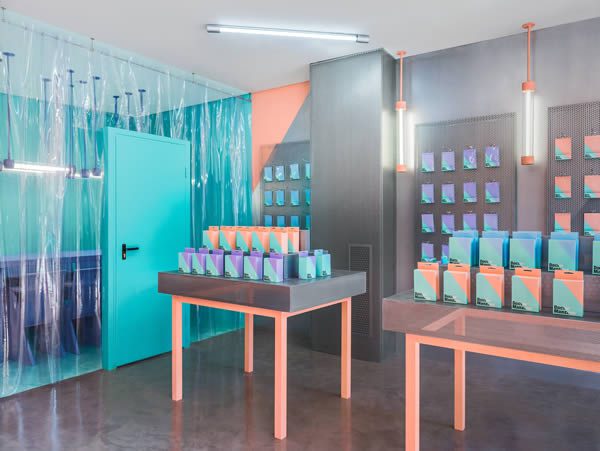 Located in the city's University district, Masquespacio chose to uphold Doctor Manzana's original identity; focussing on the 54-degree angle of touch screens and four main colour ways: green and blue to reference the Doc; salmon for the fashionistas; and purple for the geeks. In the inaugural location a modest smattering of metal was used to add a raw touch and a nod to laboratories; here in the new store, that material is used more liberally, providing an all-round sleeker finish.
With more storage space, and more products on sale, Doctor Manzana's new Valencia flagship is a bold, shining example of Masquespacio's decadent ability to smatter character through intense colour — it is also notable for debuting the studio's first official product for their sub-brand Mas Creations: the Doctor Workshop high stool chair, which dominates a separate space set to be used for workshops and talks.