Pablo Alfieri is the man behind Playful a still life and moving pictures studio in Buenos Aires. The enigmatic art director and live action consultant resurrected the studio after an eight year hiatus to free himself to do what he wanted to do the most: to push the boundaries of CGI, still- and moving-image, and photography, through brave eye-popping campaigns.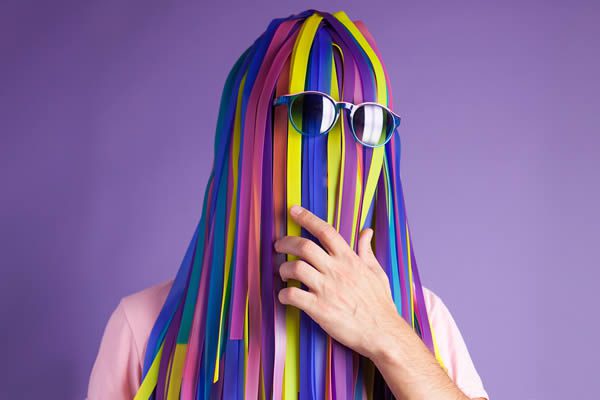 Alfieri's playful world is instantly-pleasing with a boldly original, graphic and colourful aesthetic. It kind of screams at you "look at me, look at me", whether still or moving, digital or real life; his is work that takes the form of unusual shapes toying with perceptions of what is right in front of your eyes.
Working in the world of advertising, design and sometimes art, it's quite remarkable what he and his fellow conspirers can actually achieve. Take a bottle of globally-recognised beverage Perrier, for example. With it Alfieri has managed, in just a short series of entirely unreal landscapes, to almost make it irrelevant to the campaign, because what you are seeing is the association not the product. The artistry and craft comes first. It seems that he is able to do exactly what he intends creatively, the kind of man that when he gets an idea, it's near on impossible to convince him otherwise.
We spoke to Mr. Playful about Buenos Aires, creative freedom, and the need to push boundaries wherever possible …
Tell us a little bit about yourself …
I was born and raised in Avellaneda, a big industrial city outside Capital Federal (Buenos Aires). I studied graphic design in the Public University of Architecture, Design and Urbanism in Buenos Aires. Those were really hard and passionate times, and I had the pleasure of meeting some really talented people who are now important friends. I now live and work in Buenos Aires, in the Palermo neighbourhood.
You love your city, what is it that makes it so special to you?
Buenos Aires started to be really important to me when I began to travel. Returning home I always felt that no city of the world, except for maybe Barcelona, could compare. The idiosyncrasies of 'Porteños' — the people that live in Capital Federal — are quite particular. We're used to being called arrogant. That, in a way is true, but we have a strong personality with a ton of humour.
Buenos Aires is super big. It has so many big open spaces, trees in every street, and really nice neighbourhoods; lovely museums; and art galleries. It's the kind of city that never sleeps, where you can go out at 4am and find something to eat or drink; the nights are fun and crazy.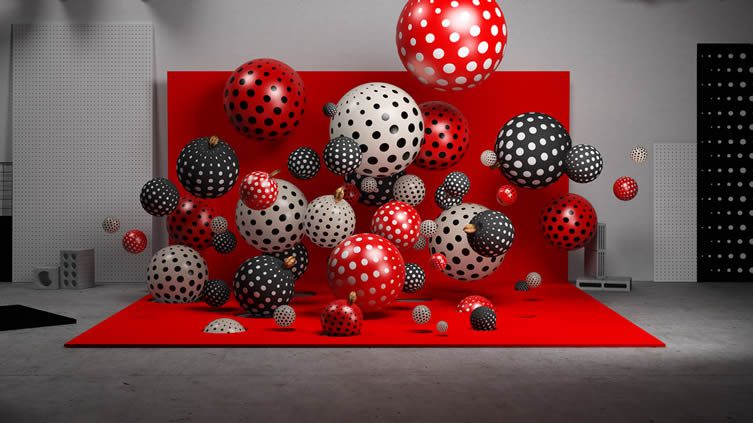 How did Playful come about?
Playful rose from the ashes after I left Plenty [one of Argentina's leading creative studios, co-founded by Alfieri and Mariano Farias in 2010] in 2016, starting from scratch again to build my own studio. For over six years I put all my energy into Plenty, and I'm so proud to have built a company with fifteen employees who work on really big and challenging projects. These larger structures have their advantages and disadvantages, though, so I decided to leave my own company.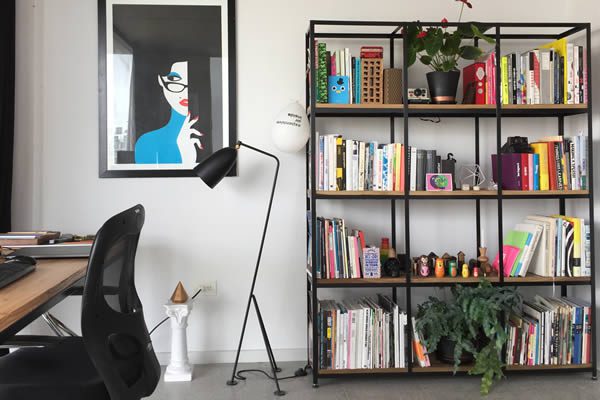 I had to think how to build another studio, and realised that Playful — which I had originally set up in 2008 — could be the studio name for my films and still life projects that I directed in collaboration and co-direction with people I admire, and who I want to work with.
The first to collaborate with me was Can Can Club in 2016; a live action and stop motion production company who are incredibly talented and really complement my work. Becho and Mab are teaching me a lot, they are such good directors. The other face of Playful is my CGI direction and design.
You have a beautiful studio …
I found this place a year ago with really high ceilings, allowing me to build my photographic sets. Next to that space I have two desks, one for me, and another for freelancers or friends who come to visit. The idea was to have a place with desks to work on the CGI stuff, but at the same time to have an even bigger space to go really deep into the practice of improvisation and exploration.
Tell us about the universes you created for the Perrier project, and Mazarine You to You's involvement?
This was maybe the most fun and significant project of the last year for me. It was really important because a project like this challenged me to do eight different aesthetics and concepts that represented everything I want to do. What was really important to me was that the client and agency really trusted me with the project, and allowed me to follow my own vision. Perrier and Mazarine gave me the freedom to create the scenes around the iconic bottle — eight universes that essentially represent what Playful is going to be in the future: a studio focussed on still life and moving pictures.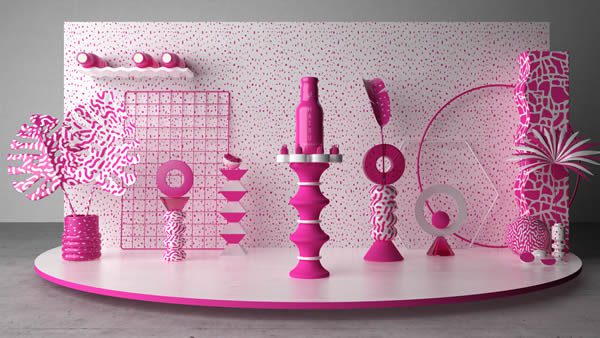 We love the Hello Hatsu! project. It's rich in graphic content, but the clever use camera angles add to the movement of the commercial spot. Can you tell us more about how it was conceived?
Hello Hatsu! was actually my last direction project with Plenty, and was created in a similar way to the Perrier project. I really wanted to explore the capabilities of CGI as a tangible craft aesthetic, but we didn't have the budget so shot the spot instead. We combined CGI and live action in terms of animation and camera movements; I wanted to create a kind of confusion in the audience. 
So you collaborate a lot. Who are you favourite conspirers?
My idea is to collaborate with all the people that I admire in creative industry. With some of my 'conspirers', I have been lucky enough to be involved in commercial projects, and with others I have collaborated just for the love and passion. My favourites are the ones that wanted to collaborate in ways to find a new language, or a mix of styles or poetic idea.
I'm lucky enough to have collaborated with such talented people that I can't name them all. A most recent favourite is with Paloma Rincón on a still life project that we're really truly excited about. The idea was conceived completely by us and produced by Antiestatico, my reps in Spain. We made a series of ten pictures that we called Before and After Breakfast Sex — a photographic series that mixed food with nude bodies and a really strong an impactful colour palette. Watch this space, we are going to launch it 1 September.