Japanese street food bar, Vegan Ramen Shop, is located in a fancifully abstract space on Warsaw's Finlandzka Street. Surrounded by a a large concentration of restaurants, the owners decided on a ramen joint after the success of earlier temporary pop-ups which saw customers slurping down their vegan broth and noodles with gusto.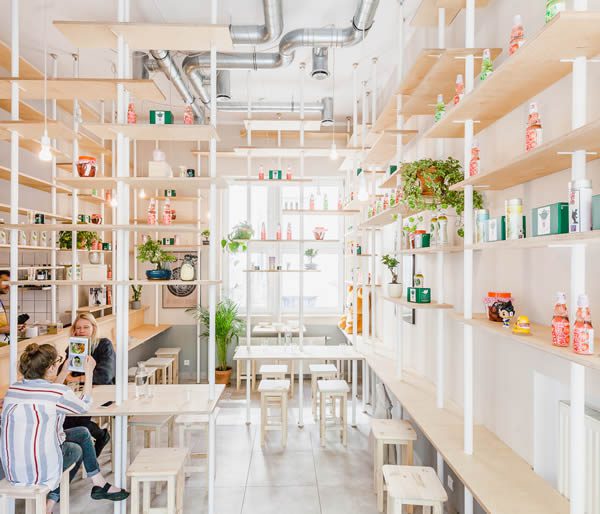 Architects MFRMGR worked closely with the owners of the eatery, helping to find the location, and create the concept and design. Transforming what was previously an unattractive space, Vegan Ramen Shop nods to bamboo forests and the anarchic layered aesthetic of Japanese cities. A long bar for customers to stand is a reference to typical Japanese bars, as well as a place to display products; 'levitating shelves' double as eating stations and display areas, and add to the playfully ordered chaos.
Diners enter through a door marked with a simple neon sign to enjoy thick and creamy broths, clear broths and the restaurant's summer favourite (ideal for balling on a hot day in the petite front garden), Hiyashi ramen — a dish comprised of chilled noodles dipped in black sesame foam-sauce and topped with colourful, crunchy vegetables; refreshing and revitalising, it's a perfect combination, and echoes the inventive freshness of MFRMGR's clever interiors.
@veganramenshop
@mfrmgr_architekci