There's an odd beauty in the loosely knotted scraps of silicone sponge cord that form part of Royal College of Art alumni Louie Rigano and Gil Muller's prototyping for their revolutionary Shore Rugs. Typically used in heavy industries, the durable cord has a leather-like quality and is waterproof, UV and flame resistant, hypoallergenic, non-slip, and easy to clean — it's one of those materials that, repurposed for the design world, elevates a humble object into something truly innovative.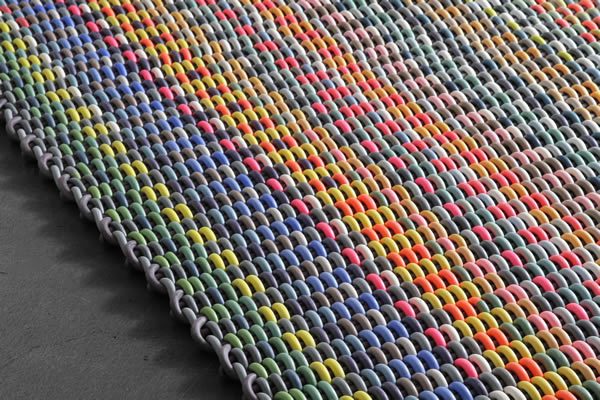 Seeing such materials detached from their final projects is a reminder of the significance and importance of such materiality in the design world, a reminder of the gravity of process, and the countless hours of research and development involved in arriving at even the most simple-looking of end product.
With a long-standing interest in how designers think, plan and communicate three-dimensionally, The Aram Gallery's annual Prototypes and Experiments exhibition has reached its ninth edition, and Rigano and Muller's studies in industrial cord are just one in a series of excellent insights into the minds of leading design talents. Unique to this edition, the gallery invited an selection of contemporary architects to submit a collage, sketch or drawing that demonstrates how the medium of architectural drawing is used to communicate and explore fresh ideas.
Joining the Shore Rugs boys are noted designers like Samuel Wilkinson, showing a series of three plywood shell chair prototypes and a preview of a V-shaped LED lamp for manufacturer Decode; Merel Karhof and Marc Trotereau, exhibiting their colour and form research via a contemporary interpretation of the classic lampshade; and Zuza Mengham, whose project Camber is a part of a long-term series of material experiments that use resin in various forms.
The full list of participants is as follows: Assa Ashuach, Conor Taylor, de Allegri Fogale, fala atelier, Ineke Hans, Jenny Banks, Louie Rigano & Gil Muller, Map Project Office, Merel Karhof & Marc Trotereau, Monadnock, MOS Architects, Opendesk, Point Supreme, Rezzan Hasoglu, Sam Jacob Studio, Samuel Wilkinson, Shin Azumi, Studio Furthermore, Theo Riviere and Zuza Mengham.
Prototypes and Experiments 9 continues at The Aram Gallery, Covent Garden, until 19 August.