As ballsy and brilliant as contemporary art can be in 2017, there are times when negating the need for the decoding a greater conceptual understanding can be liberating; if only for doing away with the random-word-generated-gobbledygook of the accompanying press releases.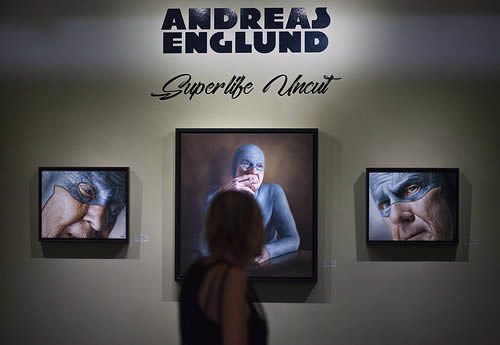 Here, 30 miles northeast of Downtown San Diego in the Californian city of Escondido, life is simple for both the viewer and (sometimes) the subject; Stockholm-based painter Andreas Englund putting the humdrum among the Bam!s, Wham!s and Kapow!s. In Superlife Uncut, Englund's hero is all of us: dropping his shopping, smoking a fag, taking a selfie … albeit a selfie even the most daring will not achieve.
Highly-regarded and collectible, Englund's work has been a mainstay at plentiful art fairs, and featured in countless magazines and books; his large-scale murals — in places like Berlin, Norway, New York, and Grand Central in Stockholm — have seen his capacity for intense photo realism reach wider audiences, and the Swede has been involved with commissions for brands like Sony Playstation. Also a noted filmmaker, the multifaceted creative let's that cinematic edge bleed into his art, storytelling a key ingredient in paintings drenched with humour.
'Working with communication became a natural choice for me, since I´ve always wanted to share my thoughts with others,' Englund begins. 'Either through conversation or visual media I want to share insights and thoughts, experience and humour. My foundation is based on storytelling and communicating.' In Superlife Uncut, Andreas runs away with that storytelling, his mundane superhero a characterful creation that all of us can relate to; regardless of his improbable extra curricular activities.
Superlife Uncut continues at Distinction Gallery, Escondido, until 5 August.