Beginning life in Stockholm as a response to the less than credible Mexican eateries that were popping up the city over, La Neta was founded on the core philosophy of representing traditional Mexican taquerías; avoiding clichés and focusing on authenticity.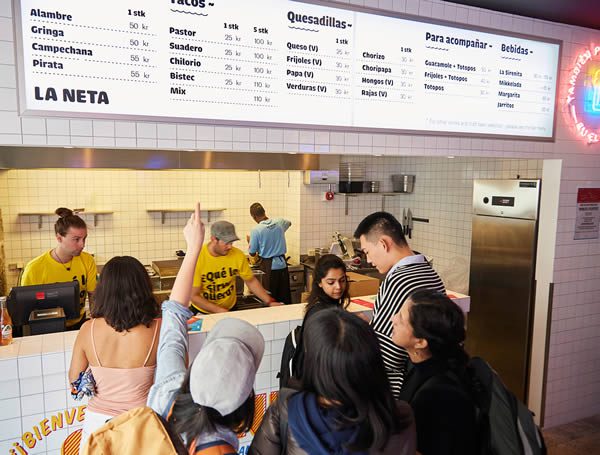 Two Stockholm taquerías later and La Neta have decided to hotfoot it over to Copenhagen — joining forces with craft beer giants Mikkeller along the way — and open up in the city's multi-cultural and hip neighbourhood of Nørrebro; entrusting Mexican designer Vicky González and interior design studio Estudio Tanguma with creating a no-nonsense space that screams truthfulness — a nod to the restaurant's name (which translates as 'the truth', or 'the real deal', in colloquial Mexican Spanish).
Sourcing objects from the flea markets of Mexico City and a bulk of the furniture from Mexican-based contemporary designers, González has fashioned a feel of authenticity that correlates with La Neta's ethos; bold smacks of bright colour and kitsch graphic accents as punchy as what's coming out of the kitchen.
Those real Mexican flavours bursting out of quesadillas and tacos; mezcal and tequila getting the party started; and ten taps of craft beer from the iconic Danish gypsy brewers … La Neta's is a truth we're not afraid to face up to.
@lanetacph
@mikkellerbeer
@vicky.mx
@estudiotanguma