Comprising a cosy wine bar and a gourmet restaurant seating just 14 persons, new Copenhagen spot Nærvær is intimate without ever erring towards the intimidating nature such intimacy frequently brings with it. Located in the city's Christianshavn district with views of the picture perfect canal, locals and travellers can convene over good wine, gourmet cuisine and casual ambience.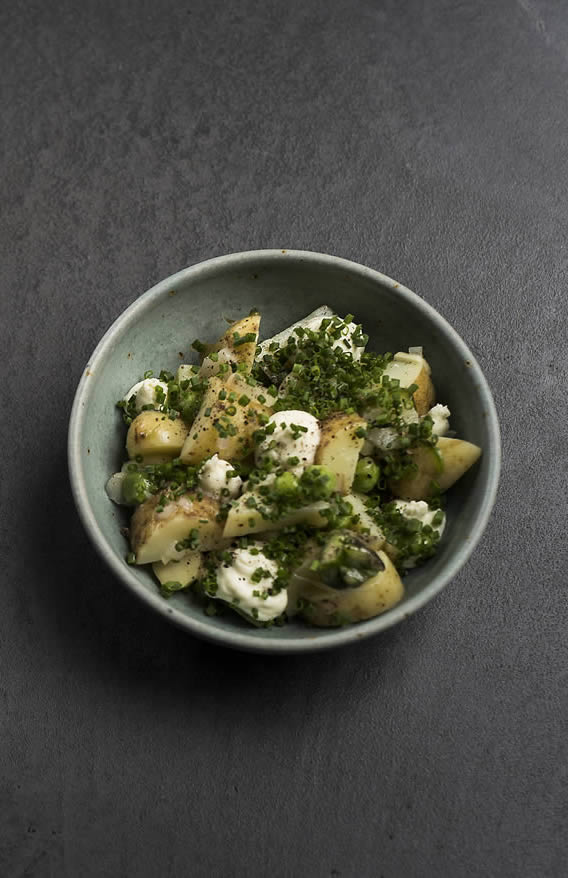 Taking a humble approach to the design at Nærvær, Copenhagen-based, Norm Architects worked with an array of natural materials to create a warming mood that contrasts brilliantly against the building's industrial frame and raw concrete walls; the use of stones and woods and cool metal softened by low lighting constructed from slim oil-burned steel frames, plush furnishings and show-stopping greenery that reaches to the stars.
Yves Le Lay runs the kitchen here, which has formed a focal point for Nærvær at the behest of the highly-acclaimed chef. Having worked in many iconic Michelin-starred kitchens, Le Lay was keen to stress his desire to not be 'hidden behind steaming pots in the kitchen every day', guests encouraged to engage and soak up the artistry which takes place at the hands of his culinary team from the high bar seating area.
Unmistakably French, yet daubed with that renowned Danish simplicity, the ingredients at Nærvær are fresh and seasonal; no set menu and no two-hour seatings, Nærvær's is a philosophy built on affordability and engaging a community spirit among regulars. 'I discovered that a glass of wine at the wine bar I used to visit became more and more expensive,' explains one of its owners. 'Nobody cared if I dropped by once or twice a week and spend my money with them.' Laid-back and friendly, Nærvær cares — and Copenhagen is all the better for it.