Spending his summers in the Italian region of Emilia-Romagna — the homeland of his mother, grandparents and countless ancestors — Steve Samson called upon his rich memory bank when creating the concept for Rossoblu; his stellar new Los Angeles restaurant (named after the nickname of Bologna's soccer team) that proudly tells a tale of his two cities.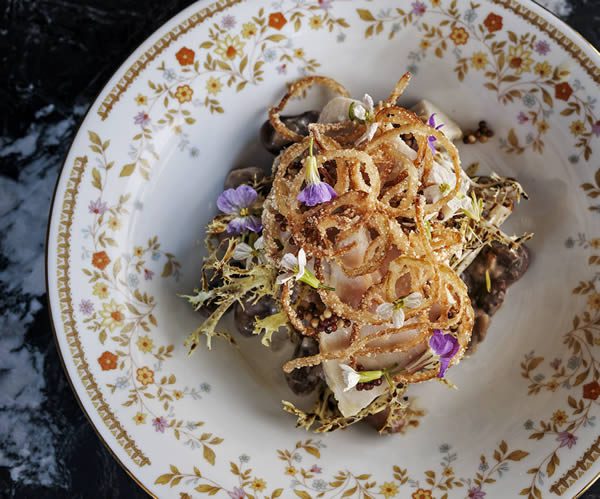 Showcasing Emilia Romagna's 'cucina della nonna', Rossoblu specialises in handmade pasta, made using a traditional rolling pin in the restaurant's glass pasta room. A large wood-burning hearth — powered by oak coals — pays homage to the chef's grandfather and is the focal point of the kitchen; used to roast and cook meats, including the house-made sausages. Downstairs, the Butcher Box includes a private dining area where the lucky few can see those meats being prepared by the team.
L.A.-based street art collective CYRCLE designed a large-scale colourful mural — spanning the full-length of one wall, it comprises the artists' use of classical imagery and unexpected composition. Dominating a large section of the vast industrial space, the mural complements the architecture and design by Marwan Al Sayed (with interiors by Mies Al Sayed), which fuses that raw, industrial edge with softer details like long couch-like banquettes, suspended lighting and a marble bar.
Pitting the romance of Emilia-Romagna's family-led traditions and incredible cuisine against the backdrop of urban Los Angeles, Rossoblu's two-sided tale is design-minded and Italian-hearted; an imposing mix that has resulted in one of the city's most talked about new restaurants.