Deep within the momentous courtyards of Florence's historic centre, BRAC is a place to read, eat, drink, or simply pass the time of day. Giving a nod to the classical café littéraire, BRAC comprises a bookstore, café and kitchen, where you'll find cultural programmes and pop-up installations; steps away from the Uffizi and Palazzo della Signoria's jaw-dropping public sculptures, it's a contemporary shift but entirely befitting of its famous neighbours.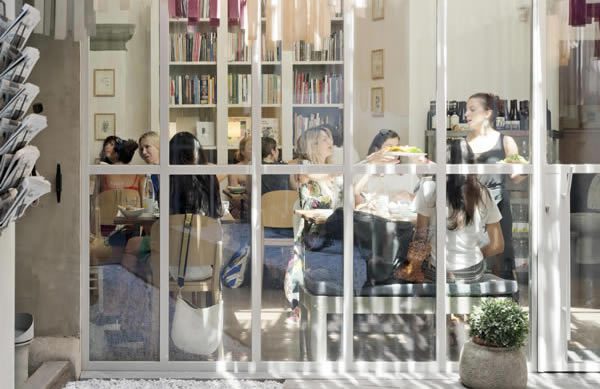 Designed by Javier Deferrari and Lavinia Modesti of architecture studio DEFERRARI+MODESTI, the duo have converted the bookstore into a functional and comfortable space, consisting of two main rooms separated by a 65 square metre courtyard.
It is here in that courtyard where an exquisite installation defines the calming ambience of the store; some 5,000 textile strips, in varying pastel hues, embracing visitors with configurations that will change over time and season. 'The courtyard, the true heart of this place,' explain Deferrari and Modesti, 'is where we were able to express our creativity to the fullest.'
Inside, wooden paneling surrounds part of the book collection in the first room, bamboo parquet flooring adding warmth throughout; mobile elements conceived by the designers allow the shop's owner the flexibility to highlight her latest book and photography acquisitions via an easily-adaptable window display. In a city unmarked by the march of time, here's a place that proves — sometimes — change can be a good thing.