As soon as you enter XU you're transported to a place far far away. Imagine 1930s Taipei, you're on a train in a first class carriage; perhaps on some kind of a mission. Agatha Christie pops to mind — a missing jewel you must recover; or seeking a long lost love. You are completely and utterly not on the border of London's China Town, your imagination has sprung into overdrive.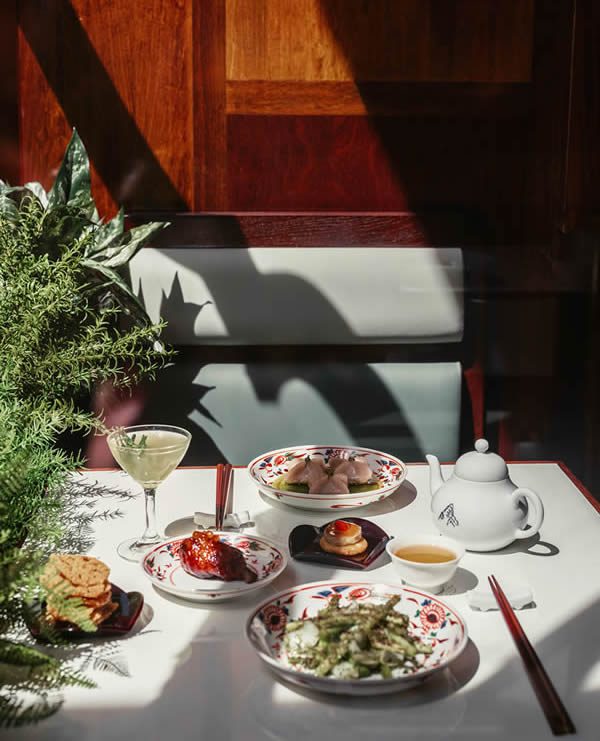 Shaking out of my reveries temporarily, we head upstairs via a perfectly formed tea bar that resembles a classic train gin carriage. Sat at a two-person booth, we're surrounded by mahogany wood vertical linear panels and deep green tones. It's all incredibly elegant and precise; not like any restaurant I've visited before. There is a sense of lightness from the unique feature lighting at the booths and on the ceiling, yet it feels private and quite romantic. Petite white branded crockery sits on the little tables and we place our bags in clever under-seat compartments.
XU is the brainchild of Shing Tat Chung, Wai Ting Chung and Erchen Chang; the dream team trio behind BAO. Taking an epic leap beyond the street-food diner, the restaurant concept pays homage to the rich history and cultural past of Taiwan. Designed in close collaboration with Brady Williams, XU celebrates the unique diversity of the island. Different regions of mainland Chinese provinces including Hunan, Fujian and Zhejiang, as well as Japanese and Dutch colonies, also inform the theatrical interiors and exquisite dishes.
Our ace waiter, Will, sprightly arrives and maybe even bows as he introduces us to the menu. It is divided into small plates, mains and other classic dishes. We begin with the Long Tsui Ke cocktails made with Hong Yu tea, gin, white miso and apple. It is as elegant as the setting and most delightful. Several small plates are ordered next, because quite frankly they all sound great.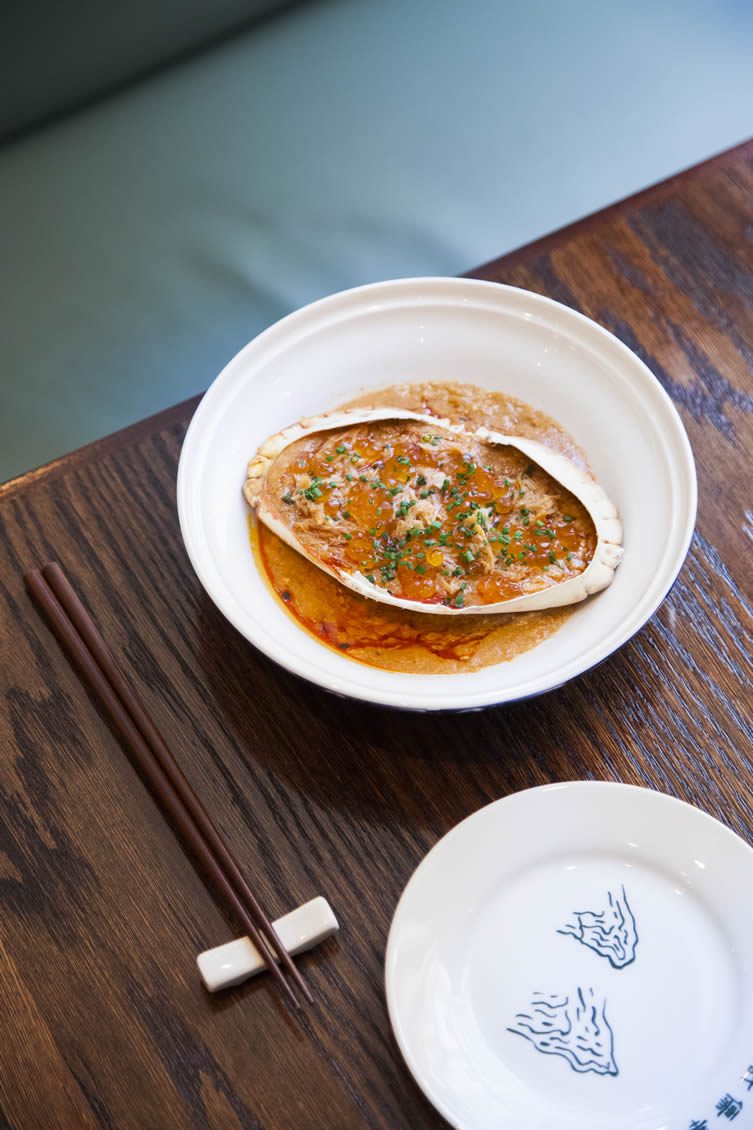 Chilled clams arrive on a bed of ice in a chilli marinade and basic oil, and are full of flavour; cuttlefish and prawn toast, although minuscule, is the tastiest crunchy sweet dish and ridiculously moreish; and Taro dumplings are glutinous and served with Kow Choi oil dressing that is superb. The showstopper had to be the tomato and smoked eel with dried soy daikon. This dish is just so wonderfully conceived, with a heat that lingers; an ongoing reminder of just how great it tasted. Teamed with a velvety finish and a sweet yet zingy freshness, it blew our little taste-buds.
For mains we opted for the 'classic' chilli egg drop crab with fermented shrimp and garlic. It was a sizeable dish paired with simple steamed rice, lovely and full of heat but with a delicate sweetness to the crab. We also tasted the yams with egg yolk, crispy shallots and mushroom soy; a dish that reminded me of ultimate comfort food. While the small plates are presented in the most elegant and sophisticated ways, the mains are less sculpted; an interesting mix that I find appropriate.
Beyond dining, XU offers private Mahjong rooms for guests to enjoy, plus Taiwanese tea experiences. There are also whisky and tea pairings to try.
Overall XU is a restaurant that will not only excite your taste buds and introduce you to exciting flavour combinations, but one that weaves a wonderful narrative. An experience that is highly cinematic, and the hand-selected playlist highlighted all beautifully.