Cha chaan tengs are essentially 'tea restaurants', or cafés, that emerged in Hong Kong in the early 1950s. The West had become an influence on post-World War II Greater China, but only the wealthy had the privilege of sampling exotic Western cuisines — as a result, semi-low end diners, known as cha chaan tengs, popped up across the country. With the working classes hungry for macaroni, Coca-Cola and doughnuts, the proprietors of these cha chaan tengs dutifully complied; providing a hybrid of Canto-Chinese Western-style dishes that were affordable and inventive.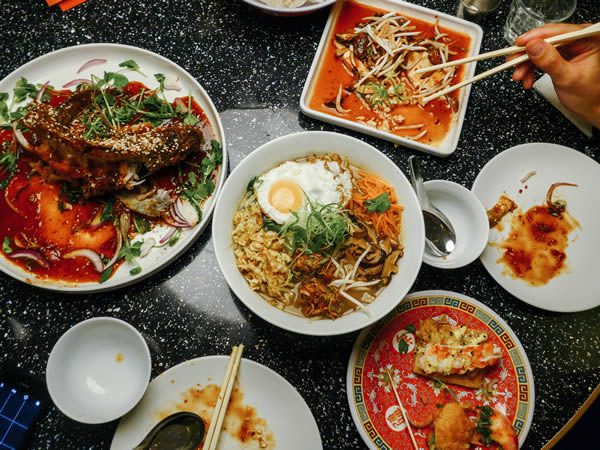 In Hong Kong today, these diners are disappearing — but those that do still exist are popular thanks to their nostalgic menus and kitsch décor, of Formica dining tables, tiled floors and walls, novelty plastic dining accessories and pop-culture paraphernalia.
As a nod to these cultish diners, Cha Chaan Teng has recently opened in Holborn, London. The vast basement of the interior reveals an excitingly eye-popping space put together by Shed Design. Large colourful wall murals by New York street artist Dain are the first to grab your attention, ceramic floor tiles with faded colour tones, 1950s booths, and a variety of Formica black speckled tables set the scene. It's kitsch with a helping of New York style: nodding cats, paper lanterns, a bao bar, two open kitchens and a cocktail bar area.
The menu reads a treat, and the team are on hand to explain it with enthusiasm and skill. Start with a few cocktails, the Melon Tequila Sour and the Kolwoon Typhoon are both sweet takes on classic recipes, both quaffable and fitting the surroundings; there's an interesting tea selection, too, but the wine list is pricey (welcome to London), and unremarkable.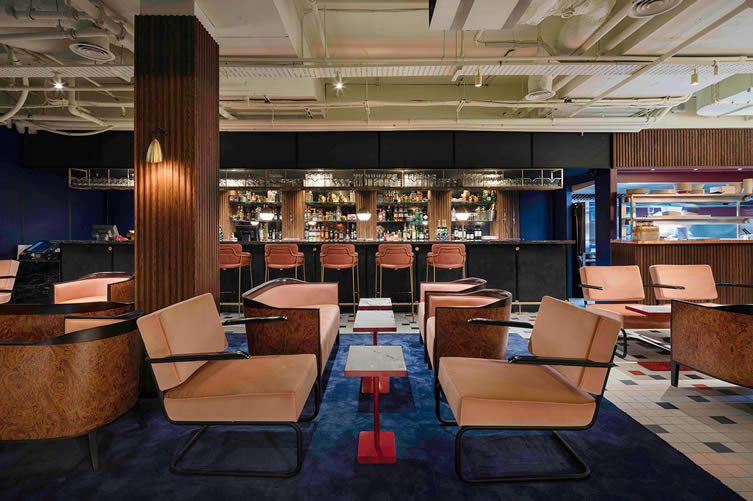 TV chef and School of Wok-founder Jeremy Pang was enlisted to help refine and modernise the menu. There's a good range of dishes to choose from, some for sharing and some for indulging in all alone. The crispy kale and marbled beetroot tea egg, with a generous sprinkling of roasted coconut, is an absolute must; a take on crispy seaweed, once you start eating it it really is hard to stop. The lobster prawn toast with sesame and wasabi mayo another fine starter, which comes plentiful, indulgent and beautifully presented.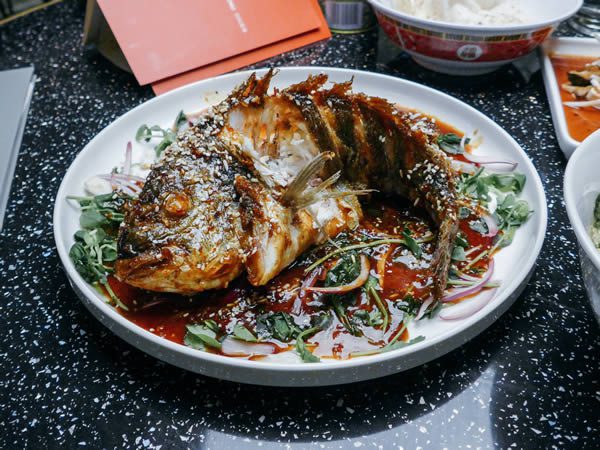 Bao burgers are also on offer, and come as a hybrid of sliders and bao buns — filled with an array of inventive fillings. Our salt and pepper squid bao was particularly punchy, with a good hit of wasabi and a soft sweetness of beetroot. Cha Chaan Teng has several signature dishes, the macaroni soups are one; and there are four generous bowls to choose from. We tried the unusual yet fiery homemade kimchi soup with banana flower and courgette fritters, their own take on the popular ramen bowls with macaroni replacing the noodles.
The mains are hearty sharing plates. Do not be fooled into thinking that you can handle one to yourself, you simply can't. The whole crispy sea bream with sha cha sauce was presented banquet style, on its side as if still swimming, head and tail still in tow, with lashings of the sweet garlicky sauce. The taste is sensational, the flesh moist, and the skin crispy. To balance the rich and piquantly syrupy sea bream, we were recommended the chilled silken tofu salad to neutralise the heat of the moreish dish.
Cha Chaan Teng is the kind of place that packs a fiery punch it terms of flavour, culture and aesthetic. It's exciting, fun, and perfect for those occasions where cocktails, a good soundtrack and oodles are food are required. The influence of the west on eastern culinary culture is celebrated, whilst flipped on its head by bringing that back here. If Quentin Tarantino decided to open a restaurant in Holborn, London, Cha Chaan Teng would be it.