Following a fine night's sleep under eco-cotton sheets in Cannes, a coastal ride later and we were back in Nice. As you enter the city you quickly realise that the capital of the French Riviera is Cannes' big sister; with its ample size, Nice has a lot offer.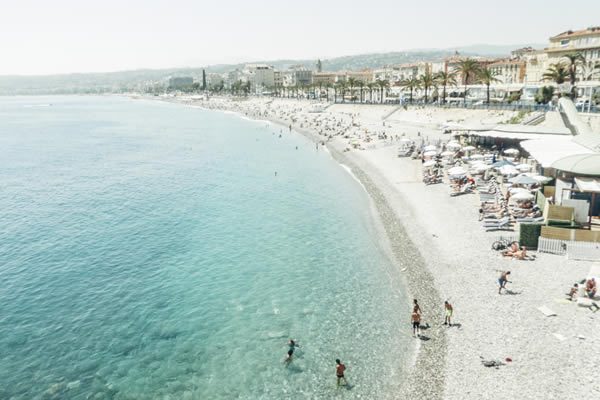 Starting with a stroll along the Promenade des Anglais is essential. It is as pretty as it is sun-drenched; with bathers clinging on to the coastline like sprinkles to ice cream. Some of the best views of the city can be found from Castle Hill, where the tired can take the lift up and those without hangovers choose to tackle its incline on foot. The near-360-degree views are spectacular, and you can easily spend a few hours lying in among the trees or sat at the cafés atop.
Heading back around the hill towards the port we stumble across the petite Marché aux Puces de Nice antiques market — a semi-outdoor space that is quite unique, in that it sells most awesome antiquities, but French artists (including Francois Nasica; Patrick Moya; and C215) have painted the interior and exterior walls with signature works. There's quite a collection that's accumulated over the past few years, creating a rather wonderful juxtaposition of new and old art.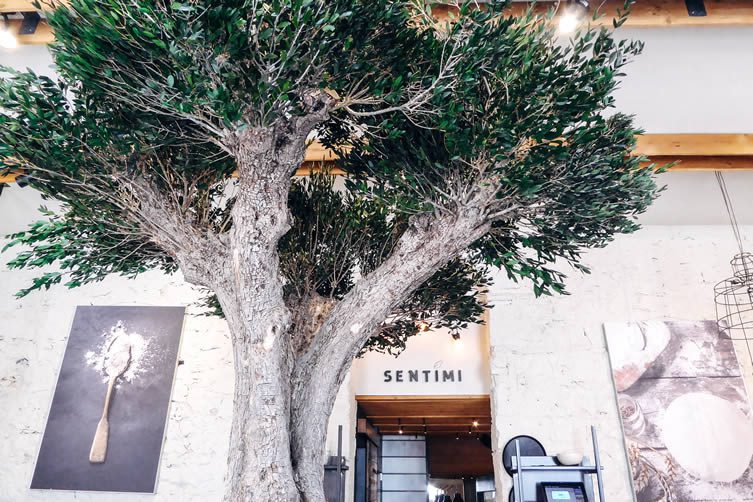 We quickly discover that the locals of this corner of the Côte d'Azur adore the cuisine of neighbouring Italy just as much, if not more so, than their own traditional fare — so we stop off at one of the oldest squares in the city, Place Garibaldi, to check out Sentimi Restaurant. Along with a busy terrace, the interior looks like an old stone train arch transformed into a swanky dining spot.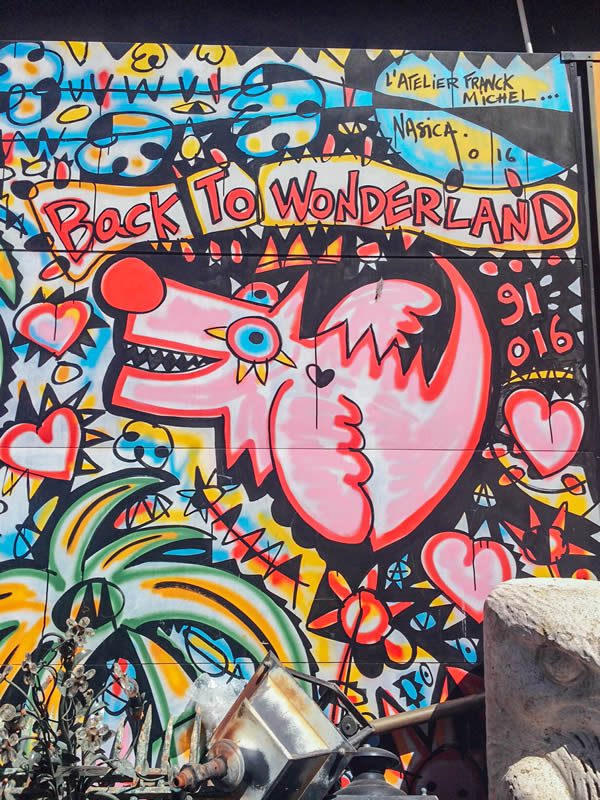 There's a great big olive tree right in the middle of the dining space, set off against white painted stonewalls and minimalist photos of Italian ingredients. The pizzas are epic, freshly baked in wood burning ovens; and the salads bold and fresh. Staff are peppy, and the local rosé wine especially refreshing.
Our bed for the night was at The Jay Hotel, just a short walk from the beach and not far from Vieille Ville (aka the Old Town). Created by another French boutique chain, Happyculture, it was well located but also made me very happy. The Jay is all about Art Deco and the roaring '20s, designed in a successfully authentic manner. Think herringbone floors, geometric aqua and gold wall coverings; hanging pendant lights, and original photos and mirrors adding to a spectacularly jazzy effect. A real feast for the eyes, it's the detail that sets The Jay above other hotels who've adopted this much-romanticised period.
After a lot of loveliness, it was time to soak up some night-culture. The South of France takes its nightlife rather seriously, and I was pleasantly surprised to discover the outsider and alternative side to Nice at Crossover Festival. We made the first night of the four-day event in a vast ex-abattoir venue called Les 109. A pop-up creative event space, the four days promised live music, projections, psychedelia and all sorts of electronic music. I even spotted a few Moog synthesisers, but don't expect me to remember who played or who I saw … I was as far too busy dancing around like a loon.
@nasica.art
@festivalcrossover
@visitcotedazur
@happyculture